This weekend, I was invited by my friend and blogger Suren Rajamohan to try this new dessert place by the creekside. Its called Afters. From the very name, it's anyone's guess why this place has been named AFTERS.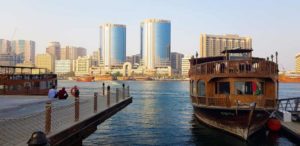 A perfect spot for a post-meal-indulgence Afters offers gorgeous views of the buzzing Dubai creek and historic Al Seef neighbourhood and some great choices in ice cream and desserts.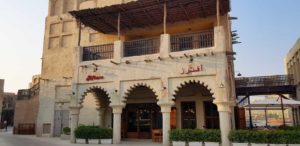 Situated just a block away from the Public parking towards the British Embassy side of Al  Seef, Afters is quite easy to find. The café has a small indoor area with three tables and a couple of tables outdoors which over look the beautiful Creekside and historic Seef area.
The café is neat, the branding very interesting and seating quite comfortable for an ice cream parlour. The team are a proactive and friendly bunch and ever ready to serve the needs of guests.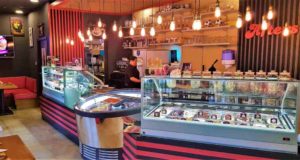 What we had
We ordered Waffle Sandwich and Cheese Toastie. Both were presented well. The Waffle Sandwich obviously looked more meatier on the outside, but what it lacked was the quantity of meat fillings. The ham inside was very minimal and we could feel the waffle more strongly than any cheese or ham. Nevertheless, it was filling and tasted quite good.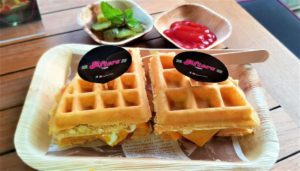 The Cheese Toastie was loaded with cheese and it was again quite filling like the Waffle Sandwich. Both these sandwiches would serve as a perfect treat to anyone looking for something substantial to eat, other than desserts. Add some ice creams or a nice milkshake to the mix and you have a perfect breakfast lunch or dinner!
In desserts – the main event – we ordered exotic explosion, king ferrero and oreo biscuit shake.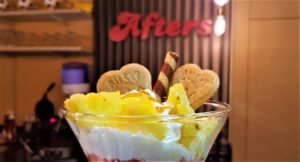 Exotic Explosion – it was one hell of a mega drink, less on sugar or chocolate but more on fruity ice cream. It is priced at 50 dhs which is slightly higher for a dessert, but then the quantity really justified the price. I wont say it was standout, but it was definitely quite interesting. It had 3 scoops of ice cream bedded on pineapple and topped with whipped cream. This could be customized with ones choice of toppings including marshmallows, mixed nuts or any other regular trimmings at an additional cost.
King Ferrero
I tried a few scoops of the Ferrero ice cream from my dining companion. It was an amazing blend of Ferrero Rocher, hazel nuts and chocolate ice cream served with chocolate and caramel sauce, Ferrero Rocher pieces, chopped nuts, whipped cream and florentine wafers. It was intensely sweet and definitely not to my liking. It would be perfect for teens, children or those 'grown up' kids that love chocolates.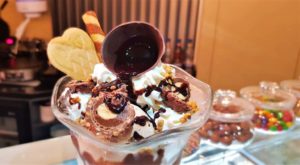 Oreo Shake was just perfect. The oreo biscuits were delightfully blended into a shake of ice cream. It is priced at 26.50. Totally worth it.
Apart from ice creams, Afters also serves a selection of sandwiches, juices and milkshakes, crepes, smoothies, cakes and coffee.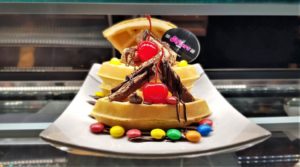 Verdict
Afters is certainly an interesting café to check out. Whether you're looking for some post dinner indulgence or just want a place to chill with coffee or ice cream, after strolling the seef neighbourhood, this place is ideal.
The gallery
Afters is a lovely café with nice ambiance, great outdoor area, quick service and great team to back it. Highly recommended.