Al Maeda
Al Maeda is an Arabic cuisine restaurant at Double Tree by Hilton which provides traditions elegantly blended with glamour in style and food offering. We were invited last week for a review and we were happy to accept the invite.
Ambiance:
The restaurant was lively.  With the FIFA match playing across the large screen LCD TVs, the crowd was teeming in. The seating arrangement was relaxed, the lighting subtle with all the attention being on the open kitchen where guests could enjoy all the culinary action taking place. They have a well appointed bar and a sheesha lounge as well. All sections of the restaurant beamed the FIFA action through large screen LCD TVs.
Service:
Despite it being a busy evening and only a few servers around, they did a pretty decent job. Only at one point we felt that more staff would have done better as we could see only two or three people running around to all tables to take the orders.
Starters
Cold Mezze
We started off with the traditional cold mezze which included the usual Arabic favorites like Tabouleh, Fattoush, Hummus, and Mutabal. All items served were fresh and the presentation was very neat.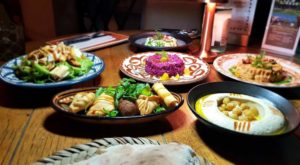 Hot Mezze
In hot mezze we were served a platter of Cheese Rekakat, Kebbeh Istanbulieh and Spinach Fatayer. We were also served a plate of Falafel which was totally scrumptious.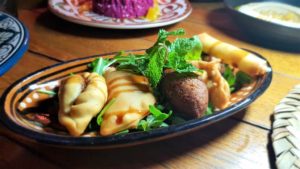 Salads
In salads we had Tabouleh Malfouf which was a tad sweet to our liking.  It had chopped parsley, tomato, cabbage, onion, olive oil and lime. Not sure what brought in that sweetness in the salad.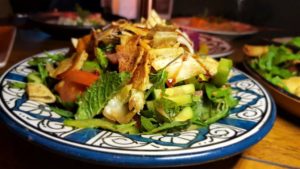 Main Course
In the main course, my dining partner went for Manakish Zaatar and Vegetable Matfoul. I went with mix grill and sided that with fresh Arabic bread and Sayadieh rice.
Manakish Zaatar – pretty good and large enough to be shared by two people.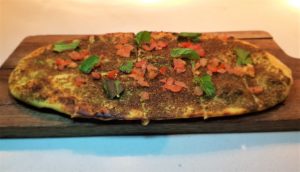 Vegetable Matfoul : a very interesting and tangy dish of Couscous, peppered with tomato and an assortment of other vegetables.
Mix Grill –  The mix grill platter included lamb kofta, lamb kebab and shish taouk all on skewers and also included a piece of lamb chops. The meat was large and the quantity was good enough to be shared by two people. The lamb chop was my favourite part of the platter. The meat seemed well marinated and soaked in the sauces and grilled to perfection.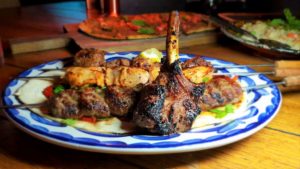 Sayadieh rice – A rich rice preparation garnished with fried onions, almonds and pine nuts. It was very filling.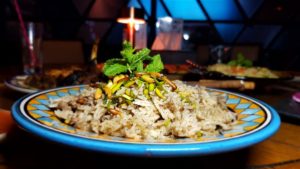 The breads – The breads very hot and fresh. We loved it.
Desserts
In desserts we had Basbousa Cheesecake and Mango Muhalabia.
Basbousa Cheesecake: It had a very thick crust of cheese on the outer which surrounded the luscious cake inside. Strawberry syrup was poured over it, which sort of actually killed the taste of the dessert due to its intense sweetness.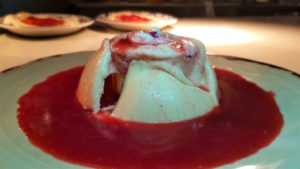 The clear winner for us was the Mango Muhalabia which was less sweet, presented well and was a pleasure to down after an indulgent and heavy dinner.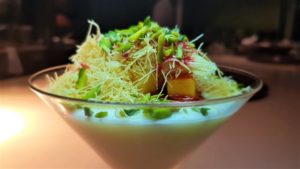 Bottomline
Nice restaurant to try Levantine cuisine. Ambiance is good. Service friendly. A one stop joint to dine, wine and smoke away sheeshas.
The gallery
Blog