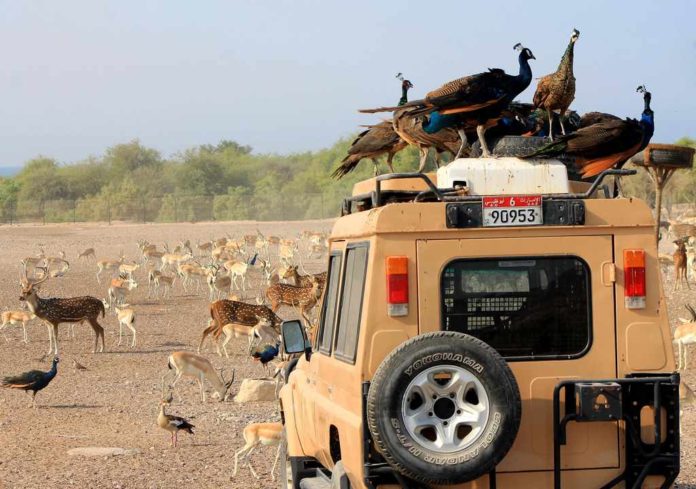 A review of Anantara Sri Baniyas Island Al Sahel Villa Resorts
The Irish poet George A Moore once said "A man travels the world over in search of what he wants, and returns home to find it."
Well, that's what happened to me recently. I had just returned after my annual vacation in India, where I spent almost a month touring the Nilgiri Biosphere – a fascinating ecosystem of hill ranges. The reserves are known to be home to some of the most endangered and rarest of animal species.
I spent my time traversing through dense reserve forests, encountering a few wildlife along the way viz. Malabar squirrel, Nilgiri Thar, Nilgiri Gaur, lion-tailed macaque, gray langur, spotted deer and wild hare – to name just a few.
I came back to the UAE with an 'I've seen it all' sort of complacent feeling. But thanks to my Staycation at the Al Sahel Villa Resorts by Anantara, that was soon to change.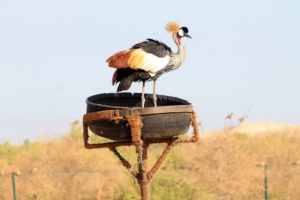 From graceful gazelles to stately oryx, the sands of UAE are rich with hundreds of species of wildlife that a city dweller like me was least aware of. My staycation at Ananatara Al Sahel Resorts helped me learn new lessons about wildlife conservation, endangered animals and the efforts taken by the leadership of this country to protect them.  Over two wonderful days at the Arabian Wildlife park, I was able to gather insights about some of the rarest species from the animal kingdom and also live in close quarters with them.
The Journey
As they say – "One can never really be tired of a holiday".
So, I packed my bags, yet again, and headed straight to Anantara Sir Baniyas Island, an 87 sq.km island situated 170 km southwest of Abu Dhabi. The drive from Dubai was over 4 hours but the chauffeured limousine service ensured I was not a wee bit tired, but instead had the most enjoyable long road trip of my life.  If long drives are not your thing, then you can fly to the island on the 50-seater Rotana Jet from Dubai Airport.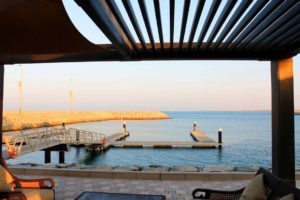 Arriving at the beautiful island, I could clearly sense an escalation of my energy and spirit from within. The excitement was palpable.  The sights of the pristine blue ocean and the gentle feeling of the evening winds caressing my body clearly enthralled me, inside out. It was a world away from the hustle and bustle of the city life, that I am always used to.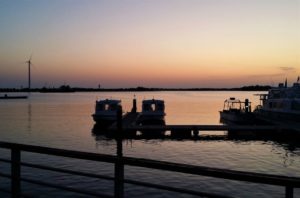 One resort destination. Three distinct experiences.
The globally renowned Anantara group manages three resorts in the Baniyas Island where guests can indulge in three distinct experiences to fulfil their preferences. A family friendly Desert Islands Resort & Spa decked out in state-of-the-art amenities, Al Yamm Villa Resort – a property reminiscent of an ancient pearl fishing village with contemporary styling, and finally Al Sahel Villa Resort nestled within the Arabian Wildlife Park, sporting an African lodge-like ambiance.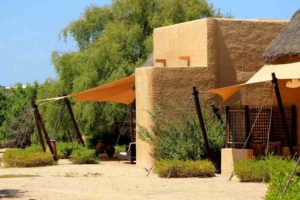 I chose to spend my weekend at the Al Sahel Villa resort and with every good reason. In the heart of the island's Arabian Wildlife Park, this is a one-of-a-kind villa resort, set in a luxury hideaway, where one can explore open savannah. Accessible only by 4×4, the 30 Al Sahel villas – some with private plunge pools – are set beneath a thatched-roof, and offer luxury amenities with traditional and authentic touches, as well as high levels of elegance and comfort.
The Ferry Ride to Anantara Sir Baniyas Island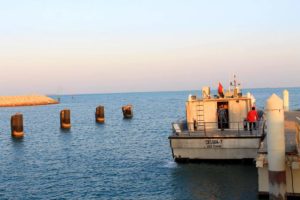 As I arrived at Anantara Sir Baniyas Island, I was led to the jetty where the crew were waiting to ferry me and the other guests to the resort. As the boat moved every nautical mile towards the island, I sat in pure enchantment, as I watched the sun cast its beautiful rays over the horizon.
After a twenty-minute ride in an air-conditioned, covered boat, I reached the Anantara resort's main reception area, from where guests were to branch off, to either of the three resorts of their choice. I was chauffeured to the Al Sahel resort in an SUV.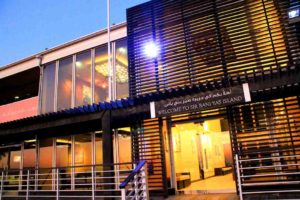 With the last rays of the sun still visible, the ride towards the resort through the forest replete with free roaming animals, was thrilling, to say the least. Sir Bani Yas Island is home to over 15,000 animals from 30 different species including Sand Gazelles, Blackbuck Antelope, Urial Sheep, Barbary Sheep and not to forget – the endangered Arabian Oryx.
As the 4×4 inched towards the villas, I lowered my glasses and tried to capture the sights and sounds of the wild.  Even before I realized how long we had driven through the mangroves, I already reached the Al Sahel Resorts. After a quick shot of a welcome drink, I was golf-carted right away to my villa, which was already pre-booked for me.
The time was barely 8 but hunger was playing its cards. Thanks to all the arrangements at the villa, the refrigerator was stocked with everything to keep my hunger at bay. Munching on some rock salt chips and a bottle of Corona, I slipped into the private pool outside my villa. The peace and tranquility of the setting was overwhelming, and the silence broken, only by the occasional song of the peacocks or foot struts of the gazelles, skipping around the sands.
Totally indulged in the relaxing waters and not wanting to walk up to the restaurant, I called room service to get my food delivered to my villa. Hunger was on its peak by then, so I ordered Indian style – chicken biryani, dal makhana and roti. The food arrived 20 minutes later in a golf cart, hot and aromatic. I must admit, it was one of the finest chicken biryanis I have ever tasted in this part of the world. Full of nuts, spices and succulent chicken pieces, it was oozing aroma all over. The rotis were soft and the dal was flavourful and quite different from the usual dals served in restaurants outside.
After a very indulgent meal, I slipped back into the pool, chilling in the waters till late in the night.
Day 2 : Waking up to nature
Imagine waking up to the sweet song of birds and sights of the splendid peacock?!  That's exactly what I woke up to next morning. As I turned up the blinds and welcomed the first rays of the sun inside the villa, I had a glimpse of gazillion peacocks strutting around my villa in the morning sun. My spirits were nudging me to step out and get closer to the colorful peacocks and graceful gazelles. And I did.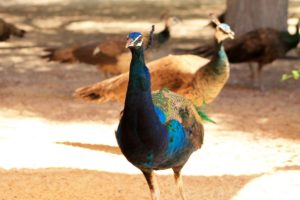 I headed to the restaurant where I found a lot more of these glorious birds. After grabbing some salad and a glass of fresh juice, I parked myself on one of the chairs at the outdoor dining area.  While the resorts rules clearly prohibited guests from feeding the animals, I somehow just couldn't resist throwing a few dry fruits in the direction of the peacocks that kept darting in my direction.
The fresh and healthy breakfast certainly gave me enough strength to face the day ahead, which in every way was physically taxing.  That's because the resort has a great line up of outdoor activity that demands lot of energy viz. wildlife drive, land sailing, horseback riding, wadi walk, kayaking, mountain biking etc, to name just a few.
The Safari
Being a passionate photographer and also a wildlife lover, I went for the nature and wildlife drive. I hopped on to the safari jeep in the company of the friendly guide Yusuf Bhyat, to have one of my most enjoyable wild life safaris ever.
Never in my life, had I witnessed such a huge number of animals grazing around freely. The feeling is just not describable. Climbing atop the jeep and whipping out my camera, I fired indiscriminately and excitedly in every possible direction, immortalizing on frame, everything around me!
I was very delighted to get a sight of the park's main heroes Gibbs and Gabrielle. I also had the fortune to witness two of the rarest and endangered animals of our time – The Black Buck and the Arabian Orxy.
With its long, straight horns and distinct white shape, the Arabian Oryx (Oryx leucoryx) made a regal statement against the golden sand-dunes. Considered all but extinct in the 1960s, the animal has been saved following comprehensive breeding programs and reintroductions into its natural habitat.
As he drove around the animals making sure I had a close-enough view, Yusuf entertained me with his witty yet informative conversation.  It was wonderful to hear more from him about the wildlife in the park, the management's conservation efforts and the future expansion plans.
Quick facts of some of the species of animals at the Anantara Sir Baniyas Island 
ARABIAN SAND OR GOITERED GAZELLE
Latin Name: Gazella subgutturosa marica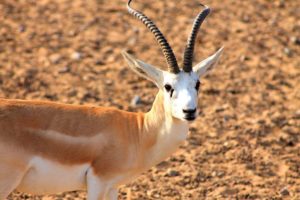 The Sand Gazelle is a familiar face on Sir Bani Yas Island. They are well adapted to desert conditions and can derive most of its required moisture from the food it eats. You're bound to bump into one of these friendly creatures several times whilst exploring the Island!
Quick Facts
Weight : 18-33kg
Height : 56cm
Native to : Asia
What they eat : Grasses, leaves, and shoots.
Interesting fact : They can run up to 60kms per hour!
BLACKBUCK OR INDIAN ANTELOPE
Latin Name: Antilope cervicapra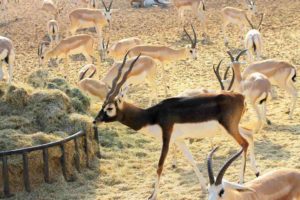 The stunning Blackbuck is an antelope which is found mainly in India, Pakistan and Nepal. One of the fastest land mammals, it has been recorded running at speeds of up to 90 km per hour.
Quick Facts
Weight : Up to 50kg
Height : Up to 80 cm
Native to : Indian subcontintent
What they eat : Mostly grasses and occasionally acacia trees
Interesting fact : They have been recorded running at speeds of up to 90km per hour!
ARABIAN ORYX
Latin Name: Oryx leucoryx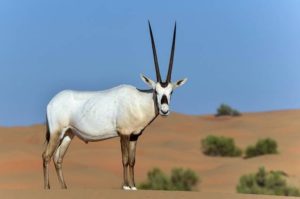 The magnificent Arabian Oryx is a medium sized antelope species and is the smallest of all the Oryx species. Regarded as one of the most endangered of the Oryx species, they became extinct in the wild in the early 1960s. However, through concerted several environmental and conservation programmes, the animal was successfully saved from complete extinction. The UAE currently has the largest population in the world and Sir Bani Yas Island has one the largest breeding herds, so make sure you have your camera ready when you spot the herd!
Quick Facts
Weight : 70-90 kg
Height : 80-100 cm
Native to : Arabia
What they eat : Grasses, leaves and shoots.
Interesting fact : Their bright white coat reflects the sun's rays, and the Arabian oryx is known to follow rains to get to fresh grazing
About Al Sahel Villa resorts
Al Sahel Villa resort boasts of 30 private one and two-bedroom villas exuding a totally African safari vibe. Right from the thatched roofs to the waterhole style infinity pools, the villas are a class apart. Hop inside and be amazed by the traditional yet opulent setting with wooden flooring, artefacts, décor and huge windows that open your world to the flora and fauna outside.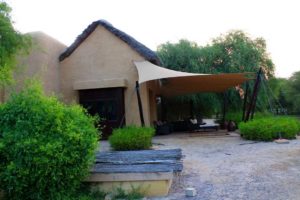 With rustic chic design, the exteriors complement the natural surroundings, while the interiors are flooded with natural light illuminating the room's traditional wooden furnishings, ceiling beams and local handicrafts. Uniquely designed bathrooms add to the ambiance, boasting carved bronze tubs and wash basins, while accents of traditional thatching give the villas an authentic Arabian feel. Each villa comes equipped with state-of-the-art appliances.
Anantara Al Sahel One Bedroom Villas feature:
50sqm of living space
Free WiFi Internet access
Flat screen television
Individually controlled air conditioning
In-villa safe
Built-in mini bar and refreshment cabinet
King-sized bed
Rattan ceiling fan
Rainshower and free-standing bathtub
Anantara bathroom amenities
Nespresso coffee machine
Workstation
Being a five-star rated resort Ananatara Al Sahel Villa resorts offers guests the chance to enjoy the best of both worlds – contemporary luxury and amenities in a totally traditional setting.
The Exterior
The Interior
The resort's signature dining venue, Savannah Grill – a luxurious safari lodge – serves a contemporary combination of western favourites and African specialties. Al Sahel guests can also choose between other dining options and the nature and wildlife drives and watersports activities operated by the resort's sister Anantara properties, Desert Island Resort & Spa and Al Yamm Villa Resort.
The Activities
 Nature and Wildlife Drive: with over 15,000 animals from 30 different species, many of which the International Union for Conservation of Nature classifies as critically endangered or vulnerable to the wild, this thrilling game drive in dedicated 4×4 vehicles provides exciting encounters with unique and endangered animals. Guests can spot giraffes, gazelles, oryx, cheetahs and many other animals in their natural environment.
Culture and History Tour: guests can step into the past and learn about the history with an engaging cultural tour of Sir Bani Yas Island, named after the Bani Yas Tribe, who first settled in Abu Dhabi 250 years ago.
Archery: a fun activity for the whole family, Archery is a long cherished Arabian tradition that remains a popular sport to this day. The hotel provides all the equipment and training needed to make sure guests get closer to the bull's eye.
Land Sailing: the perfect fun day out with the entire family to explore a unique side of the island like never before. Guests can choose to sail independently or make the activity interesting by racing against each other.
Horseback Riding: an authentic exploration of the island's surrounding on an Arabian horse. Guests have the rare opportunity to ride within the Arabian wildlife park and spot free roaming animals up close. Beach rides are also available, for beginners and seasoned riders alike.
Wadi Walk: a closer view of the island's scenery and wildlife on a guided wadi walk to discover unspoiled sand dunes and explore rock corridors containing a variety of ancient fossils and minerals.
Kayaking: meandering through the lush mangroves in the afternoon sun, guests can cut through the still, azure waters of the Arabian Gulf for a relaxing activity.
Mountain Biking: guests can explore the ever changing scenery of Sir Bani Yas Island on an exhilarating mountain bike The mountain–biking tracks cater for both experienced and inexperienced riders, and take a variety of exciting on and off road trails through the Arabian Wildlife Park, wadis, beaches and lagoons.
Watersports Activities: a varied selection of exhilarating water sports activities is available for all levels of enthusiasts.
Falcon Show : Watch a sunset beach show demonstrating the interaction between human and falcon. Suitable for the entire family, the falcon show includes a 30 minute talk  followed by a 10 minute flight and feed of the falcon.
Interactive Falcon Experience : Enjoy an early start to the day on the eastern side of the island by visiting the falcon mews. Get introduced to rare birds including golden eagles and hawks and experience the thrill of having a trained falcon land on your gloved hand.
About Sir Bani Yas Island
Sir Bani Yas Island is one of the largest natural islands in the United Arab Emirates. The name "Sir Bani Yas" Island originates from the Bani Yas tribe, who first inhabited Abu Dhabi 250 years ago. The Island was originally developed as a wildlife reserve by the late founder and president of the United Arab Emirates, Sheikh Zayed bin Sultan Al Nahyan in 1971 to ensure the survival of Arabia' endangered species.
Get a gist of the islands activities in the below video
DETAILS
Type: Resort
Category: 5 star
City: Al Dhafra
Area: Sir Bani Yas
Connect: Website, Email
Phone: + 971 2 801 4300
Fax: + 971 2 801 4308
No. of rooms: 30
No. of suites: 30
No. of restaurants: 1
Single room: AED 1800-2000
Double room: AED 1800-2000
Suite room: AED 4000-4500
Check in / out: 03:00 PM / 12:00 PM
FACILITIES
24 Hour Reception, Air Conditioned, Airport shuttle, Animal Watching, Beach (Direct Access), Bedding/Pillow Choices, Cable / Satellite TV, Coffee / Tea Maker, Dry Cleaning, Facial Treatments, Fitness Room/Gym, Golf Course (nearby), Horse Riding, Internet Connection (wireless), Late check-out (subject to availability), Laundry service, Luggage Storage, Meeting Rooms, Mini Bar, Multilingual Staff, Pool Outdoor, Private beach, Restaurant, Scuba Diving, Tennis Courts (indoor), TV
The Service 
The staff are very courteous and pay great attention to details to ensure that you enjoy every bit of your time spent there. The lady in the below video was kind enough to give me her version of a mini safari while driving me to my villa.
Bottomline
If you would like a well-deserved escape from the madness and hustle-bustle of city life, then Anantara Sir Bani Yas Island Al Sahel resort is your best bet. Situated in the Sir Baniyas Island, this is a paradise that can make your every staycation dream come true. There's little wonder that they've been awarded, time and again, as the "Best Family Wildlife Resort Middle East".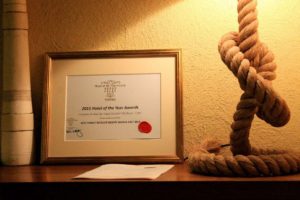 Acknowledgement 
Special thanks to Rania Helou without whom this entire experience may not have been possible. Her attention to details and her willingness to go the extra mile to make us feel completely at home is something that made all the difference and for which we are ever grateful.
Contact info
Anantara Sir Bani Yas Island Resorts
Tel: +971 2 801 5400
dirs@anantara.com
For reservations
Tel: +971 2 895 8700 or crome@anantara.com
crome@anantara.com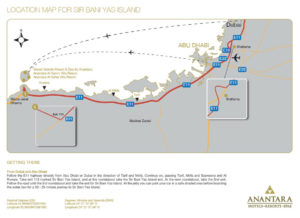 Life is a Journey.  Book your next Anantara escape to Sir Bani Yas Island at anantara.com. To book an island activity please call Anantara Activities at Sir Bani Yas Island on 02 801 5266 or email activitiesdirs@anantara.com.