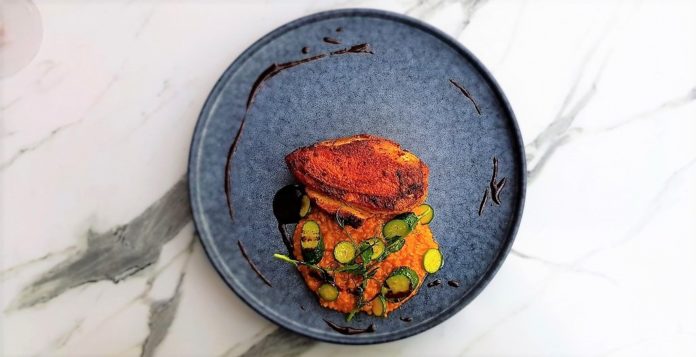 Andes 
Carefully purveyed + artisan made is the sum total of the inventive dining experience at Andes. A contemporary South American restaurant – Andes serves everything from elegant breakfasts, specialty coffee, business lunches, fine dining dinner tasting menus + chef's table experiences.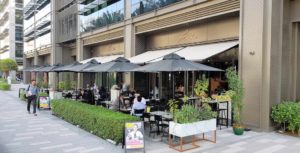 The Team
Driven by a young team of mates toying with a cuisine inspired by the Andes and modern gastronomy – Andes is a culinary theatre of sorts for Dubai's foodies.
Motto
Opened in August 2018, Andes is located on the ground floor of The Offices 3, One Central by Dubai World Trade Centre. Purveying new flavours and pairing ingredients – Andes strives to serve the business community (and beyond) with a high calibre of hospitality and dining experiences.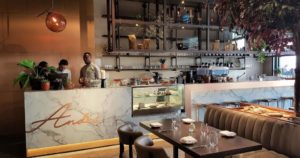 The Ambiance
The dining space is designed to seat guests around a central banquet – most suited for business lunches and groups, with a private dining and chef's table overlooking the open kitchen and pass where guests can visually enjoy their culinary theatrics in the making.
The outdoor deck, open from October-May, offers a shaded dining space that draws out of the main dining room, enabling guests to continue enjoying flow and flair of our kitchen.
The Food
During daylight hours, their long espresso bar serves single origin and house blends of specialty direct trade coffee, along with house made Kombucha and raw botanicals as well as fresh artisan bakery and pastries.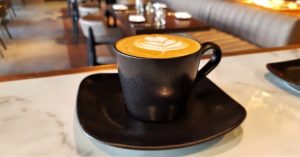 Our Visit
While we waited for our starters, we were served with Sourdough Toast and Granola and Berries Compote (made of Greek yoghourt, fresh berries and acacia honey). The Toast was fresh out of the oven and flaky. With the butter dip, it tasted fantastic. The Granola and berries compote was a good accompaniment to the bread.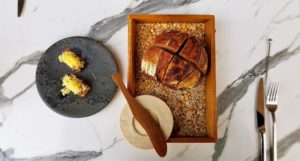 In starters we had Grilled Calamari and Shrimp Ravioli. Grilled Calamari proved to be a great starter that tantalized the taste buds. It had broccolini, seasonal herb relish and chili mayo.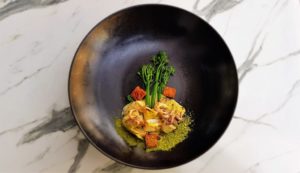 Shrimp Ravioli was equally tempting and had crunchy shrimps peppered in walnuts, ginger and smothered in rosemary sauce.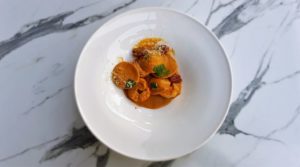 In the main course, I went for Chicken Fillet (Filete de Pollo) while my dining partner chose his favorite beef brisket.
Chicken fillet had a distinct taste and character of its own, thanks to the seasonal fresh herbs and garlic paste. It was delicious, to say the least.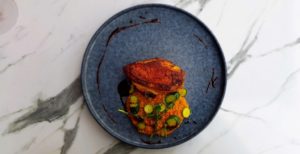 Brisket – The Wagyu brisket had been smoked for 15 hours, and little wonder – it was tender, juicy and succulent. The beef sauce accentuated the taste and shallot confit was a great garnish that complemented the dish overall.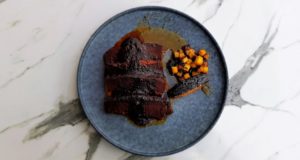 Desserts – we washed off the indulgence with some Chocolate tart and Machu Picchu.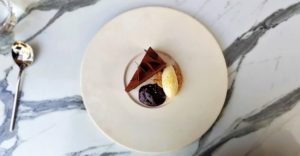 Chocolate tart was fabulous, but in the citrus strong Machu Pichu the sourness was overpowering the mildly sweet passion fruit sorbet. It would have been better if the chef balanced the sweetness and sourness by using more of regular oranges instead of the extremely sour red orange.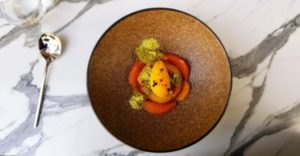 The Verdict
Andes is a fabulous place to enjoy some inventive international cuisine in a laid back ambiance with ample green foliage, interesting milieu and inspiring service. Overall 5/5 for taste, ambiance, value and service.  Definitely a place to check out.
The gallery