We were recently invited to review the BBQ Theme nights at Loumi – Millennium Airport hotel's Arabian restaurant and we gladly jumped on it. Here's why!
Spoilt for choice
At Millennium Airport hotel – one is easily spoilt for choice when it comes to wining or dining. The hotel boasts of an interesting collection of F&B concepts to suit all tastes. Whether you want to enjoy simple sun downers by the pool side, or indulge in elaborate specialty menus, Millennium Airport Hotel has it all covered.
View this post on Instagram
We thought of taking advantage of the pleasant weather while it still lasts and headed straight to Loumi last Thursday. Needless to say, we had a wonderful time enjoying the festive spirits, free flowing bubblies, great food and relaxed weekend vibe.
About Loumi
An Arabic influenced all day dining concept serving breakfast, lunch & dinner – Loumi has everything on offer to elevate the overall dining experience of guests. Set in Millennium Airport Hotel's tranquil alfresco surroundings overlooking the pool, Loumi currently offers a fascinating 'themed' dinner BBQ Buffet with great music entertainment, live cooking stations and an endless array of international buffet treats.   Al Fresco stations, in-house baked fresh bread, butcher-shop style meat selections and private dining rooms are some of many highlights that make it the perfect option for both business and leisure dining.
The BBQ theme night
The BBQ theme night buffet served as a perfect start to our weekend. The barbecue offered a wide selection of prime-cut meats, seafood and poultry items marinated to perfection. It also featured abundant home made fresh bread, garden greens, compound salads, fresh fruits and an impressive line-up of desserts.
The food
We started off by treating ourselves to a selection of fresh appetizers including the scrumptious quail egg canapes. We then progressed on to fresh salads. We took time to enjoy our starters and bubblies and when we were hungry enough to eat a camel, we went for the key highlight of the evening – The Barbecue.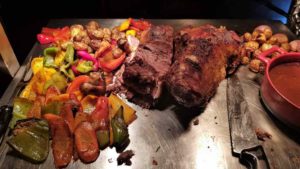 We were treated to a massive line-up of meat, poultry and seafood including our regular favorites like lamb shanks, beef ribs, chicken charcoal grill, grilled prawns, and a whole lot more exquisite meat selections by the chefs. The best part of BBQ theme night was the live cooking station. We indulged to our hearts content without feeling shy! The quality of meat was fresh and the joy of selecting our preferred cuts and seeing it grilled to perfection on order – was one awesome experience.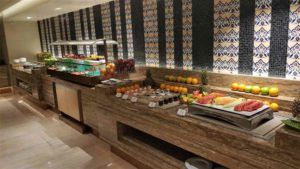 As we passed the salad counter, we witnessed a pretty mean dessert line up along the way. We decided to save some space for a post meal sweet indulgence. We absolutely adored the selection of strawberry quiche, mango and chocolate cake, puddings, brownies and other delicious pastries.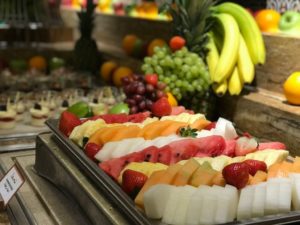 Ambiance
The ambiance is uber slick with luxurious sofas, chairs and elegant tableware. The restaurant had very comfortable seating and great indoor and outdoor dining areas and even a private dining suite. It can accomodate 100 guests indoor and 60 outdoor. The restaurant is super clean with shiny floors, stately décor and gorgeous lighting which serves as a perfect mood setter for a romantic, elegant and intimate meal.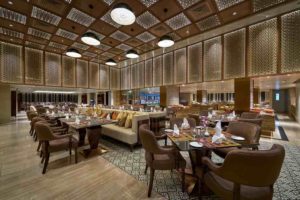 The service
The staff were incredibly good, as always and we even had the Chef Sudesh Vithanage walk onto our table to find out if we were enjoying our dinner.  This was the highlights of our dining experience at Loumi and we can't wait to go there and enjoy their warm hospitality again.
Verdict
If you are a fan of barbeque, you will fall helplessly in love with the Barbeque Theme night buffet at Loumi happening on Thursday & Friday from 19:00 – 23:30. The vast selection of high-quality meats are sure to enthral even the most voracious of meat lovers. Choose from your favourite meats or seafood from the al fresco station and have it barbecued to order! Chicken, beef and lamb marinated with condiments can be found near the live cooking stations out. Simply pick, grill and enjoy!
Gallery
If You're Going
Need to know
Cuisine: Arabian, Middle Eastern
Where: Millennium Airport Hotel Dubai, Casablanca Street, Al Garhoud, Dubai
Hours:  6AM to 11:30PM
Atmosphere:  Slick, elegant tableware, luxurious seating, chic lighting, squeaky clean
Parking:  Valet Parking Available
Prices: AED 300 for two people (approx.)
Credit cards: Cash, Cards accepted
Sound level: Music
Wheelchair access:  Accessible
Service: Excellent
Recommended:  BBQ theme night buffet
Additional Info:   Full Bar, Private dining area, out door seating, Wifi
Reservations:  04 7028844
Promotions/Activities
Below are some of the promotions and activities this month at Loumi
| | | |
| --- | --- | --- |
| Breakfast buffet | Daily | 06:00 – 10:30 |
| Lunch buffet | Daily | 12:00 – 15:30 |
| Dinner buffet | Daily | 19:00 – 23:30 |
Double Munch Brunch – Friday | 12noon – 4pm
AED 199 per person with soft beverages
AED 249 per person with unlimited house beverages
AED 349 per person inclusive of unlimited house beverages & sparkling wine
AED 99 for kids 5-12yrs old and below 5 dine for free
All brunch diners get free pool access
Hoteliers Night – Daily | 6am – Midnight
25% discount on the total bill. Not applicable during Friday brunch, special events and holidays
Dip & Dine – Sun – Thu | 12noon – 3:30pm
Buffet lunch at Loumi for AED 125 per person only and get a free pool access
BBQ Night – Thursday | 7pm – 11:30pm
Let your weekend begin with an indulgent dinner BBQ buffet.
AED 165 with soft beverage; AED 195 with 10 house beverage per person
Seafood Night – Friday | 7pm – 11:30pm
Lavish seafood buffet all you can eat.
AED 165 with soft beverage; AED 195 with 10 house beverage per person
Easter Celebration
Celebrate Easter with Loumi and enjoy the themed buffet with some of the finest traditional Easter specialties, live cooking station, wide selection of desserts and International cuisine. Young ones will enjoy the exciting egg hunting activity, face painting, bouncy castle and more. Easter bunny goes around each guest table and entertains the little ones.
Prices starting from AED 199 per person. AED 99 per child from 5 to 12 years old, while below 5 years old dine for free. Offer is valid on 30 March 2018 from 12noon to 4pm
Mother's Day Celebration
Treat your mom this Mother's day. Book for 4 people and Mom dine for free.
Sumptuous buffet with live cooking station, wide selection of desserts and live band performances.
Offer is valid on 21 March 2018 from 7pm to 11:30pm
Prices starting from AED 165 per person. AED 82.5 for children 5 to 12 years old, while below 5 years dine for free
For table reservations, call 04 702 8888 or email dining.mahd@millenniumhotels.com