Dusit Thani hotel in Sheikh Zayed Road is arguably one of the tallest standing epitomes of Thai hospitality in this country – quite literally! Even the very structure of the hotel which has been fashioned like a "wai" – a widely used Thai gesture is symbolic of the hospitality and respectfulness of the Thai people.
I was lucky to experience Thai hospitality at its finest at Benjarong during a recent visit. The award-winning signature restaurant impressed beyond words with its regal splendor, lip-smacking cuisine, and needless to say – truly remarkable and outstanding service.
Benjarong
Benjarong means 'five colors' in Thai and actually denotes a kind of highly prized Thai porcelain used in Royal households of Thailand. The carefully painted Benjarong ceramic wears the grace of Thai culture through each carefully placed brushstroke. A striking similarity of this accent is evident on the wooden faux pillars at Benjarong Restaurant.
Offering the most gorgeous views of the Dubai skyline whilst serving guests the unmistakable flavours of Royal Thai cuisine, Benjarong highlights the centuries-old recipes straight from the palaces of Thailand. It's no surprise that Dusit Thani's signature Thai restaurant has been named Benjarong.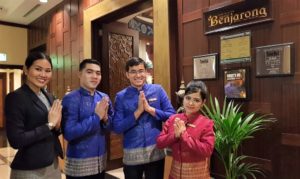 Arrival
On our arrival, Sutida Prasertsung – Benjarong's assistant manager and her full team welcomed us in with a warm smile and a truly sincere greeting. Her gorgeous smile made our evening! We were then led to our table by Naam Neemo, Benjarong's full time musician and performer.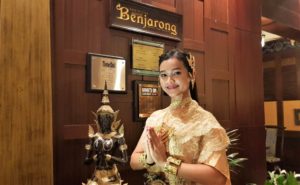 We were introduced to the waitress-in-charge who was to serve us, that night. Benjarong offers pristine and spotless views of the Burj Khalifa and downtown area, so we chose a table closer to the window.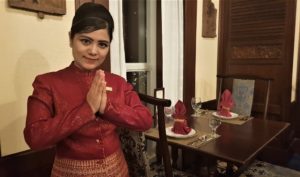 We were probably in the restaurants best spot, as we could see the entire downtown area yonder – in its fullest splendor.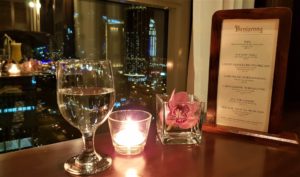 Ambiance
Truly regal with markings of an imperial dining room with plush royal seating, traditional style polished wooden tables and chairs and elegant tableware, The interiors, in themselves create a rich and vibrant cultural feel of the Thai royalty.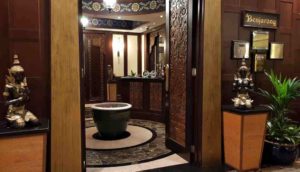 As we walked past the main entrance, it was hard to miss the beautiful Thai figurines that stood in reverence, and the lotus tank with a beautiful lamp in the center. It exuded such elegance, grace and calm that it almost felt like we were entering the regal precincts of an imperial Thai palace. In fact the entire restaurant was full of amazing artefacts, figurines and decor – each with its own cultural significance.
Traditional Thai musical instruments playing in the backdrop, potted plants, majestic wooden pillars with visible Thai accents and the overall interior design added to the earthiness of the setting. A truly traditional cultural vibe in a slick 5 star hotel in the heart of Dubai – it was like the best of both worlds!
The food
We started off with a glass of tender coconut juice. Even the presentation of the juice was graceful, and it was fresh, chilled and quite refreshing. Tender coconut juice is one of my ever favorite and all-time drinks as it offers a natural fix to thirst and leaves me guilt-free as opposed to times when I have to consume heavily sweetened canned juices or carbonated drinks.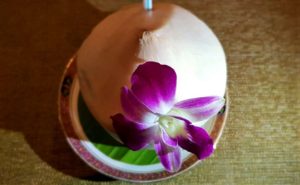 Starters
For starter we had Khow Phod Tod, Puja, Khao Tang (Rice Crackers), Gaeng Lueang Normain Dong, Garam Pu Pai Normai Farang and Pad Pak Ruammit.
Khow Phod Tod –  This sweetcorn dish contained balls of crispy corn served with chili sauce and crushed peanuts. I've always been a fan of sweet corn in either boiled or cooked form – however to enjoy it in this fried version was a nice experience. I loved this appetizer to bits and could well have finished two more plates of these, hands down. They were so delicious.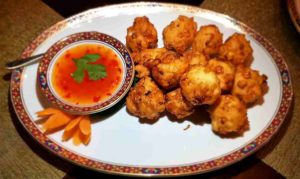 Puja – I am in for sea food any day, and crab is definitely one of my favorite in seafood. So, when I noticed that the menu had some crab meat dish, I went for it. I wasn't disappointed. Puja was a very delightful mixture of nicely marinated crab meat, minced chicken and egg served on a crab's Shell.  This appetizer set the perfect tone for the evening of culinary indulgence.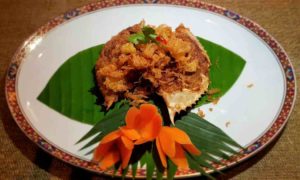 Khao Tang – We were also offered a plate of crisply rice crackers served with sweet peanut sauce, in appetizers.  I loved every crunchy bite of this  and with the sauce it was lip-smacking and fun to eat.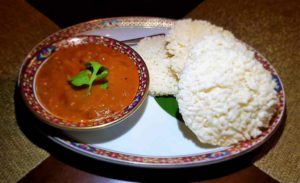 Gaeng Lueang Normain Dong – This dish comprised of spicy yellow curry with red snapper and sour bamboo shoot. I am particularly not a lover of Bamboo shoots (in fact, I hate it) so this dish was not much to my liking, but nevertheless, I cannot completely discredit the delicious curry that the shoots came in. The mixture was great but the bamboo shoots put me off.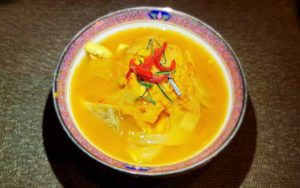 Garam Pu Pai Normai Farang- This dish is nothing but fried crab meat with asparagus. It was almost like eating salad. The crabs had a bit of a crunch to it and the asparagus too contributed to the overall taste of the dish.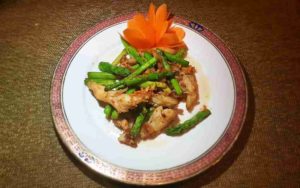 Pad Pak Ruammit – Stir fried vegetables – This dish was specially included for my dining  partner – a sworn vegetarian who seemed to have loved it.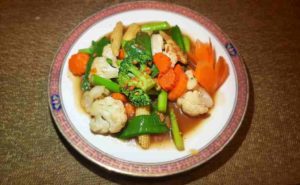 In the main course we had Hor Mok Talay Ma Prow Onn and Pad Thai Noodles.
Hor Mok Talay Ma Prow Onn – This was a steamed sea food dish with fish curry paste served on a coconut shell.  The curry was rich in flavor, thick in consistency and delicious.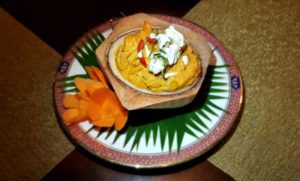 Pad Thai Noodles – one of the most delicious and fresh noodles I have had in recent times. It was peppered with tofu, beans sprouts, ground peanuts and garnished with tamarind sauce. Presentation was great with a netted layer over the stir fried noodles. I loved the Pad Thai and it was the key highlight of my dinner at Benjarong and If I am going back again to Benjarong, its mainly to taste this dish.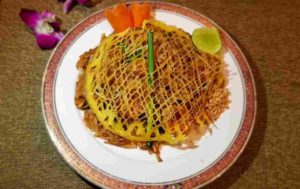 In desserts we had Khao Neaw Mamuang and Ice Cream Kra-ti
Khao Neaw Mamuang – A dessert of sweet and tasty sticky rice flavoured with pandanus (screw pine) and served with Mango on the side.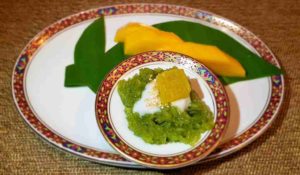 Ice Cream Kra-ti –  definitely one of the best coconut ice cream I've ever tasted. It was lovely and a great way to end a wonderful meal.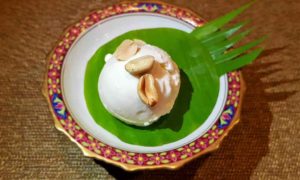 Service
Service was top-notch and right from the Assistant Manager to the lady who served our tables, every one took great care of us, took and brought orders on time, and made us feel really special.  We in fact even had the Head Chef Naruemol Poolkuan stop by at our tables to find out if we were enjoying our dinner.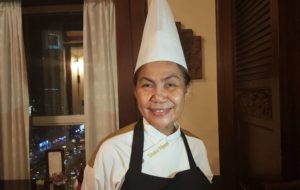 A very experienced lady, she has been working with Benjarong for the past 12 years.  I must also specially mention Naam Neemo – the musician and performing artist who was gracious enough to play our favourite Hindi music on her "Khim" and for enlightening us on the significance of each of the traditional Thai musical instruments stationed at Benjarong.
Verdict
If you'd like to experience Thai hospitality at its a best and get a taste of authentic royal Thai cuisine in a traditional yet ornate milieu – reminiscent of Thai palaces, then this is where you need to go. Benjarong affords pristine views of the buzzing Downtown area. The traditional Thai music will relax you, while the performance by the skilled artisans will captivate you and ensure you have the best dining experience of your life. The staff are super nice and friendly and carry the Thai warmth and hospitality with them which you will experience right from the moment you step in. This place is highly recommended.
Gallery
If You're Going
Need to know
Cuisine: Thai
Where: Level 24, Dusit Thani Dubai, Sheikh Zayed Road, Trade Centre Area, Dubai
Hours:   12Noon to 3PM, 7PM to 11:30PM
Atmosphere:  Regal splendour, Palace like milieu, Thai decor, traditional music
Parking:  Valet Parking Available
Prices: AED 400 for two people (approx.)
Credit cards: Cash, Cards accepted
Sound level: Music
Wheelchair access:  
Service: Excellent
Recommended:  Coconut Ice Cream, Pad Thai Noodle,Khao Tang, Puja, Khow Phod Tod
Additional Info:   Full Bar Available
Reservations:  04 3174515


Disclaimer / Voluntary Disclosure
This review was sponsored by Dusit Thani Hotel. Though the meal was complimentary, all photos, views and opinions are my own, as always. The restaurant had no influence on the content of this article. Neither there is any form of cooperation between us, nor I am obliged to publish anything. I have not received any monetary payment in lieu of this review. All images used are courtesy of Blogliterati.com, unless stated otherwise. The images may not be reproduced without explicit permission/consent from the site owner.