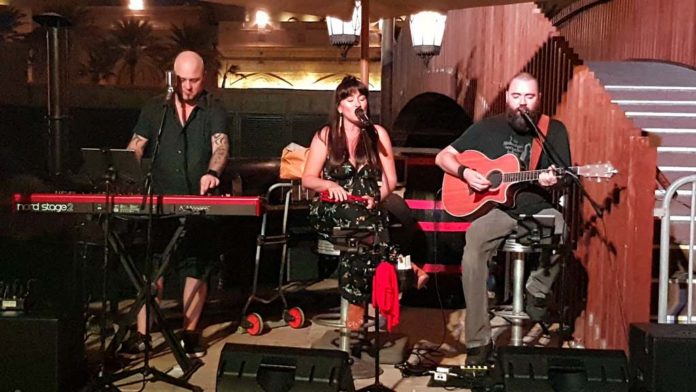 Nestled right in the heart of Souk Madinat Jumeirah, Perry & Blackwelder's has developed a local reputation for ol' fashioned Southern hospitality, comfort food and a rolling good time. With great food, quality service and a vibrant atmosphere, Perry & Blackwelder's screens international sporting action from around the globe, along with a full schedule of live music.
P&B's recently introduced a new line-up of freakishly good food and drinks and Blogliterati.com was invited to check out this new offering and share our experience with our readers.  The newly launched menu includes super-size sharing platters, metre-long hot dogs, creative cocktails and indulgent Freakshakes.
Perfect for food lovers and party goers alike, P&B's massive new menu shake-up promises a truly unique American experience all under one roof!
Since it was a cold and wintry Wednesday evening, we warmed up with some peppy cocktails including few with interesting names like Movie Night and Smile and Say Cheese!  P&B's new carefully-crafted cocktail menu includes the Smoked Alabama Snapper, a tomato and beetroot-based mixed drink served in a burger cup; the Movie Night is an espresso-based concoction topped with salted popcorn and served in a retro striped popcorn box.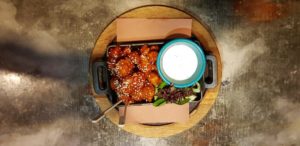 Now for the food, we started off with some Chicken Poppers and Mozarella sticks in appetizers. Chicken poppers were tender and addictive and provoked an eating frenzy right from the first bite! The mozarella sticks were bigger (thicker) than anything I've tried before. They tasted very good too!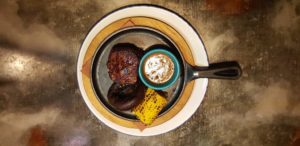 In the mains we went for fillet steak and southern fried chicken. The steak was grilled to perfection and served with portabello mushroom, grilled corn, smoke sticks and mixed salad. Southern fried chicken was very southern style – fried perfectly and sided with creamy mashed potato and coleslaw.  We additionally also had a bowl of texas rice on side.
The New Menu
Perry & Blackwelder's has an all-new mission: to inject a super-sized dose of fun into evenings with an Americana-inspired freakishly good menu. P&B is embracing its Deep South roots with ginormous sharing dishes designed to be savoured with friends and family. Diners can choose from a giant 700-gram prime beef patty burger, or a metre-long Gutter Dog, both served with a variety of popular toppings.
The re-energized new menu items will join P&B's American comfort food staples, including loaded potato skins and Louisiana -style shrimp Po'boy; artisanal smoked brisket; a 500-gram 'Cowboy Steak' Ribeye on the bone; and its popular Old-Fashioned P&B Burger.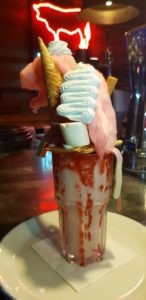 P&B is also invading Instagram with a new line-up of all-new Freakshakes for milkshake mavens, including The Super Freaky Freakshake – a 1.5 litre thick chocolate milkshake topped with toasted marshmallows, ice cream cones, chocolate brownie, donuts, wafers and more chocolate. Other concoctions include The Mississippi Mud Shake – a chocolate shake topped with a brownie, a donut, an ice cream cone, cookies & cream and toasted marshmallows.
We tried The Unicorn – a strawberry shake loaded with fruit sweets, strawberry, white chocolate, cotton candy, wafers and cream. However the star highlight in the freak shakes is the Bee's Knees – a vanilla-flavoured shake dressed up with honeycomb syrup, waffles, honey macaroon, toffee popcorn and fudge.
In line with operator JRG Dubai's company-wide policy on avoiding single use plastics, all P&B Freakshakes are be served with paper straws.
Entertainment
From the Boxtones Trio to the epic blues-rock band Lady J and the Royal Vagabonds, P&B's new entertainment line-up will have guests jumping off their seats and rocking out those dance moves!
Heightening the spice to Wingman Wednesdays from 9pm – 12pm, the Boxtones Trio, entertain guests with a fusion of folk tunes that carry big, rocky choruses and pumping melodies. Thanks to Lady J & the Royal Vagabonds, Thursday nights just got better – the band promises a bona fide blues experience that will have party-goers shimming into the weekend without a care in the world!