One of the newest additions to the JBR dining scene is Blaze Burgers, a Bahraini born and bred Burger café that launched few months ago to an exciting start in Dubai.  Now it is all set to take the 'Burgerville' by storm, while possibly knocking off the big kings of burgers, as we know it!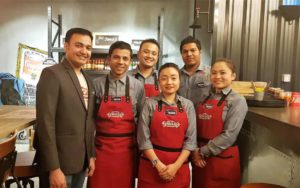 The brand
A premium burger joint known for its popularity, detail and bold creations, Blaze Burgers is already  conquering taste buds in Dubai with an exciting menu catering to carnivores through a choice of premium burger patties.
Ambiance
The Blaze Burgers outlet reflects the Blaze ethos of contemporary hospitality. The 400 sq. m. outlet, can seat 130 customers at a time. The interior design is retro-chick with red leather sofas, blazing red insignia shining through the dark corners. Industrial style lighting, exposed pipes and edgy art work including murals, objects, paintings and graffiti created by local and international artists make it one of the coolest burger joints in town.
Arif Paracha Outlet supervisor takes us on a tour in the video below.
Service
Service is amazing, attentive and prompt. We were served most part by a friendly waitress called Sujata from the Indian Sub-continent. She was a very jovial one and quite helpful too. At times she'd had to wait for minutes on end with a tray of hot food on her hands,  while we kept training our lenses and framing the dishes on our table for the best angle possible. Her patience is acknowledged and highly appreciated.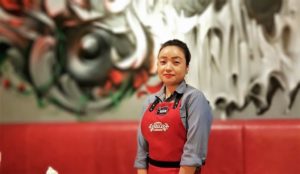 The Philosophy
Blaze Burgers is about doing the basics right ; and serve the right way – delicious premium burgers with the finest wholesome ingredients. Food quality is extremely important at Blaze Burgers. From choosing the best cuts of American Angus or Australian Wagyu to a wide selection of gourmet cheeses too – from Cheddar and Emmental to American cheese, Parmesan and blue cheese. To ensure flavour and juiciness, the patties are only ground before grilling, and kept for a maximum of two hours.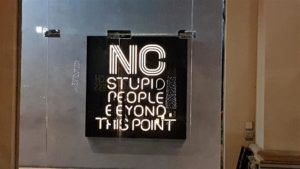 The Fare
Blaze burgers Gourmet Burgers have more than your average toppings. Its definitely not the usual 'patty, slice of cheese with lettuce & some tomato'. The combinations are unique, and ever so scrumptious and loaded with meat and cheese.
Burger aficionados watching the waistline can always ask for a lettuce wrap instead of bread to opt for low-carb option. Meanwhile, there's choice aplenty for side dishes – with French fries, chips, onion rings and the Blaze Burgers famous "scoopers" all on the menu.
It's not just burgers that draw the crowds to Blaze Burgers. Dubai foodies are already loving the DryShake – the city's first milkshake made entirely with ice-cream and not milk. And of course, there's the gourmet extra creamy soft ice cream that Blaze Burgers makes in-house.
Our Visit
We were treated to a delicious array of juicy burgers and mouth-watering desserts & shakes.
The Shakes
We started off with their famous Milk shakes which included Blaze on the Beach, Balaleeb Shake and Super Hero Milkshake.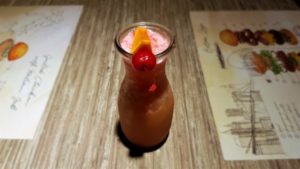 Blaze on the Beach
Their Signature mocktail and most popular one on the menu, Blaze on the Beach was a very delightful fusion of Peach, lime, cranberry and orange juice. Appetising, indulgent, refreshing  – probably one of the best fruit fusion mocktail we'd ever tasted.
Balalee6 Shake
Popular among Arabs and locals, this is a very Arabian inspired glass of rich, dense and creamy milkshake.  Anyone living in UAE or any GCC countries for that matter know how popular Balaleet is, among Arabs. Actually, considered a type of sweet – it is a sweet-salty breakfast dish. Blaze has taken one of the most popularly traditional delicacy and turned it into a milkshake to celebrate the local dishes of the region. Balelee6 had our taste buds tickled with its rich blend of rose water, cardamon and saffron spices.
Super Hero Milk Shake
A super delectable milkshake full of creamy awesomeness and lots of ice cream! We tasted a bit of heaven with this creamylicious blend
The Fries
Blaze Burgers fries are hot, crispy and super delicious. We went for Cajun Scoopers, Angry Fries and Onion Rings.
Angry Fries
You'll enter a fry heaven when you try these golden treats tossed in melted cheese, spicy sauce, jalapenos and roasted peppers.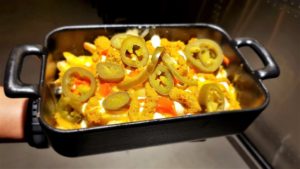 Cajun fries
Blaze Burger knows that sometimes seasoning is all you need to take simple fries up a notch. The Cajun fries are just one example. With the right amount of homemade Cajun spices seasoning fried in just the right crispness –this one gave us a winner-winner fried pre-dinner.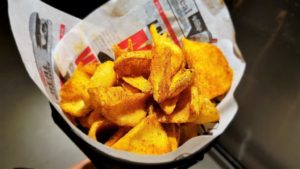 Onion Rings
We couldn't get enough of these crunchy onion rings!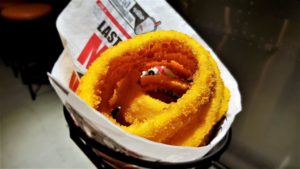 Mains
Gourmet Wagyu Burger (With Chili Corn Cane in White Bun)
Tabooga Beef Sandwich Burger
Gourmet Wagyu Burger – A juicy and irresistible burger made from premium Australian Wagyu beef cuts. The burger was deliciously crafted with premium meat cuts incredibly marbled with succulent flesh. It was topped with Chili Corn Cane – a spicy topping of Jalapenos, smoky sauce, American Cheese and onion.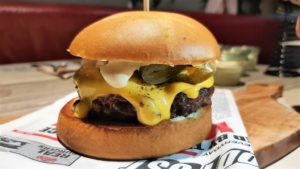 Tabooga Beef Sandwich Burger – Also known as 'The Brick', this revolutionary Burger remains one of the juiciest, most flavorful burgers that I've ever tasted in Dubai. Full of meaty goodness and cheesy richness, accentuated quite well by the egg and lettuce in between two grilled cheese sandwiches. The barbarian topping added that perfect level of hotness as I always love. Complimented by Angry fries, it was a spicy killer!  I had to sip down gulps of Milkshake to douse the flaming tongue!!!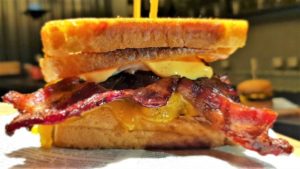 Dessert
Though we were full to the brim – we just couldn't leave the place without trying their dessert.  So, we ordered Gooye Chocolate Skillet Cake. It completely topped up our more than awesome experience at Blaze Burgers. After all the spicy, flavoursome meats, the dessert provided a sweetly welcome relief for the palates. Served on a skilled and sided by ice cream, marshmallows, chocolate chips and chocolate sauce, this dessert was BLISS.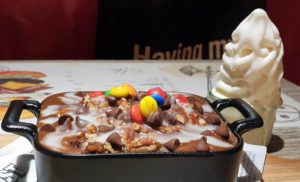 Verdict
If you want to enjoy the best Gourmet burgers in a retro-chic setting then this is the place to go. Service is amazing, friendly, attentive and prompt.
Gallery
If You're Going
Need to know
Cuisine: Burger 
Where: Sadaf, The Walk, Jumeirah Beach Residence (JBR), Dubai
Hours:   12.00 Noon to 2.00 Midnight
Atmosphere:  chic, red leather sofas, red lighting reminiscent of 80's clubs
Parking:  No
Prices: AED 130 for two people (approx.)
Credit cards: Cash, Cards accepted
Sound level: Moderate
Wheelchair access: Accessible
Service: Very good
Recommended:  Gourmet Wagyu Burger, Tabooga sandwich, Balalee6 Shake, Super Hero Milk Shake
Additional Info:  Outdoor terrace
Reservations:  80025293 00 42424523
Facebook:  Blaze Burgers FB