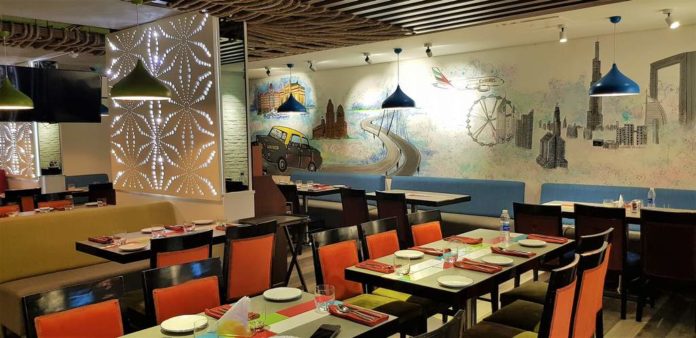 Bombay is a land of a million hopes and dreams. Bombay is also one of India's top culinary destinations where flavors of all over the sub continent and beyond collide. The newly launched Bombay Dreams restaurant in Dubai is a microcosm of this interesting melange of cultures, tastes and aromas that is here to take UAE by storm.
When we first heard about this restaurant, we did commit the mistake of assuming that it is "just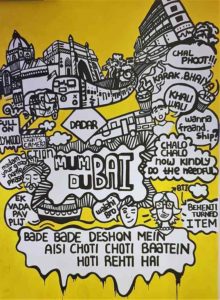 another" Bombay-themed restaurant – like the many we've seen emerging in Dubai over the course of the last decade.
In just few months of its launch Bombay Dreams has managed to earn a 4.1 rating on Zomato and rave reviews from reputed food connoisseurs in Dubai. Aside from that, the gazillion stories and posts on Instagram – since its launch – definitely provoked our interest.  So Blogliterati.com decided to visit BD (Bombay Dreams) and find out what the buzz is all about.
Situated bang opposite to Puranmal and Gangour in Oud Medha, Bombay Dreams is a casual restaurant with a nice vibe to it. The colorful interiors and the Bollywood-slang replete murals add a fun tone to the setting.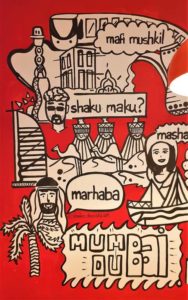 The main attraction, however is the hand painted wall that brandishes some of the most celebrated icons of Dubai and Mumbai. It is a wall that has a story to tell. A wall that connects one city of dreams to another through a celestial journey that starts from a Mumbai taxi and progresses through the magical clouds encircling an Emirates Jumbo before finally culminating in the tall skyscrapers of Dubai.
The artist Shanice Da Costa kind of etches the aspirations of many a 'Mumbaikar' who dreams of landing a job in Dubai "one day" and vividly traces the journey through icons that are close to the heart of every Mumbaikar and shall we say – Dubaikar?!
The distance between the dream and reality could be just an Emirates flight away. In the same vein – the distance between Mumbai and Dubai can be one good restaurant away. So, is Bombay Dreams trying to bridge this gap and take people closer to their home through their inspired fare? Blogliterati.com tries to find out.
The Food
We were served with a shot of welcome drink as is the custom in many Indian restaurants these days. For a change it was no chaas or neembu pani but a shot of hot rasam signaling a warm welcome in the cold month of January.
Our amuse bouche – kachori came with its own share of drama (read fuming liquid nitrogen). I liked this modernist take on the good old kachori.
In starters we were served with Tandoori Malai Broccoli, Zafrani Anari Paneer Tikka, Batata Hibiscus, Arancini Balls, and Veg Potli. All the starters had a flavor and character of its own and the style, aroma, taste and presentation was outstanding. 5/5 for the starters.
In the main course we decided to try a mix of Indian, Continental and Oriental dishes. In Indian we went for Zafrani Lacha Paratha, Dal Makhani, Gulab Jamun ki Sabzi, Paneer Taka Tak and BD Biryani. We also tried  Sambal Tofu, Mongolian hot pot in Oriental and Risotto and Pink pasta in Continental. I know! That's a long line up of food, but one that left our palette satiated – with a guilty pleasure, of course!
The Indian dishes had the unmistakable aroma, flavor and taste of well cooked spices and condiments.  Bombay Dreams proved great in the continental and oriental department too! The risotto, pink pasta and the Mongolian hot pot bore testimony to that. All of them tasted very original and definitely won our appreciation and admiration.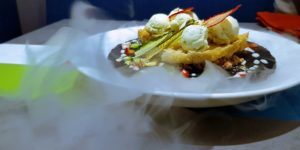 Desserts were no less creative. We had Jalebi with lotus Rabdi and Ghewar with cucumber gelato in desserts. Ghewar with a liquid nitrogen twist was good and jalebis provoked an eating frenzy that left us ordering another yummy plate of them.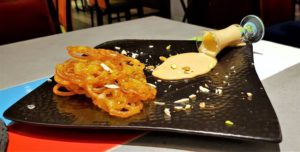 Overall verdict :
The pricing has been kept very reasonable and the quality of food is really good. Bombay dreams will definitely carve a special space for itself in this overcrowded Indian restaurant scene. All they need to improve on, a bit, is the service. Otherwise, looks like they have all the essential ingredients to succeed in this market.
Definitely worth checking out!