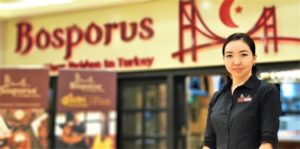 Last Thursday Blogliterati.com visited the iconic Wafi Mall to review Bosporus – the Turkish restaurant chain – which is arguably one of the best Turkish restaurants in Dubai. Named after the famed Bosphorus strait, Bosporus restaurant forms a culinary gateway that connects the people of UAE with the exquisite Ottoman cuisine of Turkey.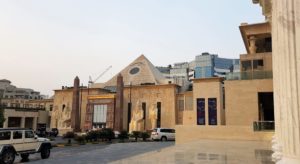 A Dubai born concept Bosporus started in 2010 with a mission to be the best Turkish restaurant by serving Authentic Ottoman cuisine and its rich history to the culturally diverse city of Dubai. Owing to this reason, even their slogan reads – "Your Bridge to Turkey".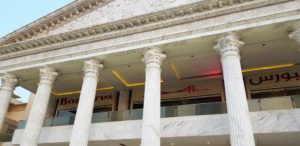 At Bosporus guests could experience the authenticity of Turkish Cuisine, traditional Turkish food and all its magical flavors; a place where the Turkish roots and culture of yesterday meets the highest quality and standards of today.
Welcome by the Managers Amr and Eden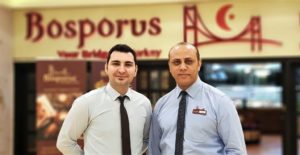 There couldn't be a better venue than Wafi to enjoy such a traditional and culturally significant cuisine like Turkish Cuisine.  We were welcomed by Amr and Eden – the warm and friendly restaurant managers at Bosporus. Through out our time at Bosporus, both of them and their fabulous team ensured that we had the best of Turkish cuisine and hospitality.
Ambiance
The ambiance is casual and relaxed. The dining areas are spread across three sections. One side with wooden flooring near the rotisserie and oven area where you can watch your gyros and breads getting baked to perfection. On the other side is a large dining area with 2 private dining closures. The two sides are separated in the center by a bakery and mini kitchen where you can see everything from sweets to ice creams to salads being freshly prepared. Third section is the enclosed terrace area for smoking and shishas. This is also where the live entertainment takes place.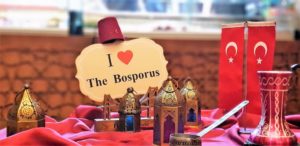 Starters
We started off with the famed Gavurdagi salad and a mixed platter of cold appetizers.
Gauvurdagi
Named after a mountain in Turkey, this tomato salad is quite popular across Turkey. It comes from a region that is known make some of the most delicious and spicy Turkish delicacies. The amalgamation of sweet and juicy tomatoes with crunchy walnuts was nice. Add to that – the sweet and sour pomegranate dressing complimented it quite well and made for an appetizing salad that burst with flavors.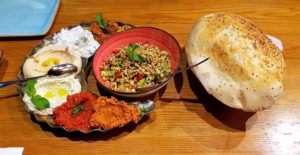 Mix Plate
Mixed plate included all the usual locally preferred specialties including Humus, Babaganush, Mouthabel, Carrot Salad, Chili Salad with Yoghurt.
This was served with one of the most delicious bread we ever tasted in Dubai. It was great when hot but when cold, it was still good.
Sides
Yoghurt Patlican
In sides we were also offered Yoghurt Patlican – a refreshing smoked eggplant salad made primarily of yoghurt and mint. The delicious, smoky flavour from the aubergine gave it a distinct taste without necessarily making it over powering. Strained yogurt lent a wonderful creamy texture to this dip. It served as a great side for the fresh crusty bread.
Ispanakli Pide
Along with the breads we were also served with Ispanakli Pide or spinach pide. Ispanakli Pide is essentially a huge piece of bread stuffed with sautéed spinach inside, and peppered with sesame seeds outside. This is Turkey's own version of pizza. It was very filling!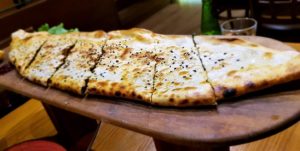 Main course
In the main course my dining partner had Kumpir (with vegetables) while I ordered my ever favourite meat kebab named – Fistikl Kasarli Kebab
Kumpir
Known to be one of the best Turkish street foods, the Kumpir was a melange of fresh vegetables, pickles, olives and loads of cheese stuffed inside a huge baked potato. The buttery potato mash served as a nice and neutral base for the complimenting flavors of the pickles. It was a very unique dish that was tasty and filling at the same time.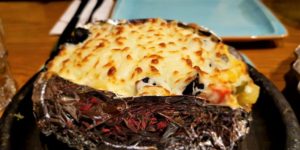 Fistikl Kasarli Kebab
Minced Meaty goodness of lamb in the form of two long strips. This was sided with grilled tomato, chili and onion and served with flavored Turkish rice. The meat was succulent and juicy and had seeped in all the marination well which resulted in great taste. The flavored rice was an interesting addition as a side.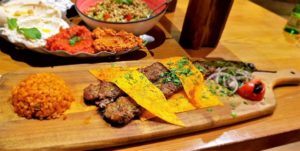 Desserts
How could we call it a dinner and leave a Turkish restaurant without trying out their Bakalava?! So, based on Amr's recommendation we ordered Bakalava Ice cream and my all time favourite Kunafa.
Bakalava with Ice Cream – The deliciousness of Turkish Bakalava along with the uniqueness of Turkish ice cream combined in one excellent dessert bliss that satiated the tongues and the soul. I wont say more but the video below would do more justice.
Kunafa with cream again was such a hit with our palettes. It helped wash off the indulgences from food to prepare us for some Turkish coffee and Double Apple Sheesha.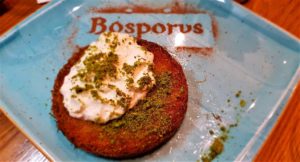 We ended the evening with some soul captivating Turkish music performed by the talented Edin Arsalanturk while steadily sipping down endless shots of Turkish tea.
The Gallery
Need to know
Cuisine: Turkish
Where: 1st Floor, Wafi Mall, Wafi City, Umm Hurair, Dubai
Hours:  10 AM to 12 Midnight
Atmosphere: Spacious casual dining restaurant with authentic fare and great music
Parking:  Mall Parking
Prices: AED 275 for two people (approx.)
Credit cards: Cash, Cards accepted
Sound level: Music
Wheelchair access:  Accessible
Service: Excellent
Recommended:  Cold mezze, Fistikl Kasarli Kebab, Bakalava with Ice Cream, Kunafa
Additional Info:   No Alcohol Available. outdoor seating, Shisha, Wifi
Reservations:  04 3327337
Disclaimer / Voluntary Disclosure
This review was courtesy of Bosporus Restaurant, Dubai. Though the food was complimentary, all photos, views and opinions are our own, as always. The restaurant had no influence on the content of this article. There is no form of cooperation between us, and I am NOT obliged to publish anything. I have not received any monetary payment in lieu of this review. All images used are courtesy of Blogliterati.com, unless stated otherwise. The images may not be reproduced without explicit permission/consent from the site owner.