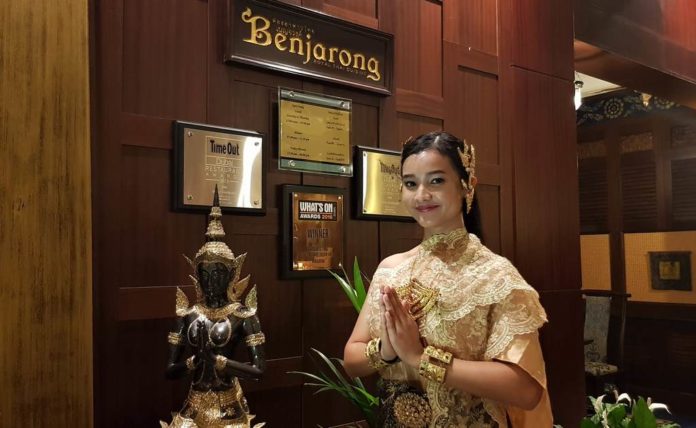 Savour the various local delicacies from the lanes of Bangkok one bite at a time, Thai Style at Benjarong, Dusit Thani Hotel
Celebrating the flavors of authentic Thai cuisine, Benjarong at Dusit Thani Hotel is hosting a street food promotion all April to bring the streets of Bangkok to life here in Dubai.
What's unique about this promotion is that Benjarong restaurant – famously known to serve mainly Royal Thai Cuisine has added a 5 star to popular street food this time, by serving some of the most popular street side fare in its ornate and regal setting.
The promotion which is on from the 1st to 30th of April features a table d'hôte menu carrying the best of Bangkok street food like Ping Yang Ruam, Guay Tiew Tom Yum, Hoy Tod, Kraprow Gloong Khai Dao and a whole lot more.
While the interiors of the hotel itself, hasn't been modified to look like a high street food carnival, the focus has been largely placed on reflecting the true taste and authenticity of Thai street cuisine.
Our Visit
Me and my dining partner are ever so excited to return to Benjarong as we get to enjoy the live music and dance performance of Naam Nemoo – their in-house artist.  This week being Easter week, we decided to visit Benjarong yet again. The place had exactly the right milieu we were looking for – beautiful, traditional Thai music playing in the backdrop, colorfully dressed dancers floating elegantly on stage, lip-smacking hot seafood soups and warm & friendly Thai hospitality. We enjoy all of that and a lot more, each time we visit.
Starters
We started off with Ping Yang Ruam – grilled marinated chicken, beef, fish ball, beef ball on skewers and mixed sauce.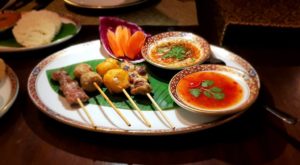 The meat and fish came very nicely rubbed in flavorful sauce. And if that were not enough, two flavorsome sauce assortments on the side added on to the dish, turned out to a palate rewarding experience and set the tone for the indulgence. It was served with crispy prawn and rice crackers which also came sided with flavorful dips.
Salad
In Salad we tried Som Tum Thai – A fresh green papaya salad with carrots, green beans, garlic, shrimps, chilli, peanuts and cherry tomatoes. The whole mixture was tossed in spicy lime dressing which made it taste completely flavorsome and scrumptious. It was sided with fresh sticks of crunchy beans and carrots.
In Soups we had Guay Tiew Tom Yum – a steaming hot, flavor packed Thai noodles with minced chicken, dried shrimps, ground peanuts and lime juice. The soup was absolutely yummy and the chicken and shrimps tossed in tangy lime and zesty sauce further contributed to a flavor burst in the mouth.
For the main Course we tried Hoy Tod, Khao Kraprow Gloong Khai Dao, and Sukiyaki Talay.
Hoy Tod – This main course dish comprised of fried crispy rice flour, mussels, bean sprouts and egg. It was a very unique and tasty dish, which we had never tried before.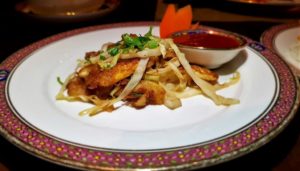 Khao Kraprow Gloong Khai Dao – A Thai rice lovers delight this dish was steamed jasmine rice peppered with delicious fried spicy shrimps, hot basil and topped with a fried egg.  The Khao kraprow Gloong Khai Dao was quite filling and got delicious with every spoonful.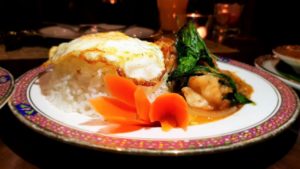 Sukiyaki Talay – One can never really tire of Thai Soups because they are scrumptious and burst with flavor. So I relished every spoonful of this glass noodle & vegetables soup topped with egg and concocted with sukiyaki sauce.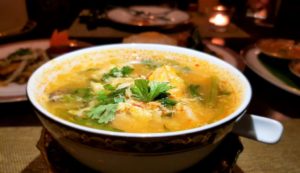 Desserts
In desserts we had  Chao Guay – a black jelly in a sweet syrup which tastes like honey. It had crushed ice, sweet potato, jackfruit, and palm seed. A unique dessert. We also ordered a coconut ice cream – our favourite.
Verdict
The Brazen Bangkok street food fare is spectacular and spot on in terms of flavor and authenticity. I have tried Benjarong before and have loved it but this time, they exceeded expectations in terms of taste. The Bangkok Street food promotion is on this entire month at Benjarong, Dusit Thani Dubai.  It is a must go and highly recommended!
They have a fabulous team of culinary staff, waitresses, musicians and a warm and courteous assistant manager Sutida Prasertsung, who makes sure that guests enjoy the very best of Thai hospitality and service – which the restaurant is famously known for.
We also met and spent time with our good friend – Naam, the principal musician, dancer and performer at Benjarong. If you ever get to go to Benjarong, do stop by to steal a few moments off this highly talented young lady. She will gladden your heart with her warm disposition and probably even play some music specially for you.
Luckily, you don't need a visa or visit Bangkok to taste what real Thai street food feels like. All you need is a love for food and openness to experience the street culture of Bangkok right here at Benjarong!