I am a huge fan of Mexican food. Well, honestly who doesn't enjoy a good plate full of fiery and delectable Mexican fare??!
Authentic Mexican cuisine is vibrant, delicious, fresh and fun. It is also known to be spicy, with the usage of an amazing array of chilies and herbs, very much like the Indian food.
But, more than the generous use of spices, there are a lot more similarities between Indian and Mexican cuisine that makes it so irresistible. It is the unique amalgamation of spices, seasonings and vibrant colors – that make the fare look appealing and taste as appetizing as it looks.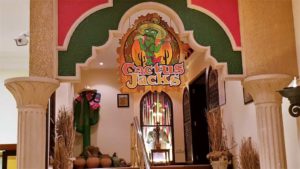 So, needless to mention, when I got an invitation to review Cactus Jack's the Award-wining Mexican Restaurant at the Millennium Airport Hotel, I jumped on the opportunity. All set to celebrate its 16th Anniversary tomorrow (30th Jan) , Cactus Jack's is a Latino hot spot frequented both by locals and expats alike. It is known famously for its frozen margaritas, mojitos and specialty fajitas.
My Visit
Millennium Airport hotel is no new venue to me. I had only recently reviewed DXB grill, so during this visit, I saw quite a few familiar faces – that were glad to welcome me again. I was met by their smart and efficient Assistant Marketing Manager Sheryll Aquitan, F&B Director Digvijay Singh, Restaurant Manager Sharat and Specialty Chef Sudesh Vithanage. They were happy to meet and personally show me around this popular Millennium group property and also speak few words for the camera. Here is a clipping of my interview with Digvijay Singh Rathore – the Director of Food & Beverage services at Millennium Airport Hotel.
Welcome again to Millennium Hotel
I was served with a glass of Watermelon Freezer in welcome drinks and a basket of hot, crispy Nachos, sided with their signature Salsa Mexican Sauce.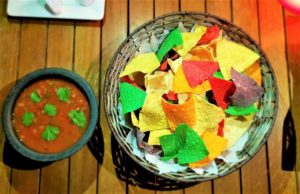 The Nachos were so fresh and crisp that it literally crunched in the mouth.  The Salsa Sause – the perfect partner to the crunchy chips was spicy and piquant.  The Watermelon Freezer was light and subtle but very refreshing, at the same time.
The Drinks
Cactus Jacks has a well-stocked bar with a good collection of sparkling reds, whites, house beverages and an interesting line up of cocktails. I tried Strawberry Margarita which was oozing strawberry all over, chill, and delicious!. Then, with the weather and my throat not permitting, I went for Jack Daniels, as neat as I always have it.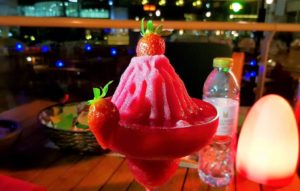 The Food
Salad
For salad I went for Ensalada De Camarones Con Mango Salsa which awakened my tastebuds and got them all kick-started for the Mexican affair. This delectable melange of prawns, avocado, arugula, carrot curls, and mixed baby lettuce leaves offered a feast of flavours and textures with every bite.  The prawns were crunchy and spicy and the salad overall was bursting with flavours of sweet, sour and tangy.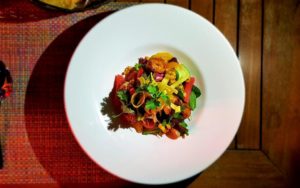 Appetizers
For the appetizers I went for a sharing platter – The Cactus Jack's Fiesta Platter which came with delectable Jalapeno & cheese nachos, crispy calamari fritos, veg packed quesadillas, well-cooked beef taquitos and delicious buffalo wings. This was served with home-made guacamole and sour cream which served as a perfect side dip.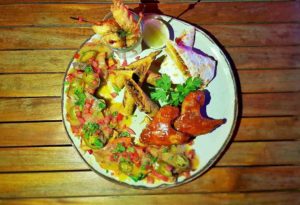 The portions were good enough for two people to share and I highly recommend this sharing platter which is complete value for money
Mains
For the main course, I went for Tex-Mex Mix Grill based on the Chefs recommendation. My dining partner went for Enchilada Con Verdure and Veg Quesadilla.
The Man behind these great dishes is Chef Sudesh Vithanage– The Speciality Chef of Cactus Jack's. Chef Sudesh has been with this restaurant ever since it launched. Watch him speak in the video below.
Tex Mex Mix Grill – This mix platter came with fresh Chipotle marinated chicken, beef, lamb tenderloin and beef chorizo served along with Southwest style mashed potato, asparagus and steak pepper sauce. The spice was just right, and the quality and freshness of the meat was evident from the taste. This platter is highly recommended for meat lovers.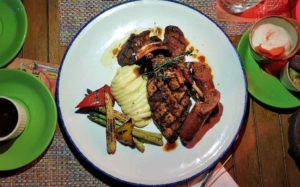 Vegetarian Mains
Enchilada Con Verdure  – Fresh flour tortillas wrapped in spinach, tomatoes, onions and mushroom filling. It tasted amazing, thanks to the flavoursome home-made tomatillo sauce and rich cheese topping.
Cheese, Mushroom And Onion Quesadilla Another veggies delight, the Quesadilla was made of grilled flour tortilla and packed with creamy cheddar cheese, jalapenos, green onions, mushroom, cilantro and chopped tomatoes. It was served with flavoursome home-made guacamole and sour cream.
Desserts
Sizzing Hot Chocolate Fudge Cake By far this is one of the best Hot Chocolate Fudge cake I have tasted in Dubai. Extremely soft and mouth-watering, the cake was smothered with layers and layers of melted chocolate fudge. It was served on a skillet with spiced vanilla ice cream, white chocolate and Cajeta sauce. Watch the Slo Mo video below:
Nachos De chocolate Baked crispy Sopaipilla dressed in hot chocolate sauce and Cajeta and served with strawberry and vanilla mousse. This unique dessert is surely worth a try.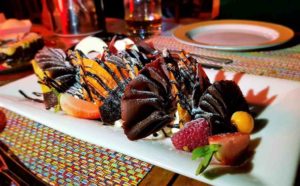 Ambiance – Very chilled out and relaxed vibe with an open terrace, relaxed seating and a lovely live band playing beautiful hit songs. Despite being close to the international Airport, the noise level from the planes taking off or landing  is minimal, if not absent, making the milieu ideal for a peaceful alfresco dining experience under the stars. The colorful candle lighting adds a romantic vibe to the overall setting, making it also an amazing venue to enjoy an intimate dinner with family or friends. The milieu is great for enjoying shisha or drinks under the open night sky, as well.
If you are one that loves to spend the weekend amidst some action, then that bit is covered too. Cactus Jack's indoor dining area is charming and spacious. It has a well-stocked bar, a live DJ dishing out hip music numbers and loads of interesting activities. The Dental Chair, for instance – where participants are seated on a special dentists chair for a ten second challenge to gulp down as much tequila they can. This is just one of the fun activity there.
Service                        
As with any Millennium group property, the service is impeccable and top of the class at all times. The Restaurant Manager Sharat – a friendly young man ensured that every bit of our time spent at the Cactus Jacks was enjoyable. He regularly visited our table to check if we needed anything or to just find out if we were enjoying our time at his restaurant.
Here's a clip from his interview with blogliterati.com Editor.
Verdict
There's a common perception that Mexican food is spicy and heavy but, in fact, true Mexican food is light, savoury and earthy, thanks to its generous use of fresh herbs, vegetables and citrus. At Cactus Jack's you can relish authentic Mexican cuisine at its finest.  The menu is very large and has all of the Mexican favorites in appetizers, salads, combination platters, and house specialty entrees. This place is highly recommended.
Buen provecho!
The Gallery
If you're going
Need to know
Cuisine: Tex-Mex, Latin American
Where: Millennium Airport Hotel Dubai, Casablanca Street, Al Garhoud, Dubai
Hours:  6 PM to 3 AM, all week.
Atmosphere:  Candle lit tables, Live Band, Live DJ, Hip Music, Gorgous terrace
Parking: Yes
Prices: AED 340 for two people (approx.) with alcohol
Credit cards: Cash, Cards and Meal Coupons accepted
Sound level: Moderate, Music from live band
Wheelchair access:
Service: Impeccable
Recommended: Cactus Jack's Fiesta Platter, Tex-Mex Mix Grill, Strawberry Margarita, Sizzing Hot Chocolate Fudge Cake
Additional Info: Vegan and Gluten free options available ; Shisha Available
Reservations:  04 7028855
Facebook: Millenium Airport Hotel FB
Disclaimer / Voluntary Disclosure
This review was sponsored by Millennium Airport Hotel. Though the meal was complimentary,  all photos, views and opinions are my own, as always. The restaurant had no influence on the content of this article, there is no form of cooperation between us, I was not obliged to publish anything, and I have not received any monetary payment in lieu of this review. All images used are courtesy of Blogliterati.com, unless stated otherwise. The images may not be reproduced without explicit permission/consent from the site owner.