Summer's almost over but it doesn't mean your holiday has to be! Visit caféW any night of the week and choose from Italy, France or Spain and the caféW team will transport you to Europe.
Launched on 15th of August, caféW is currently offering three packages which guests to sample delicious dishes and wonderful wines without having to book a trip, deal with flight delays, or pack their bags!
Available from 6pm daily, the AED 210 package includes a carefully selected bottle of wine from the country of your choice, delicious regional meats and cheeses and one hot and cold small bite selection.
Dreaming of Italy? Try some flavourful pecorino, cheesy arancini and bruschetta topped with tomato, olive and eggplant. If you'd rather choose Spain, their prawn chorizo, manchengo and beef pancetta will have you feeling like you're in the Mediterranean.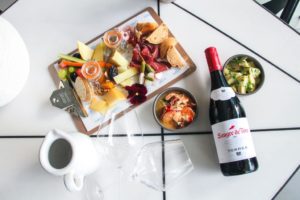 Their French feast is full of creamy Brie, comte and croquettes – and all their boards come complete with a selection of breads (because calories don't count on holiday!)
Every evening when the clock strikes 6, caféM at Media One Hotel is transformed into caféW – a wine and cheese bar featuring an extensive selection of carefully chosen wines and a delicious new menu to accompany them. Perfect for after work drinks, caféW is the place to disconnect.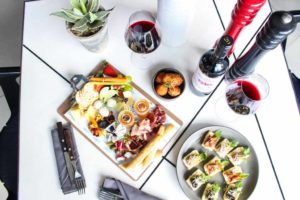 Blogliterati.com's review team recently visited MedieOne hotel to check out this promotion and we indeed had a wonderful time. The food was quite remarkable as any of their other F&B properties and the service quite impressive too.
The culinary and service teams at Cafe W ensured that we had a delicious tour to Europe and the wonderful team of Evgenia Noskova (Outlet Manager), Maja Jovanovic( Cafe Supervisor) and Suvekshya (Waitress) took excellent care and made sure we enjoyed every bit of our visit there.
Bottom line
Great place to experience the best of Europe in Dubai. This promotion is truly value for money and you can enjoy a decadent selection of food and fine wine all at AED 210. The food quality is remarkable and the service will bowl you over. Highly recommended.
Need to know
Cuisine:  Cafe
Where: Ground Floor, Media One Hotel, Opposite CNN Building, Dubai Media City, Dubai
Hours:  11 PM to 11 PM
Atmosphere:  Gorgeous cafe with subtle mood lighting and great vibe to chill with a glass of champaign
Parking:  Building Parking Available
Prices: AED 210 for two people (approx.)
Credit cards: Cash, Cards accepted
Sound level: Music
Wheelchair access:  Accessible
Service: Excellent
Recommended: French or Italian Platter  
Additional Info:Full Bar Available, Valet Parking, Shisha, Private Dining Area, Wifi
Reservations:  04 4271000
Disclaimer / Voluntary Disclosure
This review was courtesy of MediaOne Hotel, Dubai. Though the Food was complimentary, all views and opinions are our own, as always. The restaurant had no influence on the content of this article. There is no form of cooperation between us, and I am NOT obliged to publish anything. I have not received any monetary payment in lieu of this review. All images used are courtesy of MediaOne Hotel.