Street food is bae in Delhi and people from the capital of India know quite well that talking about street food without mentioning about Chandini Chowk is a sin. Be it the spicy Aloo Chaat or popular golgappa, or be it even the famous parantha from the Parathewalli Galli – Chandini Chowk is a haven for foodies.
A street food restaurant in Dubai's Media district is bringing alive the very essence of this vibrant food scene to Dubai. Its called Chandini Chowk. With the name of the famed locale of Delhi this restaurant promises to satiate all cravings with food that gastronomically delightful and truly desi to say the very least!
Chandini Chowk serves an impressively exhaustive array of north Indian street food, parathas, kebabs, curries, traditional snacks, sweets  and savories. We were invited for a review last week and we were quite exited to experience the charm of old Delhi's street food in the heart of new Dubai.
Ambiance
First off, the place exuded a very vibrant charm. Perched on the base of the One Lake towers overlooking the gorgeous JLT retail waterfront, Chandini Chowk offers unmatched views of the JLT skyline and JLT lake.  The glass walls on three sides of the restaurant ensure that no matter where you're seated, great views are an assured privilege.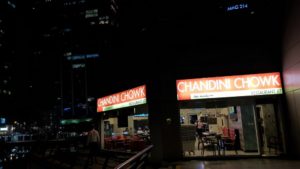 The seating arrangements are relaxed and comfortable and there's outdoor seating arrangement too. The décor include a miniature camel and a colorful Arabic lantern.
The walls are decked with seeming vehicle registration plates, which at times leave you wondering if it is a bikers club. This motif is present right across all the walled areas of the restaurant. The columns carry imprints of popular tabloid newspapers. As you enter the restaurant, on the left hand side, before the cash till is the chaat counter.
Drinks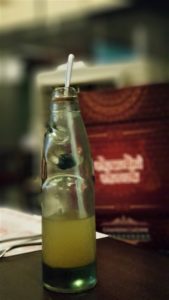 We started off, truly Indian style with a glasses of Banta Shikanji and Jal Jeera – both very popular summer time drinks in Delhi.  Shikanji is a type of traditional lemonade from Punjab spiked with flavourful spices such as roasted cumin, amchur powder and black salt. Best part is that at Chandini Chowk the shikanji comes in a Codd-neck bottle – a heavy glass bottle whose mouth is sealed by a round marble instead of a cap.  It is a cultural gem and definitely a refreshing way to start an Indian meal.
Jal Jeera (Cumin Water) another equally refreshing drink set the tone for the evening of indulgent dining at Chandini Chowk.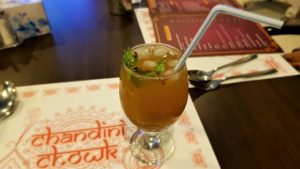 Starters
In starters we had the great Indian Samosa – a must-have before every gastronomic indulgence. Then we had the street famous Gol Gappe or pani pudi – a crusty crouton filled with spiced or sweetened water. Apart from that, in starters we also had Papadi Pizza and Vada Pav.
We progressed from these lip smackers to the majors, which included a Veg Kebab Sizzler Platter for my dining companion and a mixed Non Veg Kebab Sizzler for myself. The starters were tantalizing to say the least and with every indulgence it left a burst of fantastic and much-craved-for flavors in the taste-buds.
The Samosas were king sized, filled with succulent boiled'n'mashed potatoes and packed with spicy Indian flavors. With the accompanying mint chutney, it was totally yummy.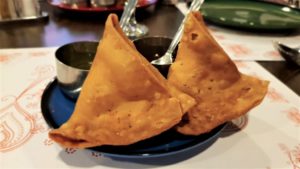 Gol Gappe filled with potatoes, sprouts, Indian spices, spicy water and sweet tamarind chutney  exploded with flavors in our palettes.
The Papadi Pizza was a very unique dish that thrilled our tastebuds in every single bite! It had chopped bell pepper and onion mixed with pizza sauce and topped into a Cheese papadi.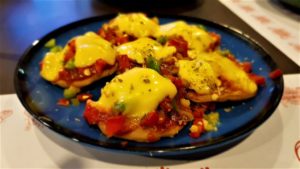 Chatpati Idly Chat – A lip smacking north Indian spicy version of the popular south Indian idly. It was a tantalizing dish of fried idly, cottage cheese, chickpeas, chopped onion, tomato and sweet and spicy chutney.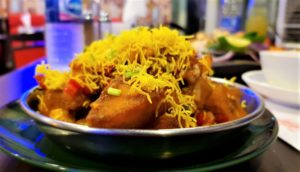 Vada Pav was as lovely as a Mumbaikar would make it. (Or Dillikar?!)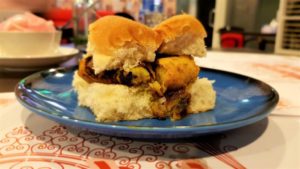 The sizzlers were totally flavor packed, very well garnished and succulent. Probably the best Indian sizzler I've tasted in Dubai, on record! The vegetable kebab sizzler had different forms of paneer and hara bara kabab packed in flavor and cooked to perfection.
Non Veg Kebab sizzler : This was an assortment of Mutton, Chicken, Fish and Prawns Tikka. The Non veg kebab sizzler too was packed with tantalizing flavors that sizzled its way to our palettes for a completely rewarding dining experience.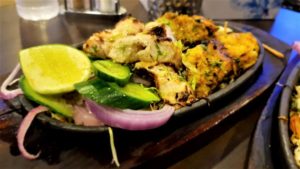 Main course
In the main course we went for Special Vegetarian Thali which comprised of Jeera rice, mixed vegetable, paneer, dal, salad, lacha paratha, raita, papad and gulab jamun (sweet of the day)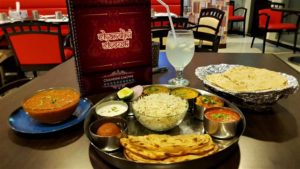 A totally appetizing combo meal that filled us to the brim.
While we had no space at all for anything more, how could we miss the Dilli special moong dal halwa?! We sealed the meal with this dessert bliss and called it a happy night.
The Gallery
Bottom line :
Chandini Chowk wowed us in terms of service that is on par with that of any star hotel in Dubai. All credits to the fabulous restaurant manager Deepak who took care of every single detail from the moment we stepped in. He ensured that we had one of the most enjoyable evenings and we are definitely going there again. In terms of food too, Chandini Chowk bowled us over. The food was totally appetizing and does complete justice to its name – a true connoisseur of the famous street food ethos of Delhi. I highly recommend this place for spicy, delicious and soul placating Indian food.
Need to know
Cuisine:  Indian, Street Food, Arabian, Chinese, South Indian 
Where: Shop no.12A, One Lake Plaza Tower, Cluster T, Jumeirah Lake Towers (JLT), Dubai
Hours:  11 AM to 11 PM
Atmosphere:  Simple, comfortable seating, great views of the Jumeirah Lake
Parking:  Building Parking Available
Prices: AED 130 for two people (approx.)
Credit cards: Cash, Cards accepted
Sound level:
Wheelchair access:  Accessible
Service: Excellent
Recommended:   
Additional Info: Outdoor Seating, Kid Friendly, Wifi, Buffet
Reservations:  04 5531234
Disclaimer / Voluntary Disclosure
This review was courtesy of Chandini Chowk Restaurant, Dubai. Though the Food was complimentary, all photos, views and opinions are our own, as always. The restaurant had no influence on the content of this article. There is no form of cooperation between us, and I am NOT obliged to publish anything. I have not received any monetary payment in lieu of this review. All images used are courtesy of Blogliterati.com, unless stated otherwise. The images may not be reproduced without explicit permission/consent from the site owner.