In my honest opinion the word "Hidden gem" is one of the most overused and redundant terms in the lexicon of food bloggers in this part of the world. So, I thoughtfully always desist from exploiting the word. However this wont, in any way stop me from raving about this new-old "Gem" of a little Italian restaurant that I recently visited.
Crumby Dubai is a pretty little home-style canteen run by a hospitable and hardworking Italian couple Massimiliano and his wife Alessia at the ground level of the Iconic Omniyat tower in Business Bay.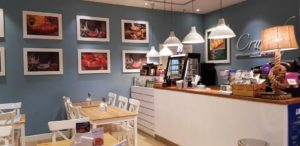 The restaurant is so pretty, the very first thing you want to do as you enter, is click lots of pictures. By the end of your session, you'll be taking more pics and selfies with the entrepreneur duo Max (Massimiliano's nick name) and his pretty wife, who even has a sandwich named after her. I've met very few restaurateurs in this part of the world, that are so hardworking, passionate about what they do and friendly to the core as Max and Alessia.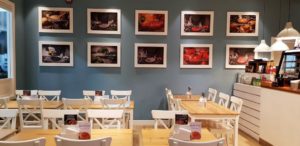 I visited them last week with a dear friend who is also a top ranked food blogger in Dubai. Max didn't waste time to seat us and treat us to a glass of freshly pressed green apple juice.   Crumby's fresh pressed juices are healthy, less on sugar and more on the natural taste. So crumby gets a brownie point, right there!
About Crumby Pizza
Crumby is a brand that combines taste with the values of tradition and innovation by welcoming customers in a warm and refined being-at-home kind of place and surprising them with flavors and aromas that feast them with fast food but in the highest of quality and taste. The crumby brand is dedicated to those who have no time but want to eat real made in Italy. Crumby Dubai serves a delicious array of  pizzas, pastas, soups, sandwiches and created with authentic Italian ingredients with passion and finesse.
Origins of Crumby Pizza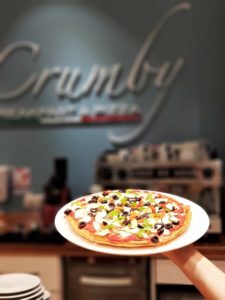 The origins of pizza Crumby date back to Italy in 1950, to Oncino a small mountain village in the province of Cuneo near Turin, where Mr.Luigi – Massimiliano's grandfather prepared the pizza in an iron pan cooking it on the stove, for the people of his country.
What's Unique about Crumby Pizza
Don't you feel that sense of heaviness when you indulge on a regular thick crusted pizza from any of these fast food outlets? Crumby pizza is totally different from that and the very fact that separates the Crumby brand from other pizza vendors in the market is that their pizzas are delicious in taste, look heavy to see, but is absolutely light on the stomach.  How they manage to do this is by placing the pizza bread inside a small aluminum pan before baking it in oven. The dough is left to rise a second time within the same container in which it is cooked. The result is a Crumbier (read higher) and softer pizza with a marked crisp edge.
What we ordered
We decided to take the recommendation of Max and started with Penzerotto. I went for the Panzerotto Pollo which is chicken, mozzarella and pomodoro, while my dining companion went for Classico which had pomodoro, mozzarella and pecorino romano.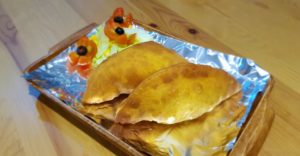 Both the variants of pomodoro tasted fantastic. The mozzarella cheese inside was perfectly melted and the taste was supreme. We wanted to order more of that but we decided to leave some room for the main dishes.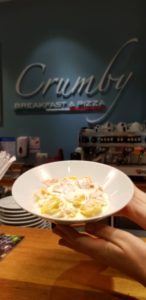 Pasta
In pasta we ordered Tortellini Ham & Cheese. This dish was utter bliss and the glitter in the eyes of my dining companion as the first bite touched his palettes, did very well nudge me to dive in right away. I nodded in complete agreement to my dining partner. It was utter-utter bliss. The cream was so delightful and juicy, the tortellini was soft, luscious and the shreds of Turkey ham in it tasted extremely good. At only AED 44, this dish was very filling, palette placating and standout!
Pizzas
In pizzas we ordered Lorenzo and Vegetariana. I've never tried Anchovies on pizza before which made me order the Lorenzo. My dining partner went with Vegetariana.
The Lorenzo was more saltier than I could imagine on a pizza, so I asked Max if this is how their regular customers liked it. He nodded in agreement and also went on to tell me that some of the customers who order this pizza love it for its saltiness.
Well, not for us, I guess.  The bread was soft and fluffy though, I must note.
My dining partner was kind enough to offer a few slices of his vegetariana, which I found to be quite different, less salty and more palatable for me. It came with tomato, mozzarella, bell peppers, black olives and zucchini.
We decided to do some bit of palette cleansing and ordered Burrato and that was not at all a bad decision. The burrato was so soft, fresh, creamy and delicious. Slicing through the luscious dish was a  pleasure in itself and the resulting goodness that oozed from inside, completely feasted the palates.
Risotto :
If I visit Italian, Risotto is a must for me. This is aside from the fact that I am from a rice loving part of India, risotto usually is my parameter for judging Italian restaurants apart from the regular pizza or pasta. On this occasion though, I wouldn't want to judge Crumby solely based on the dish. The risotto, in my opinion could have had more character and flavor to it, and perhaps some more cheese. It was okay-okay, but not standout, as compared to the other dishes there. It was also slightly salty. I think I have become totally salt intolerant generally.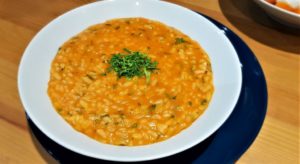 Desserts
After a truly appetizing meal, we decided to try their Tiramisu which Max and his wife were raving that we try before we leave. We did. It was another piece of bliss. It tasted very different from the slightly loose tiramisu we tried elsewhere. This one was quite thick in consistency, had that perfect shot of café on a bed of cheese mascarpone whipped up with eggs and chocolate.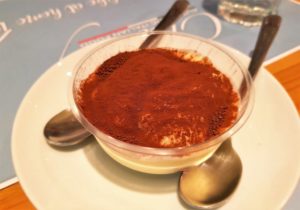 A perfect end to the perfect meal.
Bottomline
Crumby is a lovely little place to try authentic, tasty Italian food that is priced competitively and presented like you would eat at home. So, if you are high on attractively plated food, then this is not your place, but if you like simple, cost-effective and authentic home-style food, then this is where to need to hit.
Things to note : The restaurant does not have free parking. The towers underground parking charges AED 11 an hour.