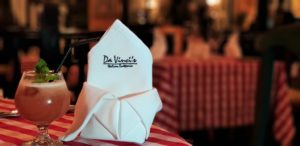 If the many "WhatsOn" Favorite Restaurant awards on their wall are not enough to convince you of how amazing this place is, then their food definitely will.  Da Vinci's at Millennium Airport hotel is one of the finest and oldest Italian restaurants on this side of town – serving a delicious array of authentic Italian cuisine. Opened in 1989, it's the 3rd Italian restaurant in Dubai and has flourished in numerous culinary awards, including the "Dubai's Favorite Italian Restaurant" several times in a row.
We went to Da Vinci's – the Italian restaurant at Millennium Airport Hotel last week on an invitation for a review. We'd had a wonderful gastronomic experience as we always have at MAHD.
Blogliterati.com met the soft spoken and friendly restaurant manager Mohamed Hashem who happily showed us around the restaurant and threw some insights about the wall full of awards, the oven, the restaurant and his great team at Millennium Airport Hotel.
Ambiance
Walking in, the décor is interesting. From the classic dark wood furniture mixed with red checked table cloth, to framed Da Vincian paintings against muted walls, the place is picture place perfect for a romantic dinner or an intimate meal with close friends and family. The restaurant has a rustic vibe with a modern twist. There's an electric piano that plays on its own, a beautiful wine cabinet, and the traditional Italian wood fired oven where you can see your pizza getting baked to perfection.  The Italian music playing in the backdrop transfers you to Sicilia or Rome. Over all the ambiance makes you feel like it is situated off a breezy beach in Italy.
Starters
While waiting for our food to arrive, they served us with an appetizer of Bruschetta topped with a mixture of tomatoes, greens, olive oil and cheese. These are just a few simple ingredients but I have no idea how they were able to make it taste so delicious. The flavors were perfectly balanced. I have never had bruschetta taste that good.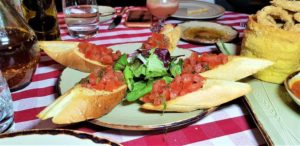 Then they served us Fritto Misto – a crispy platter of Fried calamari rings, prawns and a fritter combination of sea scallop & chickpeas served with a tantalizing spicy dip.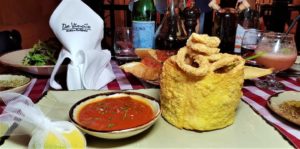 In Salads we had Insalata Gioconda con Salsa di Melogran – a delightful melange of frise, rocca, cherry tomato with Pomegranate vinaigrette. It was garden fresh with a very flavourful dressing.
In Starters I ordered a cheese platter decked with some of the best cheese in the market and garnished with fruits including fresh grapes, strawberries, litchi and dry fruits like almonds, walnut etc.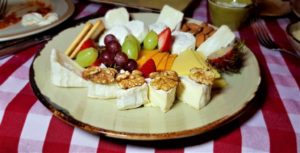 In the main course, I went for Filetto di Salmone – an herb crusted baked salmon dish with sautéed asparagus, roasted turned potatoes and citrus sauce. It is one of the most delicious salmon I've ever tasted anywhere in Dubai.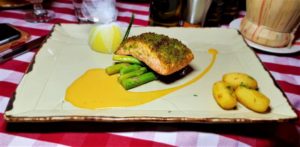 How could we be in an Italian restaurant and not order pizza?! My dining partner went for a vegetariana pizza and veg spaghetti. The pizza was perfectly done and came topped with tomato, mozzarella cheese and grilled vegetables.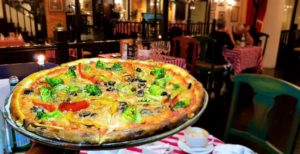 The spaghetti was fabulous too with a creamy and delicious dressing topped with tomato sauce and fresh basil.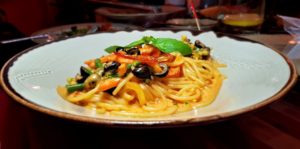 We washed it all down with some classic Italian coffee which is a must for us after every indulgent meal to make the experience complete.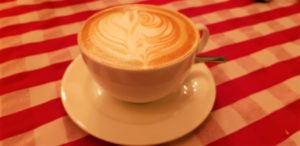 Bottomline
Da Vinci's is one of the finest Italian restaurants in Dubai. The atmosphere is rustic, classy and can transfer one straight to the streets of italy. The food is remarkable owing to the fact that they have been in existence for around 3 decades, so they seem to have mastered the Italian culinary delight. The hotel employs excellent service and culinary staff that know the expectations of guests and deliver fantastic service and lip smacking food consistently. Highly recommend this restaurant for an authentic Italian romantic vibe and food that is true to Italian taste. 
The Gallery
Need to know
Cuisine: Italian
Where: Millennium Airport Hotel Dubai, Casablanca Street, Al Garhoud, Dubai
Hours:  12 Noon to 12 Midnight
Atmosphere: Elegant, stately interiors with mood-lighting and great music
Parking:  Valet Parking Available
Prices: AED 350 for two people (approx.)
Credit cards: Cash, Cards accepted
Sound level: Music
Wheelchair access:  Accessible
Service: Excellent
Recommended:  Salmon, Pastas, Spaghetti, Cheeseboard
Additional Info:  Full bar available, Private Dining Area Available, Restricted Entry, Drinking Age Applicable
Reservations:  04 7028811
Where?
Disclaimer / Voluntary Disclosure
This review was courtesy of Millennium Airport Hotel, Dubai. Though the meal was complimentary, all photos, views and opinions are my own, as always. The restaurant had no influence on the content of this article. There is no form of cooperation between us, and I am NOT obliged to publish anything. I have not received any monetary payment in lieu of this review. All images used are courtesy of Blogliterati.com, unless stated otherwise. The images should not be reproduced without explicit permission/consent from the site owner. 
Acknowledgement
A very special thanks to Ms. Sheryl Aquiatan – the awesome Assistant Marketing Manager of Millennium Airport Hotel who stayed over after work, just to welcome us. She organized the review so well and ensured that every bit of the time we spent at Da Vinci's was totally enjoyable.