This fabulous Friday brunch is everything that you had been looking for on a Friday. Blogliterati.com and team stopped by at Dukes Hotel, Dubai last Friday to see what they have on offer. The team returned with a full stomach and great weekend feeling. It was a Friday well spent!  The 'Best Dressed Friday Brunch' qualifies to be Blogliterati's pick of the week for the Best Friday Brunch
Longing for brunch with a twist? Look no further, Dukes Dubai's dress-to-impress themed brunch says it all. Starting from 7th September, head down to the Great British Restaurant in your most stylish attire every Friday for a fun and elegant way of brunching.
Be one amongst the few for a chance to win a one-night stay at DUKES DUBAI where you will take in unparalleled views of the stunning Dubai Marina skyline and Palm Jumeirah. With a one night stay at Dukes, you can say that you have had the best in Dubai.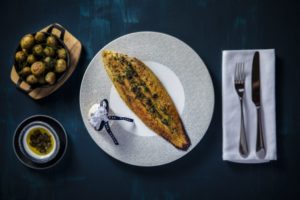 Bringing the absolute best of British to the table, the Great British Restaurant (GBR) serves up a fabulous choice of dishes with a British twist. A celebration of classic British cuisine, the versatile all-day-dining menu serves traditional hearty roasts with all the trimmings to divine dark chocolate fondant, and everything in between.
Blogliterati.com spoke to the Head Chef Rajendra Singh at the Great British Restaurant to find out more their 'Best Dressed Friday Brunch'.
Blogliterati.com learnt that the core focus of Great British Restaurant is on using top quality produce to create a meticulously planned all-day-dining menu of much loved classics. The ingredients used in the restaurant are sourced from the UK, according to the seasons, inspiring a new line-up of dishes every quarter.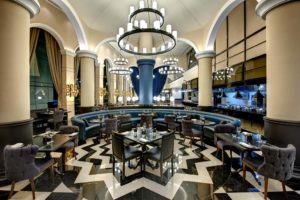 GBR is stylish yet understated with a brasserie style feel and a glamorous evening buzz. The dining space is constructed around the iconic bar, which stands in the centre of the restaurant and boasts a dramatic double height ceiling with large floor-to-ceiling windows showcasing stunning sea views. The open plan, spacious design lends itself well to special celebrations and group dining, creating privacy amid the restaurant's trademark British buzz.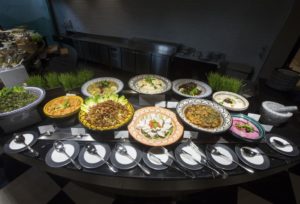 Diners can watch the DUKES culinary team preparing a repertoire of iconic British classics at the live cooking stations, or observe the bustle of the brasserie from the dedicated Champagne and oyster bar.
Blogliterati.com highly recommends you to try the 'Best Dressed Friday Brunch' at the Great British Restaurant, Dukes Dubai for an all-day dining experience that is simply British.
The Friday Brunch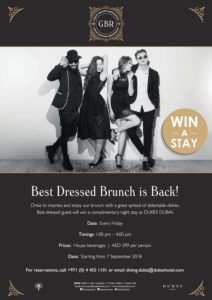 Date: Every Friday
Price: AED 399 per person inclusive of house beverages
Timings: 1:00 pm – 4:00 pm
For reservations, please call: +971 (0) 4 455 1101 or email: dining.dubai@dukeshotel.com
Website: https://www.dukesdubai.com/
About DUKES Dubai:
Situated on the trunk of the Palm Jumeirah, DUKES Dubai exudes luxury and leisure to even the most discerning of travelers from across the globe. Catering to everyone from family vacationers to couples and business travelers, guests of DUKES Dubai are sure to experience a truly memorable stay.
Disclaimer / Voluntary Disclosure
This review was courtesy of Dukes Hotel, Dubai. Though the Food was complimentary, all views and opinions are our own, as always. The restaurant had no influence on the content of this article. There is no form of cooperation between us, and I am NOT obliged to publish anything. I have not received any monetary payment in lieu of this review. All images used are courtesy of Dukes Hotel.