DXB Grill, millennium hotel's steak & seafood restaurant is delighted to announce their first year anniversary on 22nd March 2018. It is generally known for its high quality steaks, grilled meats, seafood and tandoori options in a distinctive ambiance.
Unveiling the offer, Mr. Simon Moore, General Manager of Millennium Airport Hotel Dubai, said: "DXB Grill is a venue with a new level of taste and expect the unexpected. Looking back over this time, I still remember all the team preparations and challenges. I am very happy and excited on the 1st year anniversary celebration. This was achieved through the team hard work and dedication and to our valued guests who are unfailingly supporting us."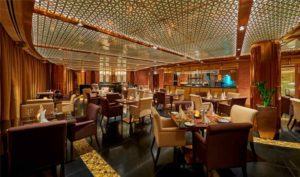 DXB Grill could not have made it this big without it's loyal customers. The restaurant thanks each person who has taken part of this journey, and hoping that the future years will bring more success.
Book your seats now and avail the anniversary treat valid on 22nd March 2018 only. The celebration starts from 7pm till Midnight.
For more information and reservations contact the below:
Tel 04 702 8888 or email dxb.mahd@millenniumhotels.com or dining.mahd@millenniumhotels.com