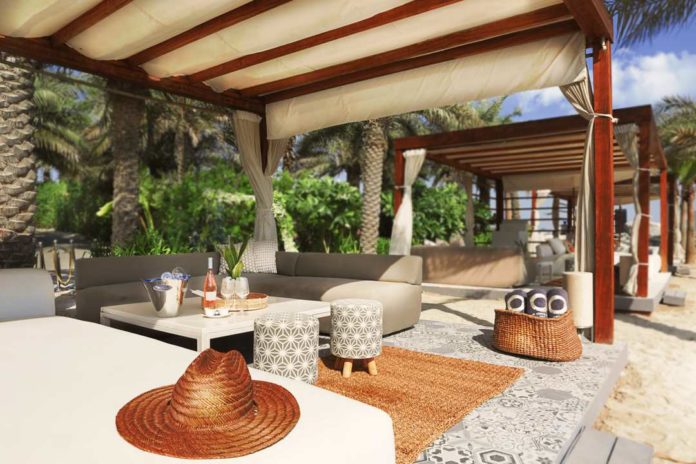 FINALLY – it's cooling down which means its time to get your tribe back together, gather the little Chiringuito's and head on over to El Chiringuito Dubai, where days become nights with friends that turn into family.
All about good vibes, top knots and sandy feet, El Chiringuito is a must visit. Situated right on the waters edge you can dip your pedicured feet into the Arabian Gulf without so much as moving a muscle – ooh and there's shisha too, not to mention some of the most insta-worthy views!
Going with the full fam? Then why not nestle in to one of their new beachside cabanas, complete with a personal waiter, sun loungers, welcome area, sheesha and your own fridge.
Fridays make for the perfect start to the weekend whether you're sprawled on a Bali Bed poolside or dining on some of the most delicious Ibicenco inspired dishes in the restaurant expect to feel something just a little bit magical in the air – after all El Chiringuito comes from the white isle. As the sun sets expect the musical journey to shift as the NOMADS start to gather under their archway – with names like Black Coffee, Damian Lazarus, MaceoPlex and Audiofly to name but a few this is absolutely a ceremony you have to experience.
From November 4th El Chiringuito adds an extra element to its trendy La Familia brunch with the option of two equally as impressive sitting areas. With the brunch offering from 1 – 5pm every Saturday, now you can choose between the original inside restaurant setting or the newly opened beach terrace; with the latter expect a change in pace as it's for those that want a party. Either way expect lots of celebrations, baby showers, engagement parties you name it, after all its what you do for family right?
Little Chiringuito is still giving out cuddles daily until 5pm. Our outdoor play area is fully supervised by Christie and her team who make it all too easy for your little ones to just wave you off!