When the famous headlines café inaugurated their second outlet at Ibis Hotel, Dubai world trade centre, aside from making headlines, it had made some of us (particularly from the media fraternity) very happy.
Why?
DTWC is a venue where we folks spend a considerable amount of time in the annual calendar covering one event or the other. A watering hole like Headlines Cafe was something we really craved for!
I was there for the launch of Headlines Cafe as a special guest and food blogger apart from my media industry connections, I was very well taken care of. I remember having countless sessions of cocktail mixes and bottomless plates of tapas that day. Mark Anthony (restaurant supervisor) and Michelle Lazarus (Marketing Manager) made sure I felt like a VIP.
I was sure enough very excited and liaised with the marketing team for a full-fledged review, on a later date. Quite obviously, they gladly obliged and few days later –  there I was, with my dining partner, sitting right across the stage where the music sensations Vivek Nambiar and Tuanna Gurdal were to be performing live that night. Firangi Fridays is one of the most popular parties in that joint, which draws party peeps, particularly the Bollywood crazed young Indian expatriates from all over UAE.
We turned up a little early to start up the evening with some evening pours. I asked for my usual favorite Hoegaarden draught. Depesh, the restaurant manager surprised me with a Mango Colada, which was a sweet and peppy concoction. It was followed by Beer Cocktail.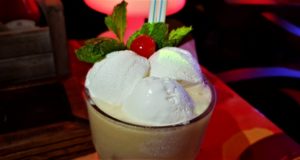 For the sides what could have been a better choice than a bucket of spicy and hot pakoda?!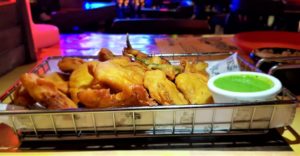 I enjoyed my draught with the Indian Pakoras, and just as hunger started kicking in, the service team populated our tables with fineries that best suited the occasion – Gunpowder Calamari and Death Wings – the headlines branded buffalo wings. Who would complain of some fire in the belly on such a night?!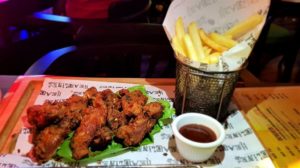 Starters
In starters we had Vada Pao, Paneer Chilly Kolkatta, Galouti Coin Paratha, Death Wings, Gunpowder Calamari and Thread Paneer.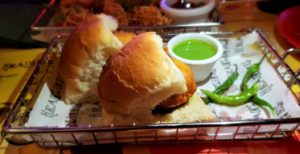 The vada pao was good but probably not the best out there. Paneer Chilly Kolkatta was as spicy as we would have loved to have it.
Galouti Coin Paratha looked quite interesting and tasted as lovely as it looked.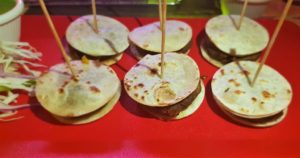 Gunpowder Calamari fired up our spirits with its crunchy goodness. A great accompaniment for the bubblies I would say.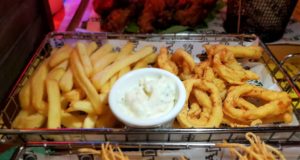 Thread paneer was a never-tried-before dish and we loved it for its uniqueness.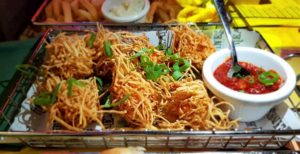 Main Course
In the main course I had Mutton Biryani and Mutton Rogan Josh.
My dining partner went with Dal Makhani and Indian Parathaa. I really enjoyed the Mutton Biryani sided with the Rogan Josh. The Biryani was delicious, and the Rogan Josh had succulent and tender pieces of mutton floating in flavor packed gravy.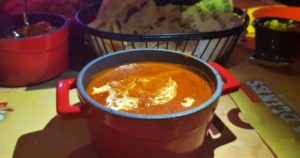 The Dal Makhani – Indian lentil curry went really well with the Indian breads and my dining companion seem to have thoroughly enjoyed the dish.
Desserts
In desserts we had Chocolate brownie and Honey Noodles with Ice cream. Both were great desserts and helped wash down the spiciness of the Indian indulgence.
Ambiance
First off headlines café exudes a vibe of a biker's club. You'll find it quite evident as you step in. Bike props of all kinds pop out of the walls, brought to life through the blazing headlights. This is seen on the menu and paraphernalia as well.  The place is quite spacious, but the furniture and décor is arranged in such a way that all guests seated get a view of the live music events happening on stage. The place bubbles with life on weekends especially Friday nights, thanks to the Firangi Fridays party.
The performance
The stars of the evening were Tuanna Gurdal and Vivek Nambiar the sensational duo of Firangi Fridays. They set the stage on fire, belting out one Bollywood hit, after another. The crowd including us were completely mesmerized and swayed to the beats. Probably one of the best party we attended that month.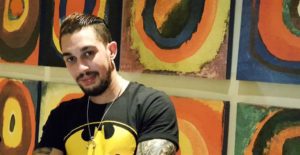 The Service
The service was exemplary and well managed by the service teams manned by a very efficient restaurant manager Depesh. The service supervisor Mark Anthony was excellent. He ensured that our orders reached our tables on time and we were taken care of well. The restaurant manager popped in every other minute to check on us, and also suggest things we could try.
Bottomline
Headlines Cafe is one of our favourite watering holes in Dubai, with a great ambiance, amazing pub grub, excellent staff and extraordinary levels of service.
Need to know
Cuisine: Arabian, Chinese, Indian, Italian
Where: ibis Hotel World Trade Centre, Trade Centre Area, Dubai
Hours:   12Noon to 2AM
Atmosphere:  Feels like a bikers club, colorful, vibrant, big screen LCD TV's, great bar
Parking:  Valet Parking Available
Prices: AED 200 for two people (approx.) with alcohol
Credit cards: Cash, Cards accepted
Sound level: Noisy, as every other club
Wheelchair access:  Accessible
Service: Excellent
Recommended:  Pakoda, Gunpowder Calamari, Death Wings, Galouti Coin Paratha
Additional Info: Private Dining Area Available, Live Music, Restricted Entry, Live Sports Screening, Drinking Age Applicable, Sports Bar
Reservations:  04 5531234
Disclaimer / Voluntary Disclosure
This review was courtesy of Headlines Cafe DWTC, Dubai. Though the Food and Drinks were complimentary, all photos, views and opinions are our own, as always. The restaurant had no influence on the content of this article. There is no form of cooperation between us, and I am NOT obliged to publish anything. I have not received any monetary payment in lieu of this review. All images used are courtesy of Blogliterati.com, unless stated otherwise. The images may not be reproduced without explicit permission/consent from the site owner.