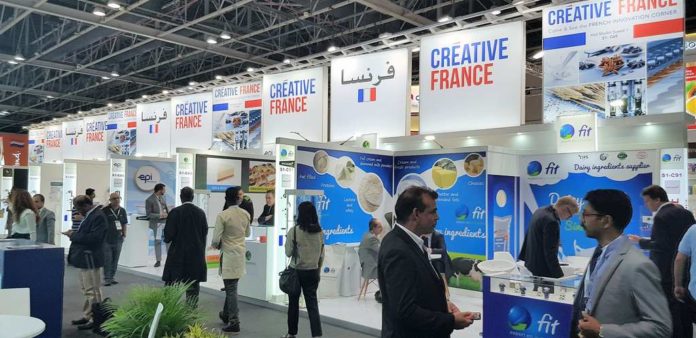 Business France, the national agency supporting the international development of the French economy facilitated two pavilions and an innovation corner during the Gulfood Manufacturing tradeshow.
This regional event dedicated to the ingredients and equipment of the food industrybrought together nearly 50 French companies to highlight their products and know-how. For the 2nd year running, Business France unveiled a French Innovation Corner at the Ingredients pavilion during this years Gulf Host Manufacturing.
For this edition, the packaging & processing machinery French Trade Association, GEPPIA, along with the French organization for intermediate food products, Club PAI and Bpifrance, the French Public Investment Bank teamed up as partners and members of the jury. This was mainly to set up to promote France's innovations that met the needs and trends of the Near and Middle East markets. The announcement of the winners took place on Tuesday, November 6th.
The French agri-food products and equipment perfectly match the consumers' needs in the region. French imports to the United Arab Emirates are based mainly on beverages (28% of market share) followed by dairy products (15% of market share). The French Ingredients Pavilion featured a space of 360 square meters in partnership with the Hauts-de-France and Brittany regions.
Visitors of Gulfood Manufacturing were able to meet innovative French companies keen on showcasing the diversity of French products, from dairies and cereals, to egg products and fruit preparations.
Exports of Ingredients and Intermediate Food products (IFP) from France to the UAE account for nearly 81 million euros. The quality of French products anticipates the requirements of traceability of UAE partners. The dairy ingredients, cakes and pastries are particularly major ingredients in export flows for France.
The French Equipments stall this year was dedicated to French equipment manufacturers with over 440 square meters of space. Nearly 30 French companies showcased their products that were both innovative and adapted to local needs. The diversity of the French offer was highlighted as the leading companies that exhibited this year came from a wide array of industries including water treatment, the cold chain, labeling, packaging, packing lines, sterilization, water jet cutting, extrusion and engineering, in addition to baking equipment such as ovens, molds and crepe machines.