Kulfi House – A Review
If you were to ask any UAE resident of Indian origin weather they like Kulfi, you will almost always hear a resounding "YES", and there are all chances that you'll witness a host of other animated expressions! Kulfi lovers are a cult.
Known as the official ice cream of India, it is perhaps one of the greatest desserts of all time – loved by people of all ages across the Indian Sub-continent. And thanks to the mighty Indian population in the Middle East – it is now gaining popularity across the region too – evident from the Kulfi boutiques sprouting up in different parts of UAE.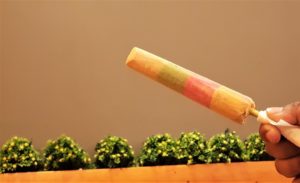 Kulfi House is one of the newest entrants in the Indian frozen dessert segment in UAE. With the increasing demand for cold desserts – thanks to the rising mercury levels and the all-time love for everything sweet in this country – the brand's entry in Dubai seems to be at the right place and at the right time.
Kulfi House – a south Indian brand started off in Chennai but is now spread across several metropolitan cities across India. The Dubai boutique is its first international branch outside India. The brand takes pride in serving the highest quality premium Kulfis, Kulfi Milkshakes and Kulfi Faloodas.  With over 55 flavors of Kulfi to choose from – including the traditional Malai, Kesar Pista and Gulkand Kulfi, to new & exotic flavours like Blueberry, Coffee Walnut and Roasted Almond – there is something for everyone!
Our Visit
We liked the pretty simple but artistic layout of the decor and industrial filament type lighting. The interior, though small is quite well laid out. There are potted plants hanging from the ceiling for that earthy touch, and then there are wooden benches that reminds one of schools. The counter displays all their exquisite variations of the popular Indian dessert, and the menu board right over the counter makes it easy to make the choices.
What we had
While we stood there baffled at the incredible variety of choices, Kalpesh – the friendly business partner made it easy for us by suggesting this best seller. We started off with a signature Kulfi House Special – a delightful combo of four fantastic flavors on a stick.The Kulfi House Special was an explosion of varied flavors including the usual favorites like Mango, Pista, Malai & Rose. Every bite brought back fond memories of childhood.
We then enjoyed a glass of tantalizing Kulfi House Special Falooda.  The basil seeds inside and the nutty and rich arrangement on top made the drink look irresistible. It tasted as amazing as it looked. Few sips down, I realized it is a tad too sweet and rich for my liking. So I passed it on to my dining partner who has a sweet tooth and is a die hard falooda fan.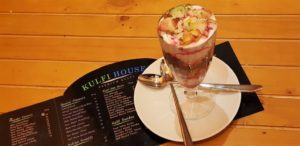 While I kept skimming through the menu, Kalpesh was quick to suggest another hit single from the Kulfi House Stable – The Spicy Guava Kulfi Slice.  Spice and Guava – do they both go well together – we wondered! Kalpesh reassured me " Just try!" with a smile.
And voila, the waitress got me a dessert which was not only intriguing to look at but tantalizing to taste. Yes, it was absolutely delicious and probably one of the best form of Kulfi I have ever tried anywhere. Kulfi House just became my favourite spot in Dubai Kulfis. Thanks to Spicy Guava Kulfi.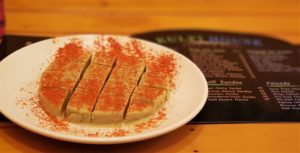 These sweet indulgences already seemed to fill us, but Kalpesh wouldn't let us go without trying out their Oreo Waffle Kulfi. The name sounded very tempting so I ordered one. Quite an interesting dessert I must say.
We left supremely satisfied with a promise to our selves to visit again soon.
The Gallery
Where
Need to know
Cuisine: Desserts, Ice Cream
Where: Shop 2, Jamal Omar Bin Hyder Building, Al Karama, Dubai
Hours:  1PM to 1AM
Atmosphere:  Small but spacious, industrial type lighting, comfy chairs & Old school wooden benches, potted plants hang from the ceiling, friendly staff.
Parking:  Public parking
Prices: AED 40 for two people (approx.)
Credit cards: Cash, Cards accepted
Sound level: Quiet
Wheelchair access:  Accessible
Service: Very good
Recommended:   Spicy Guava Kulfi Slice
Additional Info:    Wifi, kid friendly
Reservations:  04 5509126