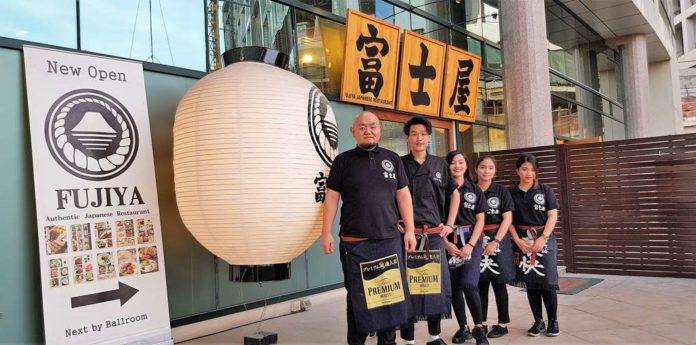 Fujiya Japanese restaurant is one of the newest F&B offerings from Millennium Airport hotel, Dubai. A very popular restaurant in Japan, UAE's first Fujiya outlet located at MAHD recently opened its doors in the presence of bloggers, influencers and top dignitaries from the Dubai royal family.
About Fujiya
Fujiya Restaurant provides an authentic Japanese izakaya-style dining experience from Japan. Available on the menu are a range of iconic traditional and modern Japanese dishes ranging from tapas to Wagyu shabu shabu (hotpot) buffet, Yakitori (Japanese style chicken skewers) and much more.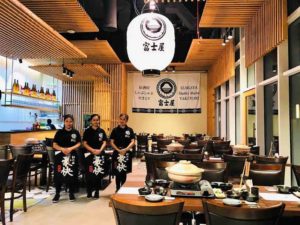 Ambiance
The place is beautiful, the ambiance warm and welcoming and there are touches of Japanese art in the background including the life size lantern with Japanese lettering that is suspended from the ceiling inside the restaurant.
The Food
I started off with a bottle of Asahi – indisputably Japan's best beer. Fujiya's spirit arsenal features an array of beverages including rare sake, yuzu and shiso.
Nothing could have been a better accompaniment for beer than a plate of sizzling Yakotori smothered in authentic Japanese home-made sauces. I went for an chicken assortment platter of thighs, breast, gizzard, skin, and chicken meat balls. Each of those were stand out, but my favorite was the chicken breast and gizzard skin. The breasts were tender, juicy, luscious and mouth-watering – in short.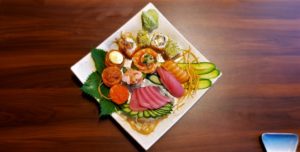 I then went on to try my most favorite dish that I would die-to-try in any Japanese restaurant – the sushi and sachimi platter. The platter had the best assortment of wagyu, tuna roll, maki, snake roll – the works. All were superb and artistically presented.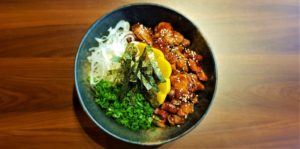 For the main course, I had a Teriyaki Udon – again one of my favorite in light meals that I could have for lunch or dinner.  The udon was one satisfying bowl of goodness that I just couldn't have enough of. The veggies were super fresh and the chicken topped with savory and sweet teriyaki sauce just melted in the mouth.
I finished off the indulgence with some matcha ice cream.
The Verdict
Fujiya is an exciting new entrant in the F&B scene in Dubai and a valuable addition to the already interesting F&B collection of Millennium Airport hotel. Despite the location in the 4* Airport hotel, Fujiya have kept the prices on check which is a good thing. Service is warm, friendly and quick. The operations are overseen by the Director Akio who is also the sole custodian of the brand in UAE and under his constant scrutiny, the staff deliver the best of service. Definitely worth checking out.