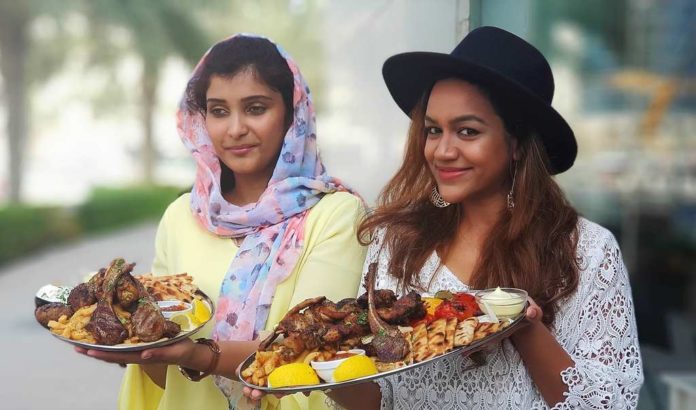 At Grecian Grill traditional herbal flavours amalgamate with modern cookery techniques to create a culinary experience of sorts.
To me, all this while, Greek food simply meant Gyros and at times – the usual Greek salad. Nothing more. I wasn't adventurous enough to walk into a Greek restaurant and try the fare there. I can perhaps attribute this hesitation to my difficulty in pronouncing Greek food names on the menu.
Things changed for the better last week, when I was invited to be part of an exclusive focus group to try authentic Greek cuisine at Grecian Grill.  This intimate tasting session was organised by well-known food blogger and my good friend Suren Rajamohan on the behest of the restaurateurs Kyriakos and wife Yuli. Grecian Grill Restaurant in Dubai Marina promenade is owned and operated by this Greek couple, for who the restaurant is more than a business.
Coming from a family that has been in the culinary profession for ages, starting a restaurant in Dubai was a natural move for Kyriakos Melas. His father was a chef – a brilliant one at that. Grecian Grill is not only a tribute to his father and his love for cooking traditional Greek recipes, but an ambitious venture aimed at showcasing the charm of traditional Greek cuisine to Dubai's cosmopolitan populace.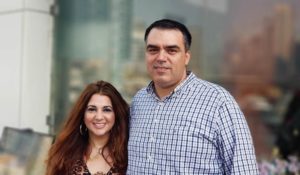 For many, its not just about the authentic fare at Grecian Grill that gets them to visit repeatedly; It is the loving restaurateur couple who offer more than just food.  Eating at Grecian Grill is almost like eating at their home and that is precisely what guests at Grecian Grill enjoy. The duo are always happy to entertain guests and it would be difficult to ever visit Grecian grill and not end up spending hours speaking to Juli or Kyriakos. They are an interesting couple who are quite passionate about what they do, and it reflects in their business. Little wonder that in the short 15 months of its existence, the restaurant has managed to carve a special niche for itself with the local community in and around Dubai.
The food tasting session not only gave me a chance to savour the best from GG's kitchen, but also offered me some unique insights about the history of Greek cuisine. Thanks to my prolonged discussion with Kyriakos –  I can now say that Greek cuisine is certainly one of the most interesting and culturally significant cuisines in the world.
The Ambiance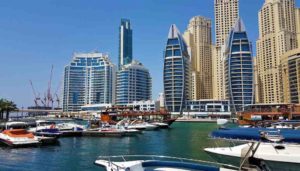 Situated in the bustling waterfront promenade, Grecian Grill is a totally traditional Greek style restaurant that is a tryst with tradition and history. You'll see that quite evident in the décor and milieu : Simple white wooden furniture, floral arrangements, traditional paintings, souvenirs, and artifacts from Greece. A replica of a ship takes center stage. The restaurant over all exudes a rustic Grecian feel, which is quite like what one would see in any small town in Greece.  There are no flashy blue and white paint – which is usually how Greek restaurants are represented abroad. The view of the Marina waterfront from the restaurant is fabulous both at night and day.
The Starters
We started off with a glass of fresh fruit juice. We were then offered a variety of cold starters which looked quite like the Arabic cold mezze, but different in terms of taste and texture.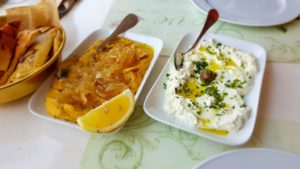 The cold starters included Tirokafteri, Eggplant Salad, Grecian Hummus,Tzatziki and Dakos salad. The starters had a unique flavour that was intrinsically Greek evident from the aroma and taste of fresh herbs.
Tirokafteri – A Greek Feta Dip with mashed feta cheese, garnished with olive oil and hot pepper. It is a common Greek appetizer. The word Tirokafteri literally translaters to "Hot Cheese". Its a cheese lovers delight.
Eggplant salad – Also called Melitzanosalata – the eggplant salad is a Greek appetizer traditionally served along with meats or bread. It tasted delicious and served as a perfect side with the Pita bread.
Grecian Hummus – Hummus is my all time favourite dish whenever I go Arabic and getting a chance to enjoy it with Pita bread – Greek style, was a pleasure. A versatile starter, the Grecian hummus could be enjoyed as an appetizer, sandwich spread, dip and what not?!
Tzatziki – Tzatziki is a delicious dip usually served cold along with grilled meat. This creamy, tangy and delicious appetizer was made of salted diluted yoghurt garnished with cucumbers, garlic, salt, olive oil and lemon juice. It also seemed to contain herbs like mint and parsley.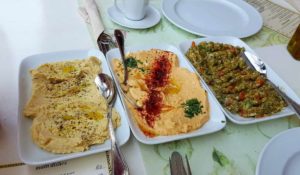 Dakos salad – A delicacy made out of Cretan rusk topped with marinated tomato puree, grated feta cheese, fresh oregano and garnished with extra virgin olive oil.  A Greek riposte to an Italian panzanella and Middle-Eastern fattoush salad it was delicious and packed with flavour.
In hot starters we were served with Yellow Split Beans Fava, Crunchy Zucchini Sticks and Garlic Bread.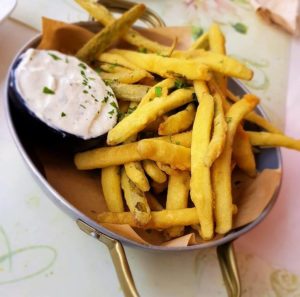 Yellow Split Beans Fava: A creamy, delicious traditional Santorini bean dip. It served as a perfect hot starter for a windy afternoon.
Crunchy Zucchini Sticks : Crunchy, crave-worthy, savoury Zucchini Fries served with yoghurt sauce. They were a delight in every bite.
Grecian Grill Garlic Bread : Quite different from the usual garlic bread. It was served with tomato sauce flavoured with basil pesto.
Main Course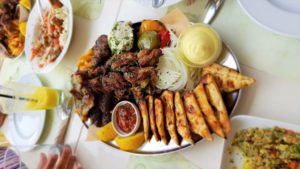 For the Main course we had a wonderful mixed grill platter which included lamb, beef, kebabs and chicken on skewers.  Even watching the meat being grilled to perfection in the rotisserie got us salivating. When it finally arrived on the plate, hot, succulent and juicy – it provoked an eating frenzy among the group.  Perhaps one of the best grills I've tried in a long time.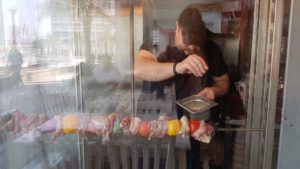 Desserts
For desserts we were offered an assortment of delicious cakes and pies which made the dining experience complete. The platter included Greek orange pie, Galaktomboureko – made of phyllo dough and custard cream and traditional Greek halvas.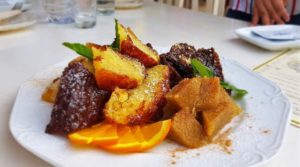 Service
Service was prompt, friendly, attentive. Kyriakos and his wife Yuli are the epitomes of Greek hospitality and they have well trained staff who reflect the Greek ethos and culture.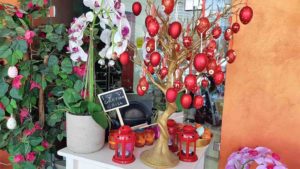 The Head Chef  
The head chef of Grecian Grill is Chef Antonois Melas – a cousin of the owner and a experienced culinary specialist with an illustrious career spanning several decades. He joined hands with Kyriakos to make his vision come true. Chef Antonois is as friendly as a chef could be and impressed us with his culinary finesse and knowledge of traditional Greek cuisine.
Verdict :
Eating at Grecian Grill is more than just a dining experience. It is an all round cultural experience that revolves around learning a bit of history, forging bonds and a whole lot more. I highly recommend everyone to try!
Getting there
Need to know
Cuisine: Greek
Where: Marina Promenade Level, Jannah Marina Bay Suites, Dubai Marina, Dubai
Hours:  2 Noon to 12 Midnight
Atmosphere:  Simple wooden tables, traditional artifacts, paintings & decor
Parking:   
Prices: AED 220 for two people (approx.)
Credit cards: Cash, Cards accepted
Sound level: Mild
Wheelchair access:  
Service: Good
Recommended:  Hot and Cold Mezze, Grills, Coffee
Additional Info: Home delivery, kid friendly, outdoor seating
Reservations:  054 4332040