Hook & Cook – An Absolute go-to destination when your crab-craving demands satiation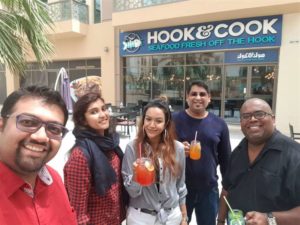 We were recently at a bloggers meet facilitated by the marketing team at Hook & Cook seafood restaurant and we had an absolutely lovely seafood feast there. We were a team of 5 and our review menu was carefully put together by the restaurant management.
Hook & Cook is owned by Restaurateurs Muna and Safwat – a friendly Egyptian couple who have taken great pains to develop the space as a premier seafood restaurant crafting a seasonally inspired menu by utilizing the freshest seafood that is sophisticated, creative and rich with local flavours.
I spoke to Muna on the backdrop of the review and was able to learn more about the Hook & Cook brand and her passion for creating a seafood concept. Here are some clippings from her interview to Blogliterati.com 
Ambiance
First off, the place itself is so picture perfect, or Instagram worthy so to speak. The restaurant looks straight out of a breezy beach with all the props and paraphernalia of fishermen artistically placed around the venue.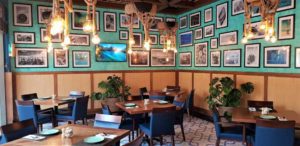 The beach-side chic is accentuated through the wooden ceilings from where the lights are suspended by ropes that resemble the ones used by fishermen. The walls are replete with classic paintings and photographs of sea-sides, marine life and boats. Very apt for a seafood restaurant, one must think.
The green-tinted walls highlight the paintings and exude another charm, while the key highlight remains the overturned boat suspended on the ceiling complete with its paraphernalia.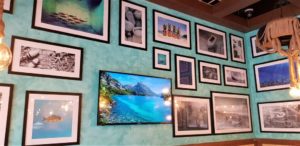 Starters
We started off with Sea food Bisque which is probably one of the best I've ever tasted in this part of the world. With all the goodness of the seafood in a bowl, it was rich, creamy, full of delicious flavours that literally feasted the palettes and set the tone for the afternoon.
In starters we had Fried Calamari, bang bang, fried shrimp, fish tacos and crab cakes
Fried Calamari :
The crispy calamari rings were served with a tantalizing marinara sauce which turned out to be a lip-smacking appetizer.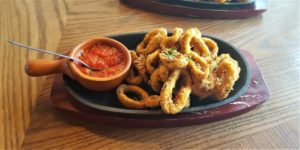 Fried Shrimp
The fried shrimps were equally tantalizing to look at and scrumptious to taste. With the flavorsome tartar sauce, it was mouth-watering – to say the very least.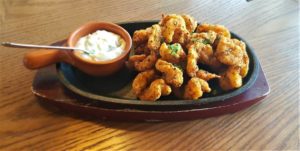 Bang bang :
A spicy and unique dish of dynamite shrimps dressed in fiery sauce that lit the taste buds with its zesty deliciousness. We super loved this dish.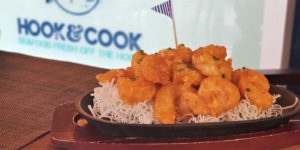 Crab Cakes
The best part of the starter menu was the incredibly delicious and crispy crab cakes. It provoked an eating frenzy among the bloggers and was a favourite of all.  For those who love to feast their crab fetish without getting their hands dirty, this dish is a great option.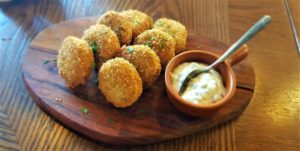 Fish Tacos
A Battered crispy white fish fillet garnished with lettuce, guacamole, fresh salsa and sour cream in a warm flour tortilla. Scrumptious.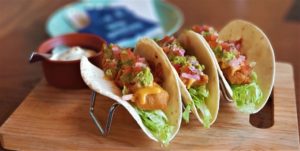 Paella
In the mains we had Paella. The key ingredient of this dish are prawns and mussels bedded on a layer of flavor-packed Spanish rice garnished with herbs.  It was a true feast for the palettes.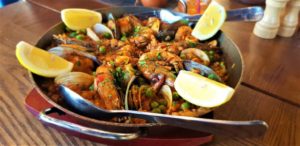 Hamour Butter Curry 
An absolutely delicious, melt-in-your-mouth curry with a rich and creamy consistency, packed with flavour. The gravy itself was so good and served as a great side for the bread. Add to that the delicious, succulent and fresh Hamour was the icing on the cake. We ended up mopping every bit of this dark brown gravy. 5/5 for this dish.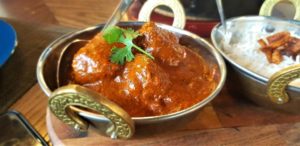 Chili Crab
Crabs were the highlight of our dining experience at Hook & Cook and they make crab like no one else in Dubai – The best! I've tried crab at several other restaurants but the variety and taste at Hook & Cook is close to none! With our crab eating gear on, we all looked like crustacean connoisseurs. The restaurant thoughtfully provided us with the aprons and disposable gloves, so we could just enjoy the experience without worrying about staining our clothes. On that note, the chili crabs were smothered in sweet and thick sauce, cooked in Singapore style and served along with rice and boiled corn.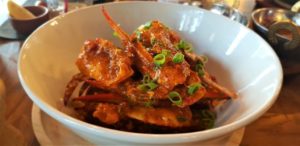 Black pepper crab
This decadent pepper crab takes the cake with its zesty flavor, thanks to the fiery pepper sauce it came doused in.  H&K's pepper crabs are probably the best rendition of the ever-popular dish done tastefully and differently, truly Singapore style. The portions were good enough for two or more to share.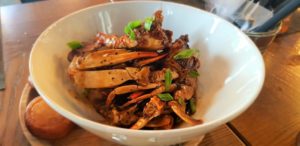 Desserts
Finally it was time to wash down all the indulgence with some desserts. Hook & Cook are not just purveyors of delicious seafood, they make equally delicious desserts too. Before we progressed to desserts we were served with some sorbet to delightfully wash down the spices from our palettes.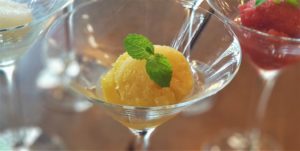 In desserts, we had Apple Pie, Dates Pudding, Lava cake and Lemon Cheese cake. In one word. Divine.
Bottomline
Hook & Cook is hidden sea food treasure serving brilliant seafood and crustacean fare. It is an absolute go-to destination when your crab-craving demands satiation.  Just be prepared to drive all the way to Sustainable City as they have only one standalone restaurant. We hope this would change sometime in the near future as their delicious dishes are already driving many people there and hopefully they will expand and come closer to home, I would wish!
The Gallery
Need to know
Cuisine: Seafood
Where: Shop 5, The Sustainable City, Arabian Ranches, Dubai
Hours:  1 AM to 9:30 PM(weekdays) & 11 AM to 10:30 PM (Thu-Sat)
Atmosphere: Casual restaurant with fine dining facility, very artsy and chic
Parking:  Available
Prices: AED 270 for two people (approx.)
Credit cards: Cash, Cards accepted
Sound level: Music
Wheelchair access:  Accessible
Service: Good
Recommended:  Chili Crab, Pepper Crab, Fish Butter chicken curry, crab cake, juices
Additional Info:  Wifi, Kid friendly
Reservations:  04 2443214
Where?
Disclaimer / Voluntary Disclosure
This review was courtesy of Hook & Cook Dubai. I was invited along with other bloggers for a review of their seafood. Though the meal was complimentary, all photos, views and opinions are my own, as always. The restaurant had no influence on the content of this article. There is no form of cooperation between us, and I am NOT obliged to publish anything. I have not received any monetary payment in lieu of this review. All images used are courtesy of Blogliterati.com, unless stated otherwise. The images should not be reproduced without explicit permission/consent from the site owner.