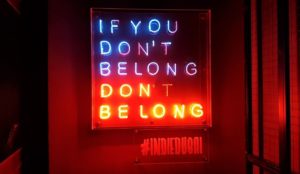 Gate village in DIFC is a not an unfamiliar location for Dubai's socialites. Being home to some of the slickest restaurants, art galleries, art cafes and bar lounges it is a haunt of the fashionistas, food connoisseurs, art lovers and party animals.
While Zuma in the vicinity, is very popular, there's one more rising star that you probably may not have heard of as much, but is clearly rocking the party scene big time in the financial district.
Indie Restaurant & Lounge is a DIFC hideaway that blends a restaurant, lounge and bar into one eclectic mix, offering Dubai's party smarties the perfect fix.
Do you belong?
'If you don't belong, don't be long' says a neon signage at the entrance. Well, that should give you a hint if you're that notorious club hopper!
Rustic-chic interiors with low level sodium filament lighting, artsy décor, colorful upholstery, tall pub style stools & tables and retro props all combined together – give the place an old-world texture, without negating the new-age shimmer and vibrancy.
Indie is one of those few places that has the power to lift your moods instantly, after a mentally taxing day at work or a bad day in rush hour traffic. No matter with what state of mind you step in, the moment you enter the uber-cool milieu, everything else seems insignificant. It then becomes all about feeling the vibe of the place and enjoying the present moment.
Grab your drinks and your grub, while the night is still young, for as the clock tick-tocks towards the latter half, the party heats up, very slowly, and finally reaches that sweet spot when you'd see yourself putting aside your plates and joining the bandwagon.
High-pitched chatter, and occasional burst-outs of laughter from heterogeneous voices numbs down as the music picks up. An outburst of energy emanating from within will be palpable as the music reaches the crescendo.  Your feet tap and you slowly rise-up to the occasion and gyrate your hips in unison with the others. Don't think much. Get up get up and dance!
This frenzy reaches its peak by the wee hours. So, hang-in there if you want to truly feel the fullest power of Indie.  If you are a club hopper that swings from one party to another, the you clearly DONT BELONG.
When WE hopped in…
We swung in at around 9.00 p.m. At that point, only few tables were occupied and the place looked pretty empty. But not for long! By 10.00 p.m. the lounge already swelled up to its capacity, with all tables being occupied. By midnight, it reached a point where even reaching out to the restrooms seemed bit of a challenge, as I had to wade through a hall jam-packed with people.
The Food & Drinks
I set light to the evening with a glass of fiery red Cannon Ball – a-killer-of-a-punchy cocktail with sky citrus and fresh pomegranate infused with lemon, yuzu juice, sugar and lavender syrup. The drink was so good, it became 'THE DRINK' of the night, for me, and saw several repeats.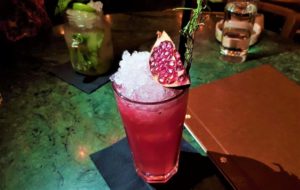 My dining partner went for the twisted classic Tortuga Mojito – a zesty concoction of Baccardi blanco, Falernum liquer, fresh mint leaves, brown sugar and fresh lime juice.  The drinks were refreshing and each had a character and individuality of its own.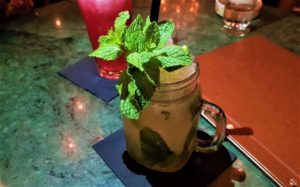 The Starters
For starters we had super corn, grilled cheese samosas, Pimientos, spicy tuna, crab toast and glazed short ribs.
Super corn – Carrying just the perfect level of sweetness and tanginess, super corn was simply superb. Bits of red pepper and avocado added on to the overall delightful fusion of flavors. The quantity was good enough for two people to share and we finished it hands down.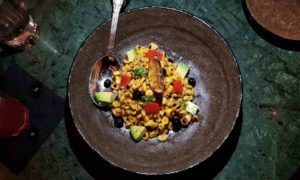 Pimientos De Padron – a fiery dish of fried mini Spanish bell pepper, peppered with rocksalt and togarashi which added that perfect hint of spiciness. This was a feast for our Indian palates and perfect accompaniment to our drink.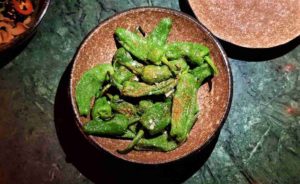 Grilled cheese samosas – Not spicy, oily or crispy like the Indian samosas but a whole load of cheesy delight enclosed in a soft, non-crispy and fork-friendly outer cover.  It was a delight for both the gustatory and olfactory senses, at the same time!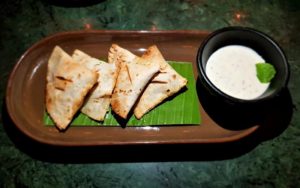 Spicy tuna: Not really spicy but creamy and delicious Yellowfin tuna cubes on crispy rice topped with spiced Japanese mayo and sesame seeds.  They came in bite sized proportions and were easy to gulp.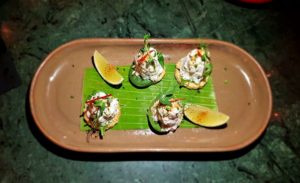 Crab toast : My ever favorite crab meat served on bite sized golden crispy crackers and doused with home-made mayo.  The crackers gave the crispiness and the creamy mayo added the juiciness, resulting in a starter dish that was truly appetizing.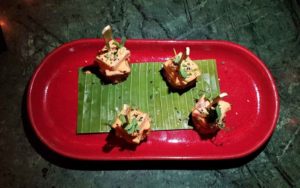 Glazed Short ribs : It was one of the best short ribs I've tasted and I highly recommend this starter for all beef connoisseurs. The meat just melted in my mouth. It was super tender, succulent and juicy. With the addition of mixed sesame seeds, red Thai chilli and chopped spring onions peppered on top, this starter tantalized the taste buds.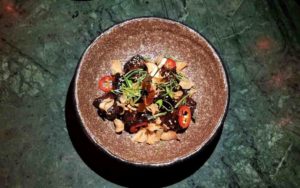 The Mains
As for the main course, we went for Lamb chops and Gnocchi
Lamb Chops
Lamb being my most preferred dish, I went for lamb chops though the lobster, jumbo prawns and beef tenderloin all sounded equally tempting. I wasn't disappointed. I had one of the best lamb chops here. Absolutely tender, juicy and flavorful, it came layered on a bed of cheddar and mashed potatoes and sided with sautéed baby spinach.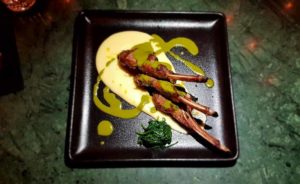 Gnocchi
The Gnocchi was scrumptious. Soft but firm potato bits layered in oozy rich pesto sauce and peppered with sundried tomatoes. The hint of crushed pine nuts added that bit of crunch to it.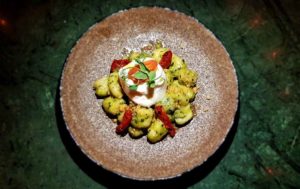 The Desserts
Finally, it was dessert time. We went for their Signature Profiteroles and Pannacota
The Profiteroles
The Profiteroles are a true delight for any chocolate lover. The white and dark chocolate bite-sized delights came with generous amount of fresh pastry cream and chocolate coulis. It tasted yummilicious.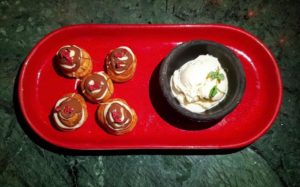 Pannacota
One of the best Pannacota I've tasted. It was a sheer delight to even look at and not surprisingly, it tasted as amazing as it looked.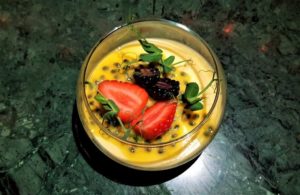 The Verdict :
Indie is one of those uber-cool lounges where you want to chill after a tired day at work or take your special someone or a bunch of friends to enjoy a great weekend. Sure, you'll definitely love the mouth-watering food, innovative cocktails and delightful service.
I spoke to Marc Jazra, the General Manager of Indie. He had a few words to say about the forthcoming Christmas and New Year promotions.
Ratings
Food: 5/5
Value: 4/5
Ambiance: 4/5
Décor: 4/5
Service: 5/5
Overall Rating: 9
IF YOU'RE GOING…
Where: Inside Gaucho, Podium Level, Gate Village 05, DIFC, Dubai
Hours: 5:00pm – 2:00am all week.
Atmosphere: Dimly lit with sodium filament bulbs, artsy décor, retro props, both pub style wooding stools and comfy sofas available.
Parking: Valet parking available
Prices: AED 300 for two people (approx.) with alcohol
Credit cards: All major credit cards accepted
Sound level: Loud
Wheelchair access: Accessible
Beverage service: Good collection of by the bottle bubblies, sparkling wine, twisted classics, and their-own-creation cocktails.
Service: Prompt, very friendly and hospitable.
Recommended:  Glazed short ribs, super corn, crab rolls, spicy tuna for starters, Lamb chops, Gnocchi for mains
Reservations:  04 4569817
Website:  http://www.indiedifc.com/
Facebook : https://www.facebook.com/IndieDIFC/