Trotting down the Marina Walk area, we chanced to pass ITSU sushi. The name itself was intriguing and it had been long since we had sushi, so we hopped in.
Going in and seeing the various choices on display, it became very difficult to decide which to go for- everything looked so fresh and appetizing! So, after a bit of deliberation, eventually, we decided on a couple of salads and mojito to start off and finally ended up ordering a full plate ITSU Special Sushi platter with 36 pieces of lip-smacking sushi.
The Drinks
In juices we had Passion fruit and Mango mojito. Both were very sweet to our liking but for those who like their drink extra sugary, this is just perfect.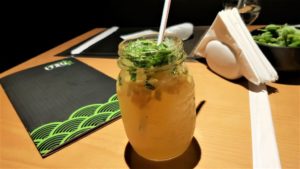 For salads we picked Kani salad and Itsu salad.
Kani Salad : a fresh and delightful melange of shredded cucumber, lettuce, Japanese mayo, Tobikko, mango and edamame.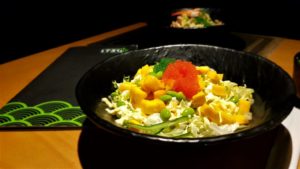 Itsu Salad
A special savory and creamy seafood salad comprising of a mix seafood cube cut, mango, cucumber, edamame, tobikko and japanese mayo on a base of lettuce and cucumber. It was really very delicious.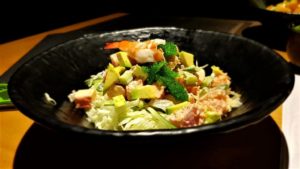 In appetizers I had Prawn Gyoza while my dining companion opted for Edamame.  It had a salty version and sweet-chilly version.
Itsu's dim sum of steamed prawn parcels are served with a spicy dip – a great starter for sharing.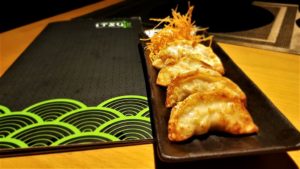 Main Course
In the main course, I went for Itsu special platter, and my dining partner had vegetable Yakisoba.
Itsu Special Platter:
As a true sushi connoisseur I relished every single bit of this platter. It was a lovely assortment of the chefs best Sushi and Sachimi. The platter contained all my favourites including California Maki, Salmon Sushi, Tuna Sushi and Hamour Sushi. It also had Ebi Sushi, Ika Sushi, Kani Sushi, Tamago Sushi, Salmon Sashimi, Tuna Sashimi, Hamour Sashimi, Ebi Sashimi, and finally Ika Sashimi. Whoa! What an exhaustive list.  Although all were very tasty, my favourite was Salmon Sashimi, California Maki, Salmon Sushi and Tuna Sushi.  It comes with 36 pieces and each variety comes in a set of 3's or 4's, therefore could be easily shared by two people.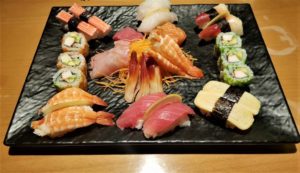 Vegetable Yakisoba :
A bowl of Ramen & Udon Mix Vegetable Stir Fry. What I loved about this dish is the wide variety of crunchy and fresh vegetables in the mix including shiitake mushroom, capsicum and cabbage.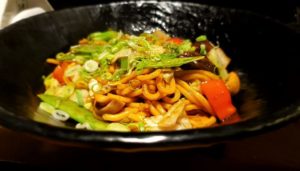 Ambiance
While the décor seems to be quite simple, the stress has been largely placed on the food and service. The conveyor belt at the center of the Sushi parlor is the main attraction and it was hard to resist not clicking several pictures and videos of it. It subtly reminded us of the endless waits at international airports for our luggage to arrive on the conveyor belt. For a change, here you could lay your hands on anything you fancy!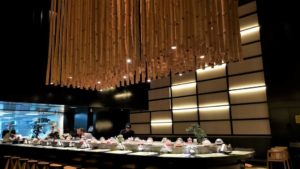 Apart from that, the only other standout feature in terms of décor are the bamboo shoots hanging all over the ceiling. They are not just bamboo sticks, they are actually lights that add the focus on the Sushi train or conveyor belt or whatever fancy name you'd like to call it. The shoots added some earthy touch to the location and went well with the overall theme.
Gallery
Bottomline
A great place for Sushi and sachimi by the gorgeous Dubai marina waterfront. Even for those who don't like sushi, itsu offers protein packed salads, delicious soups. stir fry noodles, a variety of seafood, chicken or beef fried rice, Katsu curry, flavorful hot or cold dumplings, Teppanyaki, Teriyaki and a range of fresh fruit juices, mojitos and desserts. With such a wide variety on offer, you'll never be stuck to find something you like!
ITSU also has an Eat-all-sushi-you-can offer at 111 Dirhams where you get to be seated around the conveyor belt and indulge in bottomless servings of fresh sushi, for as long as your stomach doesn't cry "Stop!".
With the weather hotting up to a scorching 44 degrees in Dubai this week, Itsu is the perfect place for a light and refreshing dinner. Just go for the ITSU special platter and make sure you take a walk around the lively Marina Walk! BTW, don't miss the Sushi train at ITSU sushi!