Keventers, the iconic original milkshake brand, has recently opened a store in BurJuman. The new store is strategically located in BurJuman's popular food court, which is always buzzing with residents and tourists, looking for unique culinary options.
Keventers has already become a haven for milkshake lovers across the city, thanks to its unique flavours, that are served in iconic glass bottles. The store at BurJuman aims to reach out to the residents of Old Dubai, while making the brand synonymous with happiness, indulgence and celebration.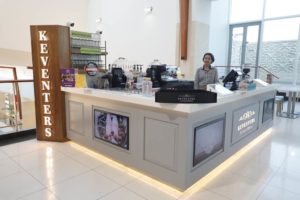 Being located in the close proximity of BurJuman metro station, the new outlet serves as a perfect spot to hang out with family and friends and indulge in some chilled and refreshing delights.
All Keventers stores are designed to give an impressive view of their milkshakes being freshly prepared. Keventers offers a delightful set of modern and classic flavours like Lotus Biscoff, Nutella Marshmallow, Nutella Caramel, Bubble Gum, Kit Kat, Strawberry and Mango Milkshakes.
Commenting on the future of the brand in the UAE, Sohrab Sitaram, Director / CEO of Keventers said, "We are committed towards bringing unique and refreshing products offerings, while ensuring a delightful experience for our customers. After receiving a thunderous response in just few months, we will soon be expanding our brand in other emirates as well."
Having made a mark in Dubai with four outlets, Keventers plans to open over 30 stores across the UAE by the end of the year.