The Al Seef waterfront is suddenly becoming a beehive of activity. If you happen to visit on a weekend, you'll see hundreds of people shopping, eating, walking up and down the promenade or simply hanging out there. The stretch is becoming the Dubai Marina for those on this side of town.
The 1.8 km long Al Seef waterfront is a new development from Meeras offering dining, retail, leisure, tourism attractions and a lot more.  According to the developers Al Seef has been designed to "bring to life the traditional Emirati culture that underpins Dubai's iconic heritage". The district consists of two main areas: A heritage area, inspired by old architecture in Dubai, and a more contemporary area featuring modern design elements.
We went there on a Friday evening and it felt like we were in a fiesta – live music performances, kids playing with balloons, vendors selling everything from handcrafted gifts to historic souvenirs of Dubai and people enjoying the fare at the restaurants lining the creekside.
After an hour of walking the cobbled sikkas crisscrossing mud plastered stalls and boutiques, hunger got the better of us, so we stopped at Kona Grill. 
Originally from America, Kona Grill was launched here 3 months ago. Ever since launch, it has been making a buzz on social media. Even friends and aquaintances who visited the place gave excellent reviews of the restaurant. So this time we decided to check it out, ourselves!
Ambiance
The interiors are slick and feature contemporary decor and lighting. There's a huge aquarium near the entrance. No fish though, however the bubbling blue waters add a special charm to the setting. The seating is comfortable and options are umpteen. Diners could choose to sit in the outdoor terrace or inside.
They have another level with an open terrace and indoor seating. The outdoor terrace has normal dinner tables as well as lounge style seating arrangements. The tables are candle lit and the atmosphere perfect for an intimate and romantic date or get together with spectacular views of the Dubai creek and colorful dhows.
The Pours 
Weekend dinners are never really complete without some bubbly, to begin with. So I went for the KG special Bee's Knees IV Cocktail. It was a delightfully sweet concoction of stolichnaya vodka, ginger liqueur, raspberry, honey syrup and lemon. Great drink but didn't quite give me that punch I needed for the weekend. So, for the second run, I went with my usual black label.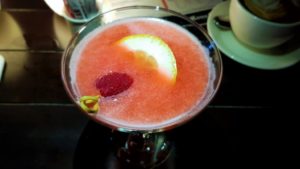 Starters
For starters we had Kalamari, Grilled shrimps, Grill Veg flatbread and a selection of Sushi and Sashimi. I'd was told Kona Grill makes great sushi and I wanted to see if that was true. I ordered almost a dozen varieties of Sushi and sachimi from their menu – including Ancheta Roll, Atlantic Roll and Sashimi Tuna, Sashimi Salmon.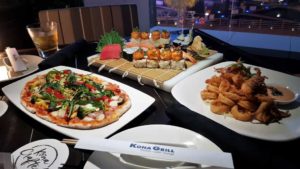 The Kalamari and Grilled Shrimps were remarkable. Both cooked to perfection with the right amount of flavoring and sided with great dips. The crispiness was just right and with some lime squeezed over it, it tasted scrumptious.
Sushi and Sachimi were incredibly fresh and good. As a certified Sushi lover, I got into an eating frenzy right from the time the sushi platter arrived on the table, to when I was half full and my chopsticks fully worked up! Certainly the sushis were quite well prepared and perhaps the best sushi in this side of town.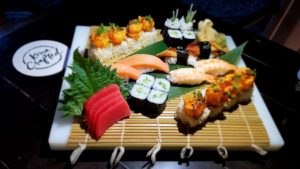 Grilled Shrimps
The grilled shrimps were unlike anything I'd ever tasted before. The preparation and presentation was outstanding. With grilled Broccoli, tomato and onion, the flavor combination couldn't have gotten any better. Crunchy, big and soaked with lots of seasoning, the grilled shrimps were a delight in every bite.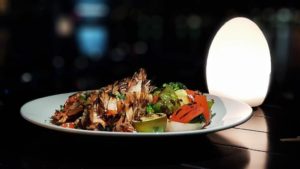 Grilled Veg Flatbread – A grilled vegetable lovers dream dish – it was the coming together of delicious veggies grilled to perfection and bedded on fresh homemade flatbread.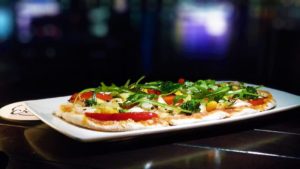 Main Course
Jambalaya is a rice lover delight and it pleasantly surprised with its spiciness which was totally cool for me. The side was a nice mix of chicken, baby shrimps and beef placed around steamed white rice. I mixed it all up – Indian style, and the result was an amazing dish that got better with every spoon.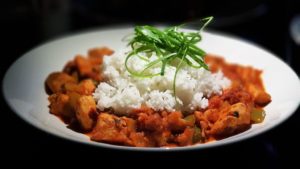 Butternut squash and peas penne A creamy yet light vegetarian pasta dish with fresh cherry tomato, broccoli, red onion and basil pesto. It was served with homemade garlic bread.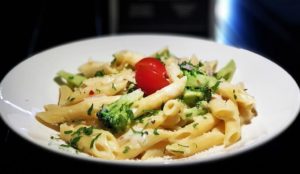 Desserts
In desserts we had a mega tall 3 layer carrot cake. The cake was big enough for 2 or 3 to share. It was filled with cream cheese frosting, caramel sauce and toasted walnuts. It was ecstasy!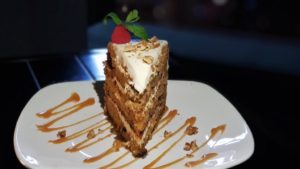 The service
The service was excellent. They have a fabulous team headed by Vyshak Sathyen – the restaurant supervisor.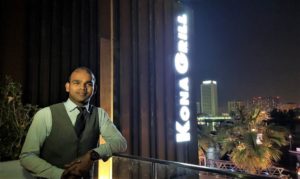 The servers are a friendly bunch who take orders with a smile and ensure orders reach on time. They also have an amazing AGM at the helm –  Belle Lee – who drives the entire team to the next level in customer service.
Verdict
Kona Grill is a fabulous place to enjoy amazing seafood and grills with great views and impressive service.
Gallery
Getting there
Need to know
Cuisine: American, Sushi
Where: Al Seef Street, Al Seef, Umm Hurair, Dubai
Hours:   8 AM to 12 Midnight
Atmosphere:  Slick decor, artsy aesthetically done interiors, candle lit tables on terrace
Parking:  Valet Parking Available
Prices: AED 250 for two people (approx.)
Credit cards: Cash, Cards accepted
Sound level: Mild
Wheelchair access:  Accessible
Service: Good
Recommended:  Sushi, Sachimi, Grilled Shrimps, Jambalaya, Lime mint, Carrot cake
Additional Info: Full Bar, Live Sports Screening, WiFi Available
Reservations:  04 4535255