KRBL – The producers of India's largest selling rice brand India Gate Basmati Rice had launched India Gate Quinoa in India, earlier in 2017. After a resounding success in the domestic market, the company decided to take the products global this year and launched it for the UAE market at the GulFood 2018 – the world's largest annual food trade show.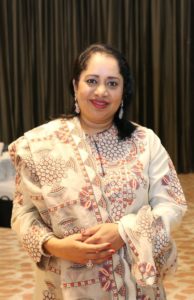 Here are excerpts of my interview with Priyanka Mittal, VP of India Gate at the Gulfood 2018
What are the new products launched by India Gate during Gulfood 2018?
We started our healthy product line last year with the launch of India Gate Quinoa. This year we have launched our three new products in addition to that – India Gate Chia Seeds, India Gate Flax Seeds and India Gate Sprouted Brown Rice. These are all the first of their kind in the Middle East. The new products will be available across the GCC in the coming months at all leading supermarkets
What made you decide to launch a healthy product portfolio for India Gate
Since we launched India Gate quinoa in the UAE, we noticed a significant rise in the demand for healthier food products. And as part of our commitment to offer products that satisfy the evolving consumer demands, we felt that these new products will go a long way in transforming the region's health food market and further boost UAE's vision of becoming a healthier nation. Consumers are seen to have continuously change their eating habits and become more aware of healthy foods and purchase more organic food products. Also, the emergence of lifestyle health conditions, such as, diabetes, obesity etc. has significantly caused a shift in the demand for special foods with health benefits in the regional market.
How do you see the competition in the market?
Competition keeps us on our toes and helps us to think differently, more creatively, and think longer and further and develop newer ways to reach our target audience.
How do you find the market for the new products you have recently launched?
We have launched 3 new products – Chia seeds, Flax seeds and Sprouted Brown Rice. Chia Seeds are a natural source of essential fatty acids, excellent source of calcium and dietary fiber as well as fiber and protein. They are an excellent alternative for those that are lactose intolerant. We feel that consumers will find India Gate Chia a huge addition to their nutrition. The other product is India Gate Flax Seeds. Flax seed is a nutrient dense super-seed with nutty flavor with a delightful crunch. It is a combination of wholesomeness and taste, which can be added in any meal. The third product is Sprouted brown rice. We are launching this for the first time in the Middle East. It is 100 percent whole grain with goodness of dietary fiber is also a rich source of protein and vitamins and host of nutritional benefits.
What are your plans for the coming year?
We are looking at value added products in the healthy product line for the coming year to further expand our product portfolio in the regional health food segment in the Middle East. It is still in the early stages, but we have already started working on it.
KRBL is India's top rice miller and Basmati rice export and their foray into healthy food segment is only a natural move considering that the demand for healthy products are on the rise, globally. The brand that is known to cultivate its own grains using sustainable farming practices back in India is all set to create precedence in the healthy food segment offering with the inclusion of Flax seeds and Chia seeds too, to its portfolio.
The benefits of Quinoa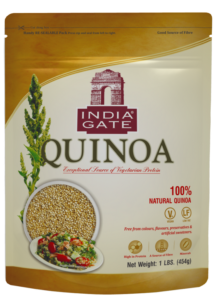 Quinoa is a highly nutritious product that is meant for people of all age groups and it has been officially recognized by the United Nations as tomorrow's super food.   Although actually a seed, it is prepared like whole grains such as rice and barley, and is often called a 'pseudo grain'.
High in Iron – Quinoa is full of iron, containing 1.4 milligrams per 100 grams of quinoa. Iron is an essential element for blood production.
High in Manganese – Manganese is a trace mineral. Just 0.75 cups of cooked quinoa has 1.17 milligrams of manganese (59% of the daily recommended value). Manganese helps form connective tissue, sex hormones, and bones in the body.
High in Protein – Quinoa is the perfect food for vegetarians and vegans because of its high protein content. Just 1 cup of cooked quinoa contains 8.14 grams of protein. It's considered to be a complete protein because it contains all nine essential amino acids.
High in Magnesium – Without magnesium, our body wouldn't be able to produce energy and our muscles would be permanently contracted. Magnesium also aids with healthy bone and teeth formation. 100 grams of cooked quinoa has 64 milligrams of magnesium (16% of the recommended daily value).
High in Fiber – Fiber is necessary for good digestion and regular bowel movements. Quinoa is a great source of fiber. 1 cup of cooked quinoa contains 5 grams of fiber. Fiber also keeps us full for longer periods of time, so it helps with weight loss.
High in Phosphorus – Quinoa is full of phosphorus, just one cup of cooked quinoa contains 28% of the recommended daily value. Phosphorus is an essential mineral that is mostly used for growth and repair of cells and tissues in the body.
Contains Lysine – Lysine is an essential amino acid. Our body uses it for growth and maintenance. It also plays an important role in calcium absorption and building muscle protein.
High in Folate – Folate is one of the B vitamins. One cup of cooked quinoa contains 19% of the daily recommended value of folate. Folate is necessary for fertility in both men and women. Our bodies also use folate to make DNA and other genetic material.
High in Vitamin B2 – Another B vitamin that quinoa contains is vitamin B2, also known as riboflavin. 3/4 cup of cooked quinoa contains 0.2 milligrams of riboflavin. This is 15% of the daily recommended value. Riboflavin is necessary for energy production, and it also works as an antioxidant, fighting free radicals in the body.
High in Copper – Copper is an essential trace mineral that quinoa is very high in. 3/4 cup of cooked quinoa contains 0.36 milligrams of copper, which is 40% of the daily recommended value. Copper works together with iron to form red blood cells.