Long Teng Seafood Restaurant – A Review
For those die hard fans of Chinese food, particularly Cantonese Cuisine, here's one impressive restaurant that I recently visited, which I hope will inspire you to visit – after reading through this review.
Situated in U Bora Towers, Business Bay – Long Teng Sea Food Restaurant is sure to impress you even before you taste any of their food. This is probably one of the best Chinese fine dining restaurants on the Bay side, where you can get picture perfect photographs from both within and outside. The panoramic view of the Downtown skyline is sure to elevate your dining experience while the lip smacking authentic Cantonese fare will leave you wanting more!
While the view is most definitely an important part of the experience, the quality and taste of food is still first and foremost. And there's absolutely no doubts that Long Teng will placate even the most hardened critic with its offering.
The restaurant's lavish interiors exude an opulence like no other. It is this modernist and elegant flair, that makes it stand out from many of the other Cantonese or Chinese Restaurants in Dubai, spare Hakkasan.  As soon as you enter the restaurant, the vastness of the space will overwhelm you. As you glance around, you cannot but be amazed at the various artefacts and décor that form the interior – including the huge wall inscription with Chinese lettering, that is there for a reason. Then a miniature city – with the newest tower Dubai is constructing – is spread across one section of the lobby area.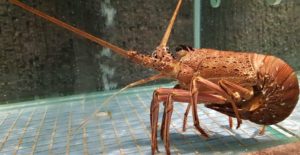 We click some quick pics and proceed towards the next level where our waitress de table was awaiting to serve us!
Long Teng is a seafood restaurant and the 'Seafoodiness' of the space plays out in front of you through the various props – fish tanks, fish shaped embossments right across the walls leading to the elevators. The giant live lobsters and fishes swimming about in pristine waters inside enclosed tanks add on to the earthiness of the setting.
The restaurant is spread across 3 levels and I was told it can accommodate over 700 guests in its full capacity. Yes, don't be surprised.
The Fare
Specializing in traditional Cantonese fare with a contemporary twist that well suits the Dubai palates, Long Teng is known to maintain very high food quality and standard.  Little wonder that in hardly over a year of its existence, it has managed to carve a niche for itself as a trustworthy gastronomic destination for many connoisseurs who swear by authentic Cantonese. According to Sherry Liu, Assistant F&B Director of Long Teng the restaurant has become quite popular among 'business lunchers' who work in and around the vicinity, in particular.
Here are excerpts of our interview with Sherry
Many working professionals choose to come here for their renowned dim sum buffet that serves up both unique and conventional dishes. The buffet offers so much great food that translates into high levels of customer satisfaction linked to this restaurant.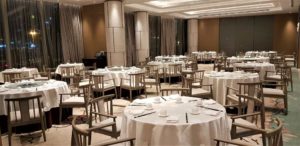 What we had
In Cold Appetizer we had Diced Beef Chef Special Sauce and Black Fungus with Vinegar. The sauce burst with flavour and black fungus and vinegar gave a crunchy, munchy and refreshing start to the indulgence.  It was my first time trying out Fungus, and Long Teng gave me enough reason to like it and want to try again.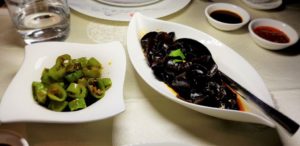 What really got our spirits high were the dumplings. Who doesn't love them?! We've tried out a zillion kind in Dubai. And then in Taiwan. So far Taipei Dao's dumplings were our most preferred. But now onwards, we have one more favourite place to add on to that list.
Appetizers
We started with Crystal Prawns and Chive Dumplings that came in a basket, fresh and steaming.  The taste was unlike anything we had tried before.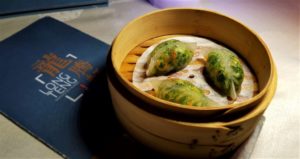 We then had Steamed Prawn with Red Rice Cheung Feung. The 6-piece dumplings came wrapped with red rice. They were equally delightful to savour.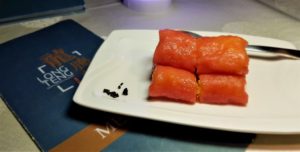 Deep Fried Sticky Rice Dumplings with Chicken & Dry Shrimp – The Fried Dumplings came with a tiny and cute baby chicken design. They were perfectly crunchy on the outside and the crunchiness kept the softness inside, intact.  We loved it.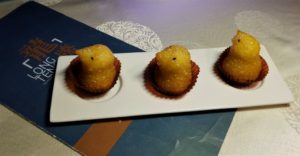 In soups we had Mixed Seafood Hot & Sour Soup. True to its name the soup was hot and bursting with flavours of spiciness and tanginess. The seafood that it contained was fresh, and every sip was a delight to have.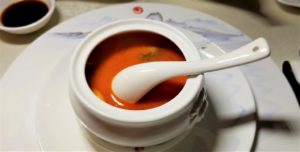 Main Course                                                                                                                   
In the main course we had Grilled King Prawn with Scallop, and Steamed Napoleon Fish Fillet with Preserved Chili and stir Fried Choy Sum.  The prawn was fresh and crunchy to the perfectly delightful level.
The Steamed Napoleon Fish Fillet was a unique dish and the spiciness placated our Indian palates, quite well.
Fried rice with fresh veggies are always a must for me, when reviewing Chinese, so I specially requested for a plate of fried rice. It was as awesome as I expected – hot and full of fresh and tasty vegetables. It filled me to the very brim.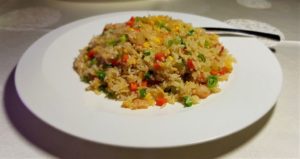 But wait, we needed to try some desserts too!
In Dessert we had Steamed Chinese Date Cake and Fresh Baked Egg Tart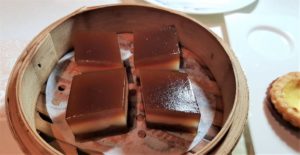 The egg tart was really yummy! The best egg tart I've ever tasted and one that I highly recommend for egg tart lovers!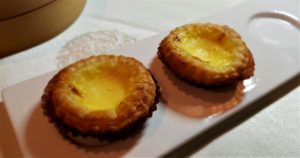 Bottom line
Long Teng Sea Food Restaurant is a fabulous Cantonese restaurant in the Bay side of town serving remarkable Cantonese cuisine in an uber luxurious setting with very quick and pleasant service and prices that won't make a hole in the wallet. It is a must try!
How to get there
Need to know
Cuisine: Chinese, Seafood
Where: Ground Floor, U Bora Towers, Business Bay, Dubai
Hours:  12 Noon to 12 Midnight
Atmosphere:  Expansive, spacious, Ornate setting. Fish tanks, live lobsters, oysters & fishes
Parking:  Designated Parking spaces in U Bora Parking Lot
Prices: AED 210 for two people (approx.)
Credit cards: Cash, Cards accepted
Sound level: Music
Wheelchair access:  Accessible
Service: Very good
Recommended:  Prawns dumplings, grilled prawn with scallop, Fried rice.
Additional Info:   No Alcohol Available. Private dining area available
Reservations:  04 2481993
Disclaimer / Voluntary Disclosure
This review was courtesy of Long Teng Sea Food Restaurant, Dubai. Though the food was complimentary, all photos, views and opinions are our own, as always. The restaurant had no influence on the content of this article. There is no form of cooperation between us, and I am NOT obliged to publish anything. I have not received any monetary payment in lieu of this review. All images used are courtesy of Blogliterati.com, unless stated otherwise. The images may not be reproduced without explicit permission/consent from the site owner.