Last month we were invited to review the newly relaunched Mahec By Satish Arora at Le Meridian Hotel on Airport road.  Mahec recently partnered with legendary Chef Satish Arora and has thus renamed itself from Mahec to Mahec by Satish Arora. Through this successful collaboration, Chef Arora is bringing on his culinary magic to the Middle eastern shores.
About Chef Satish Arora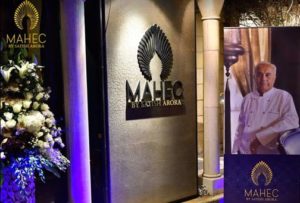 Chef Satish Arora has cooked up legendary feasts for royalty, world leaders and celebrities for over five decades.  Over the course of his career, he has served and received generous admiration from esteemed guests such as Princess of Wales Diana, Queen Beatrix of the Netherlands, His Highness Prince Aga Khan IV, Queen Elizabeth, President Bill Clinton, Francois Mitterrand, Mikhail Gorbachev, Prime Ministers Indira Gandhi, Rajiv Gandhi, Margaret Thatcher and John Major, boxing legend Mohammed Ali, musical maestro Zubin Mehta, and astronaut Neil Armstrong to name a few.
About the food
Chef Arora epitomizes a culinary era where food, among other things, he insists was simple and authentic.  A genuine innovator, his passion for food led him to start a revolution in the Indian restaurant dining scene by cutting away from the 'greasy, cream-laden curry' culture that was predominant in those days. His dishes included elements of simple yet scrumptious home style cooking whilst also adapting regional Indian food to suit restaurant menus.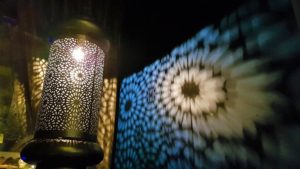 Our Visit
Mahec By Satish Arora is situated in the Le Meridien Village and features a gorgeous interior and a lovely outdoor terrace overlooking a beautifully landscaped setting complete with trees, rocks, a bridge and standing water below.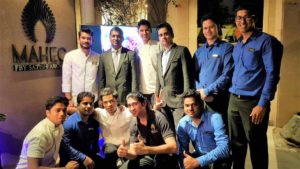 While we visited, Vijay Kumar – the restaurant manager, along with his team welcomed us.  The night turned out to be a fabulous and memorable one for us, thanks to the awesome team.
We were introduced to the man behind the culinary excellence of Mahec by Satish Arora – Asif Khan – Head Chef. He was one lovely individual, who through various visits to our table, took us through each and every single dish that was served that night – giving us bits of its history and significance. He definitely seemed like the perfect protege to carry the legacy of Chef Satish Arora forward.
Here are some clips from his interview
Once we settled down, the team wasted no time in getting us the menu card as well as some quick welcome treats which included both peppy pours and tasty bites. We started off with Bombay Tamasha – a sweetish vodka based cocktail. It was a lovely drink which set the tone for the evening.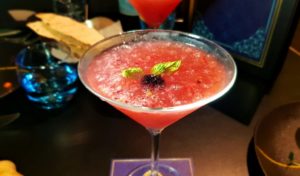 We followed that up with a spicy gin based Chili jam cocktail which was a perfect tryst between sweet and spicy.
As a pre starter to our meals, we were served the all-famous Mumbai street specialty Dahi Chat Puri along with a shot of Nimbu pani (Lemonade)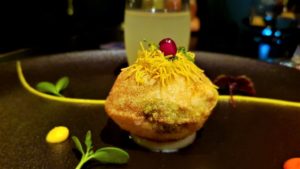 Starters
For the starters – in vegetarian we had a mix grill platter of Paneer Asparagus Cigar, Malai Broccoli, Chakundari Tikki, Paneer Tikka. 
Non Vegetarian platter included Sikandari Lamb Chops, Chatakedar Jhinga, Lamb Seekh Kebab, Murg Hawa Mahal
Veg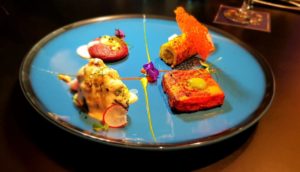 Paneer Asparagus Cigar – What an interesting take on Paneer! It was well-cooked to a soft succulent form and tasted scrumptious.
Malai Broccoli – A cream cheese marination of Broccoli cooked in a clay oven with mace and cardamom powder. The malai or creamy coating on top coupled with the aroma of saffron made it an utterly delightful starter to relish.
Chakundari Tikki – A pan fried beetroot and cottage cheese patty with garlic cheese dip. I've eaten various preparations of beetroot, but this was my first time trying it in Tikki form. Totally 'tikkitastic', i must say!
Paneer Tikka – Large sized diced cottage cheese marinated in a thick paste of rich cashew nuts, yoghurt, ginger, garlic and red chillies.  The flavours were well seeped in the paneer and the result was a piece of tantalizing starter that teased the tastebuds.
Non Veg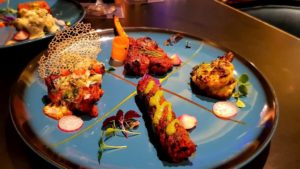 Sikandari Lamb Chops – I felt privileged to savor the same dish once served to US premier Bill Clinton. This signature dish had lamb chops marinated in yogurt and cooked in a traditional clay oven – which ordained very special taste and aroma to the dish.
Chatakedar Jhinga – Tangy, crunchy & lip-smacking tiger prawns served with pink pepper Gimme more!
Lamb Seekh Kebab – A kebab lovers dream dish – it had fresh minced lamb marinated with garlic, ginger, green chilies, and fresh herbs. It was grilled over charcoal fire and tasted scrumptious.
Murg Hawa Mahal – Chargrilled chicken coated with masala egg made for a great starter. Irrespective of whether the egg came first or the chicken, we rested the argument and simply enjoyed the dish.
Main Course – Veg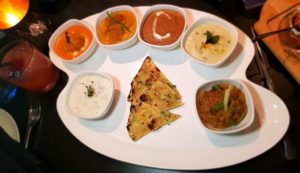 In the main course we had an assortment of Khushranga Paneer, Shahenshahi Kofta, Methi Malai Corn, Dal Makhani, and Pudina Tamatar Raita
Khushranga Paneer – This dish was nothing but cottage cheese and bell pepper in a smooth, but rich pickled sauce. With the breads, it went 'oh so well', particularly with garlic and butter naan. We loved it!
Shahenshahi Kofta –It had vegetable and cottage cheese dumpling served in a smooth and creamy tomato & cashew gravy. Tomato added that slight hint of tangyness and the cashew paste ordained richness resulting in a dish extraordinaire. Chef Asif tells us that this special dish was created for Indian Bollywood actor and the Shehenshah of all Shehenshahs – Amitabh Bacchan. With the Amitabh tag to it, the curry seemed to taste even more royal.
Food Gallery
Methi Malai Corn – This dish was a delightful medley of corn and fenugreek in rich cashew sauce. This gravy proved to be another great accompaniment for the butter naan – Indian bread.
Dal Makhani – Clearly a winning dish with the taste, authenticity, texture and richness of the Indian Lentil curry.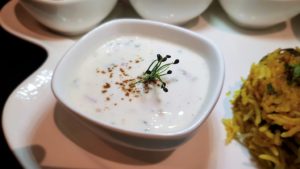 Pudina Tamatar Raita – a fresh tangy paste of flavorful mint leaves and piquant tomato in yoghurt.
Main Course – Non Veg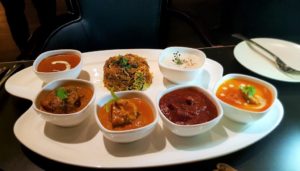 In Non veg were were served with Laal Maas, Murg Makhanwala, Pudina Dahi Gosht, Goan Prawn Curry, Dal Makhani, Lamb Biryani, Pudina Tamatar Raita & Assorted Indian Bread
Laal Maas– A traditional meat dish from the state of Rajastan in India, it was cooked with Mathania Chillies. The meat was absolutely tender and the curry was very flavorful. Overall great!
Murg Makhanwala – A dish served to Queen Elizabeth II, Murgh Makhanwala was a delightfully rich and boneless char-grilled chicken in tomato gravy. The dices of chicken were tender and tasty.
Pudina Dahi Gosht –  A flavorsome curry of rich mint and yoghurt sauce containing slow cooked lamb leg morsels. The curry was absolutely rich and delicious and made for a perfect accompaniment with the Indian breads.
Goan Prawn Curry – This dish has been served to Lady Margaret Thatcher. The curry was certainly star class suiting western palettes, but I would have loved if the prawns were slightly less cooked and crunchy. In the case of this curry, the prawns were so over cooked to the point that it almost tasted bland. However over all as a curry, it was good.
Lamb Biryani – Certainly a remarkable preparation of slow cooked lamb which seemed to ooze the flavors of its own juices along with the aroma of saffron, yoghurt, mint and carmelized onion.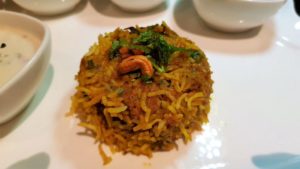 Desserts
In desserts we had Boondi Brulee and Kulfa Falooda
Boondi Bruleee – a modern interpretation of indian sweet boondi with western cream Brulee- it featured boondhi balls baked as a dessert in milk sauce and meringue. A very unique dessert which we have never tried before in any restaurant. It deserves full marks for innovation and taste.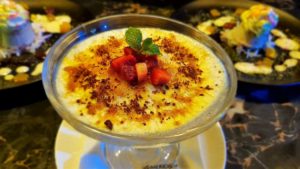 Kulfa Falooda – A signature creation of chef arora, it had all the goodness of the Kulfi ice cream and the Falooda – a traditional fruit dessert quite popular in India, Pakistan and the UAE.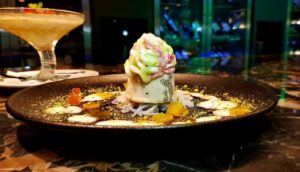 Paan Shot – All good things needn't come to an end, as the signature Pan shot proved it. This was a concoction of Paan Syrup, bailey and vodka. Classic! We had one for the road and left with the pleasant taste of the lovely food, still lingering in our palates.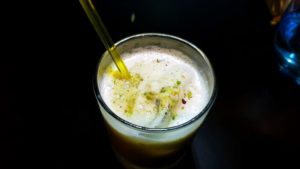 Ambiance :Quite chic with polished tables,stately chairs, quirky paintings including a trance-state meditating buddha, vine bottle arrangements on shelves (just empty bottles but arranged sequentially like a wine tavern) Disc lights and a console with a live DJ dishing out peppy numbers. Its a restaurant by day and can turn into a buzzing discotheque at night.
Ambiance Gallery
Service : We were in good hands with Antash Mathur who stood around our table in a non intrusive way to ensure he was always in reach for any orders we would give.
Excellent bunch of very well-mannered and well-trained kitchen and service staff manned by two wonderful human beings – restaurant manager Vijay Kumar and Head Chef Asif Khan.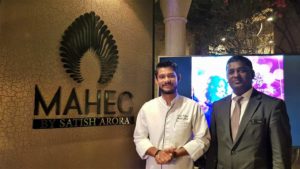 Over all verdict
Mahec by Satish Arora is one of the top fine dining Indian restaurants that has managed to preserve the traditional taste and finesse of Indian cuisine while delightfully tailoring it to suit not only cosmopolitan Indian palettes, but appealing to taste buds of an international audience.
If you are looking for a wonderful and quite setting, away from the maddening crowd of Dubai, Mahec by Satish Arora is an excellent venue to enjoy extraordinary fare in an upbeat setting.
if you are a party soul that loves to shake a leg or two – this place is just perfect it completely transforms after 11.00 p.m into a discotheque with peppy music and even peppier drinks. The party stays on till the wee hours for all to enjoy.
My recommendation : Absolutely must try – Mahec By Satish Arora. Probably your one good chance to try out dishes that are usually served to celebrities.
Offers & Promotion at Mahec By Satish Arora
FRIDAY BRUNCH OFFER
It's brunch time! Enjoy a Friday Brunch with the special price of AED 99 from 12:30 pm – 3:15 pm, and enjoy an unlimited flow of exquisite food!
Call 04 7022615 for any queries or email todine@mahecdining.com
AED 99 per person for Non Alcoholic package
AED 210 per person for Alcoholic package (wines, beers & cocktails)
HAPPY HOURS
Everyday (40 % off selected beverages only)
Time 17:00- 19:00 PM / 23:00 to 02:00 AM
LADIES NIGHT
Enjoy Ladies Night at MAHEC BY SATISH ARORA ! Every Wednesday from 10pm to 2am, enjoy three free drinks while grooving to the tunes of DJ Stephen! Call O4 7022615 for any queries or email on dine@mahecdining.com
Every Wednesday // FROM 10:00 PM – 02:00 AM
HUBBLY BUBBLY
Shisha @ 79
Everyday from 06:30 PM to 02:00 AM
Getting there
Need to know
Cuisine: Indian
Where: Le Méridien Dubai Hotel & Conference Centre, Méridien Village Terrace, Airport Road, Al Garhoud, Dubai
Hours:   12Noon to 3:15PM, 6PM to 2:30AM
Atmosphere: Elegant, stately interiors with mood-lighting and great music
Parking:  Valet Parking Available
Prices: AED 420 for two people (approx.)
Credit cards: Cash, Cards accepted
Sound level: Music
Wheelchair access:  Accessible
Service: Excellent
Recommended:  Hot and Cold Mezze, Grills, Coffee
Additional Info: Live Music, Full bar, Shisha, Brunch, Outdoor seating, Luxury dining
Reservations:  04 4376051
Disclaimer / Voluntary Disclosure
This review was courtesy of Le Meridian Hotel and Conference Centre, Dubai. Though the meal was complimentary, all photos, views and opinions are my own, as always. The restaurant had no influence on the content of this article. There is no form of cooperation between us, and I am NOT obliged to publish anything. I have not received any monetary payment in lieu of this review. All images used are courtesy of Blogliterati.com, unless stated otherwise. The images may not be reproduced without explicit permission/consent from the site owner.