A kebabilicious treat of gourmet kebabs awaits everyone at Mahec By Satish Arora, Le Meridien Dubai.
July 13th was World Kebab day and embracing the true flavors of North India – Mahec By Satish Arora is hosting a Kebab festival from 12th to 27th July 2018. The Kebab Festival features specialty kebabs prepared in rich Indian home ground spices & herbs with the magical recipes from Chef Satish Arora. The festival is offering vegetarian as well as non-vegetarian kebabs such as  Nariyal Chettinad Kebab, Boti Kebab, Hammour Nimboo Tikka, Curry Patta Jhinga,  Khatta Paneer, Dora Kebab, Triveni Dhingri to name just a few.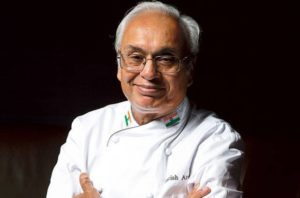 Blogliterati.com team were invited to review this scintillating Kebab menu and we gladly accepted. We were fortunate to meet the renowned Chef Satish Arora who has cooked up legendary feasts for royalty, world leaders and celebrities for over five decades.  Over the course of his career, he has served and received generous admiration from esteemed guests such as Princess of Wales Diana, Queen Beatrix of the Netherlands, His Highness Prince Aga Khan IV, Queen Elizabeth, President Bill Clinton, Francois Mitterrand, Mikhail Gorbachev, Prime Ministers Indira Gandhi, Rajiv Gandhi, Margaret Thatcher and John Major, boxing legend Mohammed Ali, musical maestro Zubin Mehta, and astronaut Neil Armstrong to name a few.
In 1973 when he took over the reins of the Taj Group's flagship hotel in Mumbai, India at the age of 26, he was hailed as the world's youngest chef in a five-star hotel kitchen. Many prestigious accolades followed in the years to come including being declared as one among "The World's 20 Best Chefs" in 1991 and receiving the prestigious lifetime achievement award from Curry Club of England in 2007.
It was our privilege and honor to share a table with Chef Arora and enjoy our meal with an introduction of each and every single dish by the famed chef himself. A fantastic host, proficient story teller and a culinary connoisseur, he ensured that we enjoyed every single bit our time at Mahec.
Starters – Veg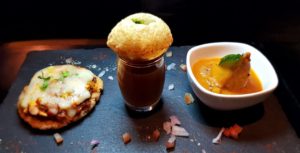 In starters we had Sambar Samosa, Panna Pani Puri, Khasta Pizza. Usually Samosas are enjoyed with Chutney and Sambhar has been traditionally paired with idly or dosa. Here for a change chef Arora has made an unlikely pairing that resulted in a dish completely lip smacking and unique.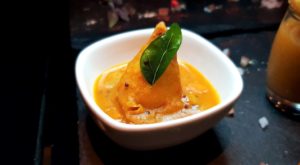 Panna Pani puri had the famous Indian tangy mango panna in a shot glass with a crispy home made puri on top. The combination of the two feasted the senses with a delicious eruption of flavours. Never had gol gappe this delicious before.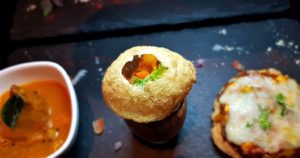 Again another unique dish, Khasta pizza had savory fritters (mattri) topped with spicy paneer, diced peppers and onion and baked with masala cheese. My north Indian dining partner really relished this dish as it reminded her of the mattri that her mother used to make.
Starters Non- Veg
In the non vegetarian starters we had Murgh Bhel Puri, Kadak Seekh and Tawa Khurchan.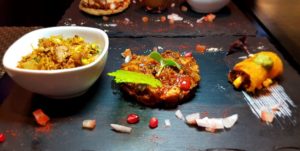 Who would have ever imagined Bhel Puri could come in this version with chicken tikka?! Everything is possible at Chef Satish Aroras Kitchen. The Chatpata Chat was overall amazing and distinct, as every other dish on their festive menu.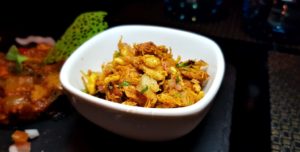 Kadak Seek was extremely soft, moist and juicy. It was deliberately kept this way to ooze the richness of lamb and make the dish enjoyable.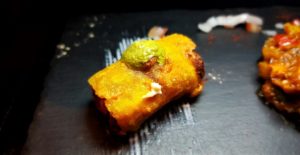 Tawa Kurchan was a delightful melange of lamb liver, lamb kidney and sautéed potatoes. Usually liver is one dish that – if not prepared well – can emit a unsavoury bitter odour, which is mostly how I have tasted it in other restaurants. However here I was amazed to notice there wasn't an iota of bad livery smell and all that was there was aroma and taste. Expert hands make all the difference.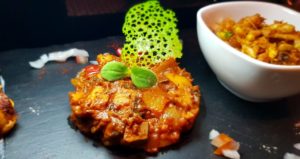 Main Course – Vegetarian
In the veg we got Tali Arbi, Khatta Paneer, Dora Kebab, Triveni Dhingri, Karara Amritsari Took. One of the best ever vegetarian kebab platter we ever tasted. It was simply brilliant. The kebabs were oozing aroma, very succulent, tender and seemed to be very well-marinated with spices and herbs.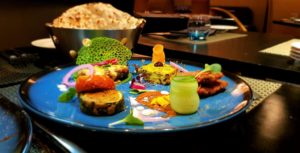 The Tali Arbi was absolutely distinct. We never imagined this mediocre vegetable could taste so good in this form.
Dora Kebab seemed to undergo a very different way of preparation in that the Zucchini stuffing's marinated with yoghurt and masala were tied with a string and chargrilled.
Triveni Dhingri was a very special preparation of portobello mushroom stuffed with three types of exotic spicy sauce. It tasted superb.
Amritsari Took had crisp fried potato dressed in sweet prune and mango chutney. Bliss!
Main course – Non Vegetarian
In non vegetarian (KHAS BHOJAN) we got Nariyal Chettinad Kebab – a kebab delicacy of diced chicken marinated in coconut base and spicy masala. Chicken and coconut went – oh so well, together.
Boti Kebab had morsels of chargrilled lamb marinated for 18 hours. This long marination meant the lamb was soaked in aromatic spices and herbs and seeped in those rich flavors that only got enhanced by char-grilling.
Curry Patta Jhinga emanated the rich flavors of curry leaves. The dish was peppered with gunpowder in an attempt to add that touch of crunchiness to the prawns.
Hammour Nimboo Tikka was a very scrumptious preparation of Hammour fish in a thai paste Indianized to suit desi taste-buds.
Desserts
In desserts we had three truly innovative and unique dishes that we've never tasted anywhere before. We had Laal Halwa, Baked Ice Cream and Tandoori Shakarkandi.
Laal Halwa was a beetroot halwa totally sweet and distinct.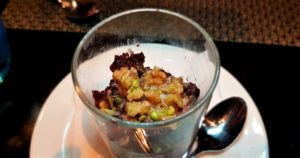 Baked ice cream and Tandoori Shakarkandi seem to go very well with the Kebab festival theme which centered around the concept of char-grilled food.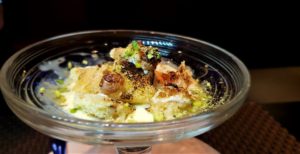 The Tandoori Shakarkandi is a first of its kind dish in Dubai which can't be found anywhere else but in the menu of Mahec by Satish Arora.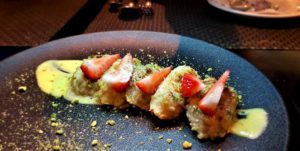 Verdict
If the flavory and enticing aroma of succulent and juicy kebabs entice you, then this is where you need to head this weekend! An exciting Kebab menu carefully put together by none other than the legendary Chef Satish Arora is on offer.  I can't define enough about what a lovely experience we had but I can only urge my readers to check this place out as most of the menu items are limited-time-only dishes exclusively put together for the Kebab festival.
Bottomline
Mahec By Satish Arora promises to take you on a tempting tour to the world of aromatic flavors of delectable Indian cuisine that is sure to tantalize your taste buds.
Gallery
Disclaimer / Voluntary Disclosure
This review was courtesy of Mahec By Satish Arora. I was invited with the same terms as other food bloggers – to review their ongoing Kebab Festival.  Though the meal was complimentary, all photos, views and opinions are my own, as always. The restaurant had no influence on the content of this article. There is no form of cooperation between us, and I am NOT obliged to publish anything. I have not received any monetary payment in lieu of this review. All images used are courtesy of Blogliterati.com, unless stated otherwise. The images should not be reproduced without explicit permission/consent from the site owner. 
Treat yourself to a selection of Chef Satish Arora's Signature Kebabs Starting 12th July – 27th July 2018. Prior reservation is needed. 19:00 pm – 23:00 pm
Check the Kebab Menu