Dubai is known to have many hidden hotspots and Miss Wang is one of them.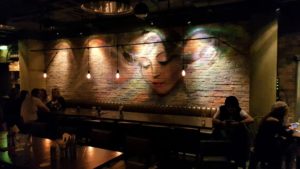 A few blocks away from the computer complexes – Al Khaleej and Al Ain Centre, tucked away on the Al Fahidi Street is the 4 Star Majestic Hotel Tower. Located just a stone throws distance away from the Al Fahidi Metro station on the confluence of the old and new Dubai, Majestic hotel is a favorite not just among business travelers, but with locals who reside in the vicinity, as well.
The Ambiance
Hidden on the 1st level of this award-winning hotel, Miss Wang is a Restobar and hangout tavern like no other. From the very name – its easy to sense the verve, youthfulness as well as the 'orientality' of the setting. This becomes even more evident as one walks in to the facility. Industrial style Filament bulb lighting and Brick-finished walls give the interior a character, warmth and texture while exuding a very Asian hipster vibe.  This vibe can be further seen in the menu which has taken influences from some of the best cuisines across south east Asia and peppered out with their own unique treatment, of course. 
While the dim-lit setting evokes an image of serenity and tranquil calm, you'll realize the place is not that quiet after all. As the clock ticks towards night and the crowd pours in, the place gets really noisy. Add to that the live-music performance and conversations over-riding it – it is definitely not the spot for a quite date night over a dim candle light! At Miss Wang you'll feel your sitting right in the middle of a crowded Bangkok street.
We were met by Alexander Sawkmie, the Venue Manager who introduced Bur Dubai's little secret and offered us some kick-ass welcome drinks. Here's what he had to say about his venue extraordinaire. 
The Drinks
The drink menu at Miss Wang is filled with tastes that you'll only find at an Asian Bar. Inspired from all over far east –Thailand, Japan, Philippines and Vietnam –  there's a drink for every distinct taste and craving.
For drinks we had Firestarter and Spiced Mango Masti and followed it up with Cosmopolitan and Lychee Waterfall – a mocktail.
Firestarter was a vodka based cocktail with infusions of coconut syrup, lemongrass, lime leaf, ground chili, galangal and sugar syrup. An invention of Alexander Sawkmie himself, the drink literally ignited the intestines.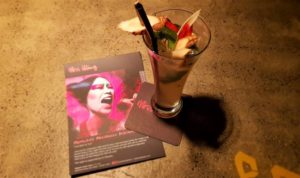 We followed that with Spiced Mango Masti – a sweet-spicy infusion of mango nectar, agave, fresh lime juice and jalapeno in Vodka.  My votes are for Spiced Mango Masti as it was spicy to tolerable levels and set that perfect sparkle to the evening of wining and dining indulgence.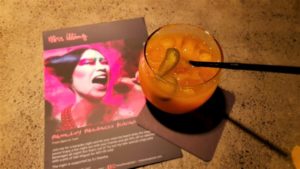 My dining partner who isn't a great fan of spice went for Cosmopolitan and Lychee Waterfall – a mocktail of lychee, watermelon, mint leaves, lime and cranberry juice. I had a few sips of this delightful drink but continued with my spiced mango masti, just so I don't confuse my palates.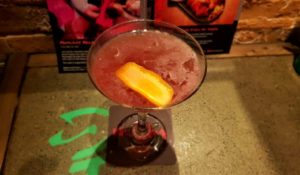 Cosmopolitan was lovely to drink as well. It was a punchy mix of Vodka, Cointreau, cranberry juice, lime juice and sugar syrup.
Over all the drinks were amazing, distinct and very Asian.
The Food
Starters
We started off Asian style with Chowmein salad, Dumplings, Crunchy Volcano Shrimps and Sweet potato fries.
Chowmein Salad
The Chowmein Salad tasted very fresh and carried a distinct oriental treatment. The salad comprised of fresh cabbage, crispy noodles and garden-fresh celery leaves. The mixture was topped with almonds, cranberries, orange, mandarin, carrot and spring onion. The fresh fruits and nuts along with the bean sprouts tossed in Chowmein Vinaigrette gave the dish a very unique sweet sour texture – making it taste scrumptious.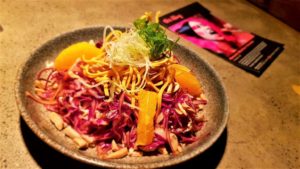 Dumplings
For Dumplings we went for Chicken & Shitake Mushroom dumplings with coriander, soy sauce and honey. It was packed with flavor. The Coriander gave it a slight hint of spice while soy sauce and honey mix gave it an overall Asian texture.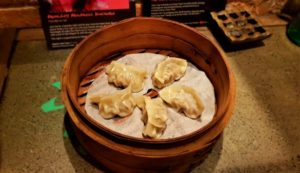 Crunchy Volcano Shrimps
The succulent, giant sized shrimps came dressed in a sweet sticky sauce and tasted utterly delicious.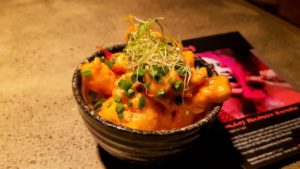 Sweet Potato Fries
As you would expect – they were sweet, crispy and an absolute pleasure to munch between the drinks as well as the main course.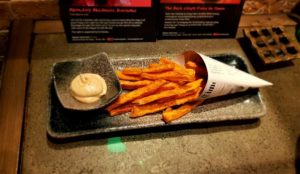 The Main Course
For the main course we went for one vegetarian for the significant other and one non-veg for yours truly. For Non Veg main we chose Korean Beef Short Ribs and for the Veg we went with Thai Flatbread.
Korean Beef Short Ribs –  The Korean Beef Short ribs was clearly a winner for me. It was slow cooked to perfect and tasted just out of this world. The ribs were large, but my knife easily sliced and diced through it, like it were cheese. The meat was extremely succulent and came dressed with a sweet brown sauce. I enjoyed every single bite of this lip-smacking dish and highly recommend it to beef lovers.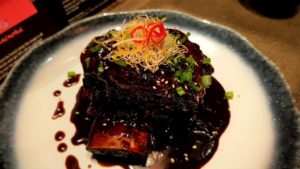 Thai Flatbread
Flatbread (like pizza) with fresh Asian vegetables, peanut sauce, and topped with Mozarella. It was delectable.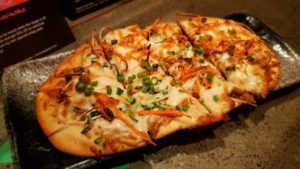 Desserts
We finally washed it all down with some scrumptious desserts. In dessert we had Green tea crème brulee (with matcha ice cream) and a very Asian inspired Elaichi Sorbet. Both just served as a perfect end to a perfect meal.
The Photo Gallery
The Final Verdict
Miss Wang is definitely one of Bur Dubai's best Restobars to enjoy an indulgent evening of food and drinks, either alone or with company.  The venue is open every night from 6.00 p.m to 3. 00 a.m. and features a cool-as-can-be live band and a cutting-edge Karaoke room to take your bathroom singing skills to the next level. 
But at the end of it all, one question still remained. Where is Miss Wang?
IF YOU'RE GOING…
Where: Majestic Hotel Tower Dubai, Mankhool, Dubai
Hours:  6 PM to 3 AM, all week.
Atmosphere:  Dimly lit, industrial lighting, asian vibe, graffiti on walls
Parking: Valet Parking Available
Prices: AED 400 for two people (approx.) with alcohol
Credit cards: Cash & All major credit cards accepted
Sound level: Loud
Wheelchair access:
Service: Good
Recommended: Chowmein Salad, Korean Beef Short ribs, Volcano Shrimps, Spicy Mango Masti, Sweet potato fries
Reservations:  04 5012567
Website:  https://majestichotels.com/ 
Facebook : https://www.facebook.com/misswangdubai