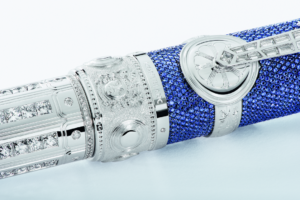 Limited to just one piece worldwide and with a price tag of €1.5 million, Montblanc's High Artistry Homage to Hannibal Barca Limited Edition 1 is a feat of stone setting precision. Featuring a dazzling combination of white gold and diamonds, the writing instrument is contrasted with a full pave of blue sapphire and embellished with individual rows of carée cut individual diamonds.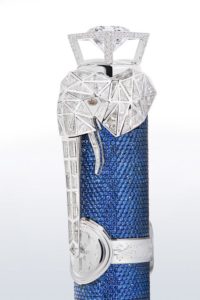 Its elephant trunk clip is one of the most sophisticated ever conceived by the luxury Maison, with all of the stones set on the clip and elephant head of the cap individually cut and set by hand, requiring months of meticulous craftsmanship.
Because of the unusual shape of the clip, the Montblanc Artisan Atelier developed an external tensioned clip to achieve the design and aesthetics of the elongated trunk of the elephant, while at the same time providing high precision and smooth clip function.
Celebrating the epic journey of military commander Hannibal Barca, who crossed the Alps in 218 BC on elephants, the forepart of the writing instrument is engraved with his route from Carthage to Rome.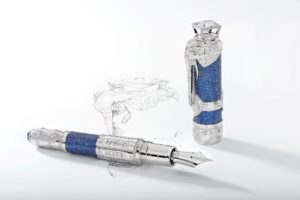 The AU750 solid gold nib is decorated with a special design representing the Carthaginian deity Baal'Hammon and adorned with two brilliant cut diamonds. Crowning the fountain pen, a magnificent 6.03 ct brilliant cut DFL diamond is displayed on a stone-holding table set with diamonds. A blue sapphire cabochon from Ceylon shines at the base of the cone.