Dubai Mall's first Indian Restaurant has arrived! Situated above the famed Apple store on the 2nd floor, Peppermill presents a delicious array of colonial-inspired Indian cuisine in a casual and laid-back setting.
Though most of the Peppermill outlets are situated in well-established malls, each and every outlet has a distinct charm and character of its own. The newest outlet in Dubai mall is no different.  Green tiled walls and wooden shelves decked with colonial artifacts including a vintage telephone, table fan, still camera, miniature pepper-mill to name just a few – give the place a colonial-regal charm and tell a tale or two of its own.
The cuisine is equally colonial-inspired and present an array of inventive recipes and alluring flavors influenced by the bygone colonial era. This era has given rise to one of the most interesting cuisines we know – the Anglo-Indian gastronomy – which is nothing but a robust amalgamation of eastern spices and herbs into western cooking techniques.
Peppermill is a truly classic colonial restaurant that beautifully blends the traditional with the modern and serves it all up in a charming manner to suit UAE's cosmopolitan palettes. Chatting up with Ruchi Shukla, I learnt that a majority of their customers are non-Indians. That itself says a lot about this restaurant chain.
The entrees 
An unbeatable bowl of fresh, crispy and tantalizing Makhana paved way for more elaborate and decorative culinary fun that followed later.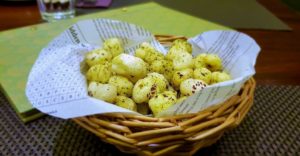 Juices 
Kalakhatta Chuski
We started off with a glass of Kalakhatta Chuski – the classic summer time favourite slush made from Indian blackberry (Jamun). This tangy drink (thanks to the black salt & lime juice) was not only refreshing but also cooled us inside out. What could have been a better choice on a sultry summer evening?!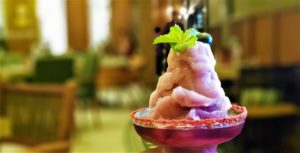 Valley of Flowers
Valley of flowers was a sweet concoction of fresh berries, lime & cranberry juice mixed in a forest-fruit green tea drink. The fuming vapor not only added some drama to the whole experience but utterly enhanced the taste. Full points for this unique drink.
Tropical Sangria
This fiery red drink was a concoction of sparkling grape juice with a variety of fresh fruits & spices. It was equally distinct in taste and flavor.
Appetizer
In appetizers, we started off with small plates of Edamame & Potato Dosa and Onion Fennel Pakora.
Edamame and Potato Dosa
The goodness of fresh Edamame wrapped in a crispy all-time-favourite south Indian dosa sided by equally awesome tomato chutney – this starter was tantalizing to say the very least. A totally unique creation that displayed the inventiveness of the culinary team at Peppermill.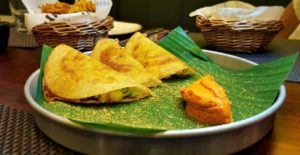 Onion Fennel Pakoras
Onion Fennel pakoras are undoubtedly one of the most favorite evening time snack of many Indians. Our's too! The snack reminded me of the countless evenings back home in India, when we enjoyed this with hot masala tea while brainstorming ideas over clients briefs at the ad agency where I worked. Well, there were times when we even wrapped our pakoras in newspaper to squeeze off the oozing oil! Thankfully trying Peppermills version, no tissue or newspaper was needed. That's because the pakoras were totally light and non-greasy. The onion fennel fritters were sided with Gujarati kadhi dip.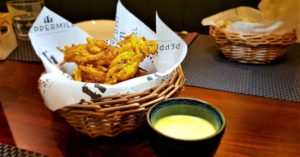 Aloo Tikki
Famed Delhi dish made of crispy fried spiced potato filled with herb lentil and drizzled with peppy chutney. This could have well been Memsahibs much favoured tea-time snack!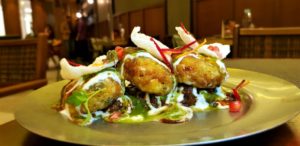 Salads
In salads we went for Fattoush Ala Indie – popular Arabic salad remodeled for Indian taste. The sweet honey balsamic dressing and cheese snow peppered over by our friendly waiter de table gave the salad a very personal touch and accentuated the taste.
Ingredients included mixed lettuce, cucumber, radish, tomatoes, grilled peppers, pickled beetroot, pao crisps and sumac.
Starters
How could we be in an Indian restaurant without trying some kebabs for starters?! In starters we had Korma Lamb Chops and Smoked Hara Prawns.
Korma Lamb Chops
Tender and juicy Lamb chops marinated in fennel & saffron scented korma jus and cooked up the Kashmiri style and served with tandoor gratin.  The pieces were bite size and the flavors were rich. The meat was cooked to the perfect level and the marination was quite perfect. A great starter.
Smoked Hara Prawns
The first thing I noticed as I palatted the dish was the distinct Thai or east Asian flavour – thanks to the use of herb lime marinade –  a condiment used predominantly in Thai culinary. Though I am not a big fan of this flavour, nevertheless I finished the dish. Probably I might have enjoyed it more if aforementioned herb was absent, but I must admit – the preparation was simply superb. The prawns were first off large in size and the tails were easily de-crustable. The prawns had both tenderness and crunch at the same time, which I think is very good and that made me relish the dish despite it being dressed in flavors I loathe.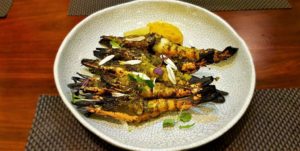 Non Veg Mains
In the main course I had Prawn Rangoon Curry, First Class Railway Officers Mutton Curry and Cod Fish Biryani. My dining partner had Paniyaaram, Dal Makhani, Mutter Panner and Garlic Naan.
Prawn Rangoon Curry
A very delightful curry truly representative of colonial cuisine. Soaking the Pan seared prawns in fresh turmeric and coconut cream gave it a nice aroma and smooth consistency. The chill essence offered that hint of much needed spice while not overdoing it and being too spicy. I am quite certain this dish may have been the erstwhile British Raj's favorite seafood dish. The curry soaked prawns floating in moist and flavorful gravy maintained its distinct crunchiness without being soggy. This is exactly how a prawn curry should be made and Peppermill seem to have mastered it.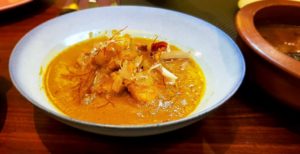 First Class Railway Officers Mutton Curry
This mutton curry was a flavor packed affair – rich in spices and exuding a taste reminiscent of colonial days. Spices here doesn't necessarily mean chili but ones that India is well known for – which gives Indian cuisine its unique flavor and taste – cinnamon and turmeric.
From the very name it is evident that the dish has been an inspiration of the stewed lamb curry of the colonial era, prepared specifically to satiate the palettes of high ranked British railway officers. The fact that ONLY Britishers could work in high positions in the Indian railways also shows that the original dish was created keeping the chili averse Britishers in mind.  The potato and coconut milk negated the spices and gave the curry its richness (thickness) while tomatoes added that tangy twist in flavor. In a place like Dubai Mall with footfalls of western tourists and residents I can see that inspired dishes of this kind could take off quite well.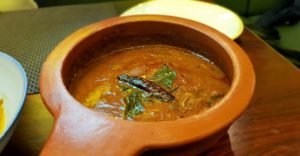 Cod Fish Biryani
Kerala style biryani with small grain rice served in a bamboo. It is my first time trying COD fish Biryani and I am sure it will not be my last. The Biryani was rich in spices, herbs and shreddings of delicious COD fish.  A smorgasbord of flavors in one single dish which only got further enhanced by the fact that it was served from within a bamboo shoot. Despite being packed with so much of condiments and spices, it wasn't heavy at all.This is what I define as dinner bliss.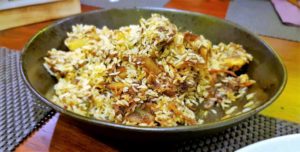 Paniyaaram – a classic south Indian rice cake just underwent an image makeover and presented its gourmet form at Peppermill. Never imagined this dish could get such a cool image makeover and still taste as good as the authentic one.
The browned rice cakes came garnished with coriander coconut chutney and peppered with tomato podi – a tangy powder made from dried tomato. On Ruchi's recommendation, I ventured to dip the succulent paniyaarams into the flavour packed prawns Rangoon curry. The result was a flavour explosion that feasted the palettes. Never thought sweet and spice could go together so well. Next time I get my hands on these cakes, I am gonna try this out again.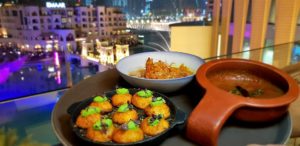 Veg Mains
Dal Makhani – Rich and creamy slow cooked black lentil simmered with tangy tomato & loads of butter. With the garlic naan it went as a great side.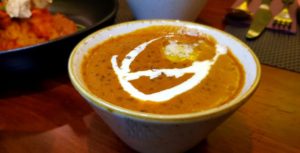 Mutter Panner – Not the usual mutter panner but Peppermill's modern take on the classic favourite. It was presented in great style with flaky pappad on top, ground peas paste inside and scrumptious lababdar gravy on side.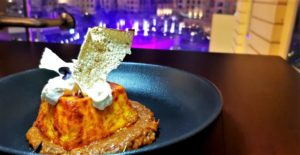 The panner as such did not have any intrinsic taste, however with the velvety gravy being poured over the panner block, it soaked it up all and offered a tikka surprise that rewarded the taste buds.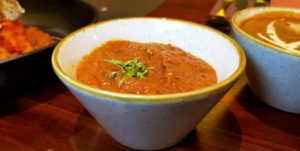 Desserts
Baked Gulab Jamun
In desserts, we had the classic Indian sweet Gulab Jamun in its baked form with rabdi, apricot, prune confit, and lotus crumb. It was a dessert bliss, to put it in one word!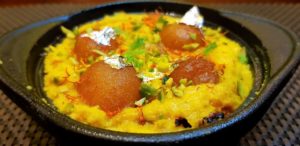 Rasmalai Cake
A Saffron soaked cake rich in cream cheese, sweet boondi, pistachios and safflower. We gently cut through the cake and poured the cream cheese on top for a palette rewarding end to our dining.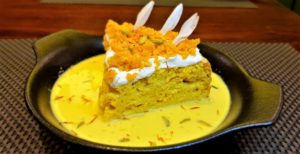 Service
Excellent service by Assistant Restaurant Manager Anurag Singh and his fabulous team. Anurag paid several visits to our table to make sure that the dishes came on time and at times, he personally served us some of the dishes – which was a great experience.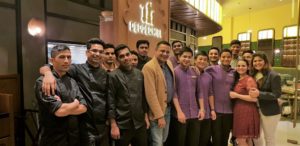 The Executive Chef Ashish Tiwari who has worked in renowned star hotels including the Leela palace in Delhi also stopped by to hear our feedback about the individual dishes.
Acknowledgement
Special thanks to Ruchi Shukla – the Restaurant Manager for the wonderful evening and ensuring that we had a totally enjoyable time with amazing selection of food and awe inspiring levels of service. Specially noted her courtesy and professionalism when she cancelled her personal commitments just so she could stay over for our interview. She entertain us with great conversation both on and off tape.
Bottom line
About the brand
Having recently opened at the iconic Dubai Mall, Peppermill has quickly established an aura in this new mooring, consistent with the image the brand is already well-known for. Offering a raft of fresh and inventive Indian flavors and topping it with great ambiance and awe-inspiring service, Peppermill is quite an apt contender to flaunt the "FIRST INDIAN RESTAURANT IN THE DUBAI MALL" tag.
About the food
The Edamame Dosa is an exquisite and inventive entree; Onion Fennel Pakoras are a great snack that will kindle fond memories of the busy food lanes and tea stalls of India. The Cod Fish Biryani is the best I've had in Dubai. The curries are high on flavor and less on spices – which is a good thing. There are a lot of Indian restaurants that are over doing spices in the name of maintaining authenticity, however Peppermill knows exactly what it is serving and is doing it right.  The juices are creative and interesting. Don't miss trying the Kalakhatta Chuski and Valley of Flowers, not to forget the Baked Gulab Jamun and Rasmalai Cake in desserts, which are to die-for. Peppermill also boasts a fabulous outdoor terrace to enjoy the lip-smacking fare with gorgeous views of the dancing fountain and buzzing Souq Al Bahar waterfront.
The gallery
Need to know
Cuisine: Indian
Where: 2nd Floor, The Dubai Mall Downtown Dubai, Dubai
Hours:  10 AM to 12 Midnight (Sat to Wed) 10 AM to 1 AM (Thur to Fri)
Atmosphere: Spacious casual dining restaurant with breathtaking views of the waterfront promenade
Parking:  Mall Parking
Prices: AED 190 for two people (approx.)
Credit cards: Cash, Cards accepted
Sound level: Music
Wheelchair access:  Accessible
Service: Excellent
Recommended:  Edamame Dosa, Onion Pakora, Makhana, Cod Fish Biryani, Kalakhatta Chuski, Baked Gulab Jamun, Rasmalai Cake, Lamb Chops
Additional Info:   No Alcohol Available. Kid Friendly, Wifi, outdoor seating, Table booking recommended
Reservations:  04 3327337
Disclaimer / Voluntary Disclosure
This review was courtesy of Peppermill Restaurant, Dubai. Though the food was complimentary, all photos, views and opinions are our own, as always. The restaurant had no influence on the content of this article. There is no form of cooperation between us, and I am NOT obliged to publish anything. I have not received any monetary payment in lieu of this review. All images used are courtesy of Blogliterati.com, unless stated otherwise. The images may not be reproduced without explicit permission/consent from the site owner.