March was an incredibly busy month for me, as for the other Dubai journos. With a dozen back to back gigs planned around Dubai media city, I decided to check in at the nearby Pullman Jumeirah Lake Towers.
About Pullman Jumeirah Lake Towers
Situated just a few steps away from Damac Metro station, along the Sheikh Zayed Road, Pullman JLT offers a super luxurious stay in the heart of new Dubai with easy access to Al Maktoum International Airport, Jebel Ali, Internet City, Media City, Knowledge Village, Dubai Marina, Palm Jumeirah etc.  Metro, Bus, Tram, Taxi and Mono rail, are a hop and skip away, so moving around from here to anywhere is a breeze.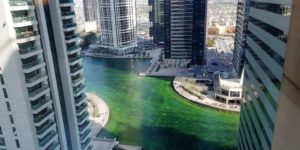 The beautiful Pullman property overlooks Damac Metro Station and offers panoramic views of JLT Lake and Dubai Marina's breath-taking skyline. It has 354 rooms including 76 suites & apartments featuring an urban-contemporary design. The suites and residences combine modernity with comfort and opulence to offer a perfect milieu for the new generation of business travelers.
Facilities 
Some of the facilities at Pullman JLT include 24/7 In-Room Dining, Fully equipped gymnasium, Outdoor swimming pool and Jacuzzi, Spa, Wifi, Executive Lounge, Beauty salon, Laundry & dry cleaning facilities, ATM, Currency exchange, Babysitting services (upon request), Valet parking, Multi-lingual staff, kids' Play Area.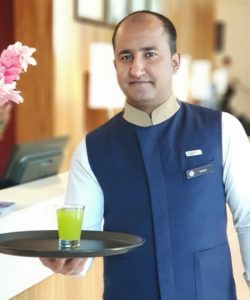 Check In
At check in, I was greeted by Welcome manager Abdelilah Ahmed – a friendly young man with a warm smile and a pleasing personality. I was offered a welcome drink upon check in and while I was at it, the reception desk ensured i had a very quick and hassle free check-in.
While the welcome manager kept me engaged in conversation, the concierge shifted my luggage to my room. The welcome manager ushered me to the lift area and gave his card and mobile number to reach him out  for anything, anytime. I like that Pullman makes sure guests feel at home, right from the moment they step in. Overall a very smooth and pleasant check in and a very good first impression.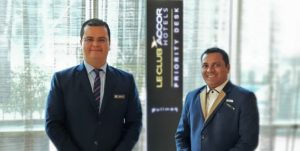 My Room
My executive suite was well equipped with everything I needed to make my three day stay every bit comfortable. My bed was king sized and super comfy, with quality linen and half a dozen different types (sizes) of pillows – perfect for a great night's sleep.
The suite was spacious and had large windows on two sides which presented gorgeous vistas of the artificial lake below and the Marina skyline above. There was a work table with stationary, pens, notepad, telephone, table lamp and a comfortable chair.
On the coffee table, I found a welcome note signed off by the Hotel GM Caroline Trichet and a few treats thoughtfully left by the room service which included some short bread, macaroon, cookies, and a can of very regional avocado hummous.
The bathroom was a decent size one with a great shower ( there was a glass enclosure, separating shower from the general toilet area with a glass door). The bathroom was properly furnished with all the essential toiletries, hair dryer, clothes line, telephone, shower gels, body lotions, comb, etc.
The People
People make a place awesome and in that sense, I can say that Pullman JLT out of doubt has one of the finest hospitality professionals working for their property. Right from the welcome manager to the concierge staff, to room service boys, to waitresses at the various F&B outlets, to the cleaners, chefs, bar staff, lifeguard, duty managers, bellboys – each and every single staff I ever interacted with during my 3 day stay exhibited the highest level of professionalism, manners, and hospitality. I was simply amazed by this levels of service.
Day 1
Business lunch at Manzoni Bistro and Bar
After setting up the stuff in my room, I headed straight to Manzoni bar & bistro in the lobby level for the Express business lunch.
Manzoni is an award-winning Italian restaurant that offers a dynamic array of dining experiences for guests. Right from a wallet-friendly express lunch for the business crowd, to lazy afternoon get-together and large celebratory occasions, they have it all. I met Corina Chitoui– the bubbly and friendly restaurant & bar manager and chatted with her. Snippets of our chat are in the video below.
The Express Business Lunch is a great value for money offering from Pullman. At only AED 55, guests can enjoy an antipasti and main course and on paying an additional AED 15 – enjoy a dessert, too.
I relished a bowl of hearty Italian style mussels & calamari soup which was creamy and delicious. Then I went for the mains – Rigatoni with smoked salmon sauce. Corina insisted that I try their pasta too, which she offered, complimentary.  I ended my meal on a sweet note with a bowl of Gelati – two scoops of vanilla ice cream. Overall a very satisfactory lunch – all at AED 55.  If I were working somewhere around the JLT area – I would go there every day for lunch!!
While heading back to my room, I ran into the hotel general manager Caroline Trichet. I'd seen her interacting with guests at Manzoni earlier,  so I smiled at her. She invited me for coffee at the business lounge. I gladly accepted.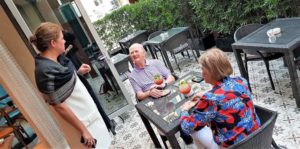 She spoke to me in detail about Pullman JLT and their various health and wellness initiatives. I learnt that their initiatives are not just for their hotels guests but for the benefit of the entire JLT community. Excerpts of the interview are below.
Caroline checked with me about the duration of my stay and recommended that I check out the Seafood night at Seasons restaurant. So, on returning to my room, I called in Seasons and made a reservation for dinner.
I spent the afternoon in my suite enjoying the gorgeous views of the lake below and later watched some international news on the large sized LED TV. While flipping programmes I ran into Sarah Hoey's channel.
As part of a spring wellness initiative guests living at Pullman enjoy a 7 minute workout program on their TV, designed by wellness expert Sarah Hoey. Guests could request for a fitness kit and work out in the comfort of their own rooms, without having to go to the gym. How cool is that!
Day 1 (Evening)
In the evening, I headed straight to Seasons restaurant for dinner. The ambiance was casual and cosy. This all-day dining venue concept with live cooking stations is manned by a fabulous team of culinarian and service professionals. I met the super friendly team headed by restaurant manager Kamel Marouf.
I was eager to learn more about the restaurant, so I sat with Arabic Sous Chef Alaa Helmi for a chat.
The Seafood buffet (Thursday nights) 
At only AED 120 the seafood spread was just amazing in quality, variety and taste. The pricing for this amazing smorgasbord of food is simply unmatched! There were live cooking stations, dessert counters, salad stations, pasta, rice, sushi, fresh fish, rice, paella, curries, the list was just endless. Very noteworthy service by waitresses Christine, Sheena, and waiter Khaled. I love that they paid great attention to details.
After a totally satisfying and sumptuous dinner, I retired to my room and had the most peaceful sleep I could ever wish for on a cold rainy night.
Day 2 – Friday
Next morning I woke up and helped myself with a cuppa of hearty coffee from the Nespresso machine. There was an assortment of coffee and tea powder provisions in my suite. The mini bar was furnished with beer, juices, red bull, ginger ale, and premium beverages.
I decided to indulge in some exercise and warm up activities setting the tone for Friday, before I headed to Seasons again for the Friday Brunch.  Sarah Hoey's video pack came for the rescue. I called room service to deliver my fitness kit, which arrived in less than 5 minutes of my call. I followed Sarah's instructions on the video – which were slow, methodical and helpful.  After the session, I showered and headed to Seasons restaurant.
Friday Family Brunch at Season's
The Friday brunch at Seasons restaurant is an absolute not-to-miss event for the entire family. It's one of the best family oriented brunches I've been to, in Dubai. The entire restaurant was abuzz with activity and I found many kids enjoying their time at the kids play zone. There was a special kids menu replete with burgers, fries, pop corn and candy floss for them to enjoy.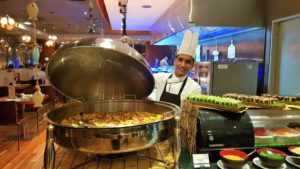 The children's play area also had bean bags and slides and the space was manned by a special caretaker, assigned to take care of the children. This let the little ones enjoy their game, while their parents indulged in the elaborate international buffet. For those kids who chose to be with their parents, Chef Alaa surprised them with special treats, like the one in my video below where he made some delicious waffle treats for the kids.
The food was, needless to say – amazing! The variety of dishes on offer aplenty and there was something for every taste and preference.  The best part was the live band that played classic English music all afternoon.  It was a Friday afternoon well spent.
Visit to Gym
After lazing around in my suite, I headed to the multi gym where I met the physical trainer who introduced Pullman JLT's various wellness packages for the guests and the community. She also gave me a tour of the facility.
Pullman Hotel JLT features a fully equipped, panoramic, state-of-the-art gymnasium, overlooking Sheikh Zayed Road and the Dubai Marina skyline. It features a wide selection of training and exercise machines, in addition to free weights.  I think Pullman is one of the few hotels to feature such a well equipped full-fledged multi gym with a full time training instructor.
Friday night stopover at LA VUE
After the gym session, I retired to my room to take a shower and headed straight to LA VUE for drinks and shisha.  On the way, I booked a 60 minute spa session for late evening at Fit & Spa Lounge.
At La Vue I enjoyed some premium beverages and chatted with the jovial restaurant manager Manu Antony. Shisha couldn't be made available due to the strong winds. Nevertheless, It turned out to be a lovely evening and the terrace was a perfect spot to enjoy a late night drink. La Vue had a nice collection of premium beverages and spirits.
Heading back to my room, later that night, I ordered some quick bites from the Canape menu which the room service promptly delivered.  For those guests who would love to enjoy some nice nibbles from the comfort of their room, Pullman hotels has a canapes menu offering 24/7.
Next stop was the spa.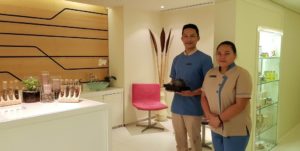 At the  Fit & Spa lounge I met trained therapist Reynold from the Philippines. He ushered me to the best treatment room with a gorgeous view of the buzzing sheikh Zayed road. Before the 60 minute treatment commenced I hopped in and out of the steam room and sauna, as well. Those sessions were intense and highly relaxing.
Reynold – the massage therapist carries an experience of over a decade. Experience talks, and it definitely did as his gentle hands released the pent up tension from my nerves. I lay down in a state of complete bliss, watching the rush hour traffic whizzing past from above.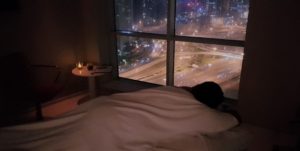 Once the session completed, a Filipino attendant at the spa offered me a bubbling pot of green tea. That was  a lovely gesture from the SPA team and it totally relaxed me and on hitting my room, I was able to take a deep and sound sleep.
Breakfast at Seasons (Saturday) – Day 3
Saturday morning I woke up as relaxed and rejuvenated as I possibly could.  Mornings must start with a hearty breakfast, so I hopped in to Seasons – yet again to try out their Active breakfast – a special wellness initiative from the Pullman. The selection of active and healthy breakfast options definitely impressed me. The team were almost like family, by then! They knew my exact requirements when i'm at the dining table.
Christine the waitress paid very meticulous attention to detail. She knew i preferred sparkling water over normal water and i preferred it with ice cubes and a slice of lime. God is in the details and love that at Pullman, all staff are trained to give incredible attention to details. I'll give her a 5/5 for her impressive service.
Business meeting with the Marcom team at the Executive Lounge
Before checking out, I had a meeting lined up with the marketing and communications division of Pullman JLT. We planned to explore possibilities of future collaboration, so I met up with Aline Ibrahim of the communications team at the executive lounge.
The  lounge was fabulous in that it was spacious, well equipped featuring super comfy sofas and business work stations replete with desktop computers and high speed internet connection.
There was a mini conference room with a white board for presentations. The executive lounge also had a buffet set up replete with food, beverages and drinks. This is one of the most important factors that make Pullman a perfect location for business travelers, for work and stay.
Located on the 16th floor, with panoramic views over the Dubai skyline, the Executive Lounge is a space of comfort allowing guests to enjoy the below exclusive facilities and services:
Access to the Executive Lounge from 07 am to 11 pm
Private check-in & check-out
Complimentary breakfast in the Executive Lounge
Selection of refreshments and canapés throughout the day
Complimentary drinks from 6 to 8 pm including pre-dinner alcoholic drinks
Executive meeting room for up to 2 hours (subject to availability)
Daily newspapers in Arabic, English and French
In-room Nespresso machine
Complimentary pressing or ironing of 3 pieces of garment per stay
25% discount on all Food and Beverage consumption
Rooftop Swimming pool and mini bar
During my stay, I had also visited the rooftop pool bar on the 35th floor. An ideal spot to enjoy the Dubai sunshine whilst sipping away a selection of premium beverages, the pool bar is a quiet and peaceful venue to relax and spend a lazy day.
Coffee at Ahlan before check out
I had to check out by noon, so with not enough time for lunch, I hopped in at Ahlan Café to grab a few bites and a cappuccino. I met Vivian – the vivacious waitress who made a lovely cup of cappuccino for me.  Ahlan Cafe in the lobby level of the hotel, is an excellent facility for guests who want to grab a quick bite or coffee.
The lobby is gorgeous and lively and it had newspapers in English and Arabic and several premium magazines. The Ahlan Cafe being situated in the lobby seemed like a very nice idea. Guests who have outside visitors, can meet them here and enjoy a fabulous selection of muffins and coffee.
Check out (day 3)
At checkout I met duty manager Srijai Menon and Welcome manager Abdelilah who ensured that my check out was smooth, quick and I left with a smile.
Three days spent at Pullman JLT was memorable and special. It almost felt like leaving home. All the lovely people who served me and the fabulous stay will forever remain in my memory and I will surely return again soon to relieve everything.
With 354 rooms including 76 suites & apartments, 11 meeting rooms, Executive Lounge, 5 restaurants and bars offering a variety of world cuisines and flavours to satisfy the most discerning palate, Pullman Hotel Jumeirah Lake Towers is the ultimate destination for the business traveler.