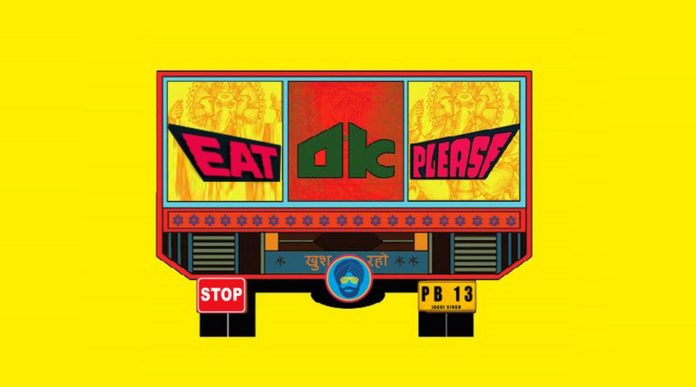 The Background
Punjabi cuisine is one of India's most distinct cuisine offering an interesting array of delectable dishes. The food is cooked in a variety of culinary styles including the Tandoor style which involves using the earthen Tandoor or oven.  Food cooked in this manner is  extremely delicious making it popular among food connoisseurs world over.  Owing to this fact, Punjabi cuisine has traveled to all corners of the globe, including the United Arab Emirates. While there are several Punjabi restaurants in the UAE, only very few serve the authentic Punjabi taste.
We recently unearthed a Punjabi restaurant, that stays true to Punjabi traditional style while incorporating modern techniques to stay appealing to a cross section of people.
Punjabi By Nature
"When your Tummy growls and all you can think of is Rajma Chawal, you are truly Punjabi by nature" screamed a wall poster, as we stepped into Punjabi by Nature, in Oud Medha. "Khao Ji Khao, Isme Kya Sharmana" growled out another slogan from the place mat.
Pehle Pet Pooja, Phir Kaam Dooja
The time was barely 8.00 p.m., but our stomachs were already growling with hunger.  As we glimpsed through the menu that resembled a stylized version of a tabloid newspaper replete with witty Punjabi & Hindi slogans, cheeky puns and colorful visuals of authentic Punjabi fare, our mouths already started to water.  The table on the opposite side was occupied by a 'seemingly' western couple enjoying a desi Punjabi dish.
Without much delay, 'Kuch starter sharter ho jaye' we thought, as we trained our eyes on the "Chatti Wali Lassi Pede De Naal"  – the most unique sounding dish on the menu. The adjoining one liner"O Paaji, just try it and see" was reason enough to entice us.
Throughout the 2 hours we spent at Punjabi By Nature, we were tempted by many such messages screaming at us from various directions – the walls, the place mats, the napkins, the menu, and even the wet wipes on the table.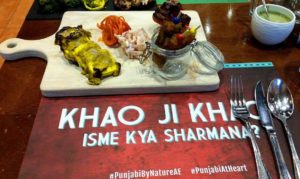 Chatti Wali Lassi Pede De Naal gave us a sense of the creativity of Punjabi By Nature and managed to impress us so much that we went on to order a lot of food that night.
As we nibbled on the Roasted Masala Pappad that was served with spicy mint chutney, we ordered the starters – Achari Paneer Tikka, Bhune Aloo Di Chaat, Tandoor Kumb, Murgh Malai Tikka, Chutneywala Macchi De Tikke and finally a glass of Ambh Ka Panna to wash it down.  Yes, I know that's a lot for starters, but then again, we were like the hungry lion in a sheep farm. The place was no less tempting, either!
The Food
Chatti Wali Lassi Pede De Naal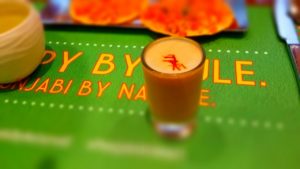 This awesome signature drink – a concoction of the traditional Indian sweet – peda (Madhura ka peda) with lassi (butter milk) was such a delight to have. Since childhood Pedas have been my favourite sweet and Lassi – my summers poison. But having both of them together in one drink ?! It was a marriage fixed in heaven and fashioned in Punjabi By Nature's Kitchen.  The best thing about this drink– it completely delivered what it promised – Magic of Saffron, scrumptiousness of a solid shake.
Ambh Ka Panna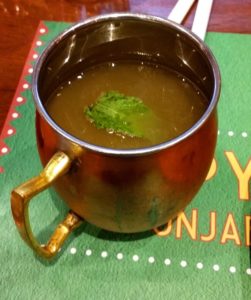 A popular summer drink in north India, Ambh Ka Panna or Aam Panna is well-known for its cooling effects. With the weather in Dubai touching 49 degrees, there couldn't have been a better for instant cool-down.
A refreshing concoction of raw mangoes, spices and mint, this drink not only cooled us down but served as a perfect complement to the spicy meal. Punjabi By Nature prepares it just as it is meant to be – with no artificial sweeteners or additives and leaving the taste and tanginess completely on the mango and condiments.
Veg Appetizers
Bhune Aloo Di Chaat 
(Crisp fried potato cubes on wooden skewers)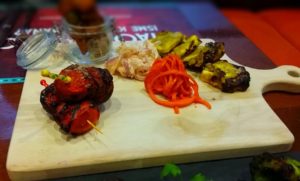 This dish is a tantalizing treat for any one who loves potato fry like the ones you get on Delhi streets. Completely tangy (courtesy the mint sauce) and truly desi.
Achari Paneer Tikka
Chargrilled on a tandoor, mildly spiced, mildly tangy and very soft, this fresh cottage cheese delicacy set the tone for the evening of culinary indulgence. With the real Achari tikka flavour, it sure is a tantalizing treat for all Paneer lovers, as it was for us.
Tandoor Kumb 
(Stuffed and shallow-fried mushroom on skewers)
I would have preferred if it was a tad spicier, instead of plain, but nevertheless, enjoyed every crunchy bite of it.
Non-Veg Appetizers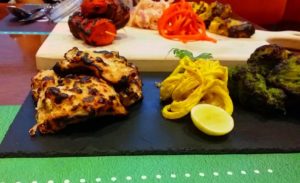 Murgh Malai Tikka
My most favourite dish from the starters list, the Murgh Malai Tikka was tender, creamy and delicious in every bite.  A slight hint of tanginess made it a great appetizer and made me eagerly looked forward to their other Murgh dishes in the main course.
Chutneywala Macchi De Tikke  
(Dory fish roasted in a wrap of green flavoured marinade)
This fishy dish was crispy on the outside and extremely soft on the inside. I'd rather recommend their Amritsari Macchhi, which we didn't try, but was recommended by the Chef as it was one of their specialties.
Main Course
For the main course we ordered Wadiyan Wala Paneer, Pakode Wali Kadi, Dal Makani in veg and Angrezi Chicken Tikka Masala and Lamb Rogan Josh, in non-vegetarian.
For the breads, we went for Aloo parantha and Butter naan. We also ordered Gosht Dum Biryani just to get a feel of the rice from Punjab which is known as the 'Rice granary of India'.
Wadiyan Wala Paneer (Signature Dish)
Wadiyan Wala Paneer – one of the signature dishes of Punjabi By Nature, it came with Wadiyan (crispy lentil dumplings) and big chunks of soft & fresh cottage cheese immersed in a rich, salty and flavorful red gravy.  This dish can't be found anywhere else but here, and is a great and unique treat for fans of Paneer.
Pakode Wali Kadi
PBN's Pakode Wali Kadi is a tantalizingly sour dahi kadhi with spinach specked gram flour and onion dumplings, delicious basin pakora and curd.   The mildly spiced, deep fried pakora submerged in the creamy and textured gravy made for a lip smacking accompaniment to the breads and truly lived up to its expectation of authentic Punjabi taste
Dal Makani 
The town's best Black Lentils I have tasted.
The Dal Makhani came with a smooth velvety texture and lovely flavour, thanks to the generous inclusion of butter. The curry was rich, creamy and absolutely mouth-watering, One of the most popular dal dish from the Punjabi cuisine, dal makhani is favourite among many north Indians and this dish became our favorite too.  I learnt from the Chef that the lentils were slow cooked for 12 hours before preparing which really reflected in the taste.
Angrezi Chicken Tikka Masala
"Punjabi Di Shaan" said a line adjoining the listing of this dish on the menu. That definitely prompted us to order this specialty item, which turned out to be my most favourite dish at PBN. The chicken was cooked just perfect and it came immersed in a delicious creamy and tangy Tomato masala. A completely lip-smacking treat that literally even an Angrezi (Western expatriate from England) will love.
Lamb Rogan Josh
A very indulgent lamb curry super packed with flavour, thanks to the robust spices added in seasoning.  The brown onion gravy in which the lamb came immersed was flavorful, rich and thick and was perfect side dish for Butter naan. I would have wished the lamb was a little more softer, as I had some difficulty in pealing out the flesh from the bones, but eventually, I did pull it off well. 😊
Gosht Dum Biryani
Very flavorful biryani with succulent pieces of mutton. Thanks to the perfect blend of aromatic spices and herbs, the Biryani tasted biryanilicious! It is a must try if you are a Dum Biryani lover.
The Desserts
Firni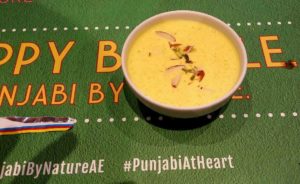 A perfect rice dessert that had the right proportion of sweetness and thickness. The flavours of cardamom and saffron infused a dazzling aroma and taste.
Rasmalai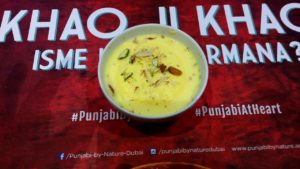 Cottage cheese floating around in a divine elixir of sweet milk doused with aromatic saffron and cardamom. An awesome sweet treat that left us wanting for more. 
The Conculsion
After a totally satiating dinner that was every inch Punjabilicious, we went home singing "Dil Vich Balle Balle, Je Pet Vich Balle Balle, Dil Vich Balle Balle, Je Pet Vich Balle Balle".
We sure surfeited but Paaji, Isme Kya Sharmana?! So, we kept calm and simply Curried on!
The ratings
Ambience : 4/5
Although not an upmarket restaurant, but certainly a peppy place to catch up with friends for a meal or a weekend indulgence with the family. The place is sporty with colourful décor and posters all over the walls and inscriptions and captions even on the glass.  Simple but comfortable seating.
Service : 4.5/5
The waiters are very attentive, well-trained and interesting bunch.  Attendant Lucky in particular was extremely fast, well-informed about the dishes and even helped us to choose our appetizers and main course. The Head Chef Vineet too is an amazing guy. He came twice to our table to suggest the food we ought to try and later to find out if we were enjoying the food.
Food : 4.5/5
The food was quite good and lived up to the expectation of Punjabi taste, and there was nothing much to complain about.  There were many hits and then, there were a few misses too, like the Chutneywala Macchi De Tikke which didn't appeal to my spicy seafood likings. But then again, taste is a very subjective term!
The Management:
The co-founder of the restaurant Sharan Kakwani is an enterprising young man from Mumbai who has an impressive track record of running such business before.  A hotel management student, Sharan has been running this restaurant for three years now. Very particular about quality and authenticity, he ensures that only freshest and authentic ingredients and condiments are used in the dishes. For this reason, he sources most of the spices and ingredients directly from India.  Maintaining such a stringent quality policy, helps him win new customers while retaining existing ones.
The location : Opposite Lamcy Plaza, (In the same line as Barbeque Delights) Oud Metha, Dubai
Parking: Lots of parking available outside the restaurant and in front of Lamcy Plaza..
Must try:  Chatti Wali Lassi Pede De Naal, Dal Makani, Angrezi Chicken Tikka Masala, Firni, Rasmalai, Ambh Ka Panna
Cost: Approx 200-250 for two people