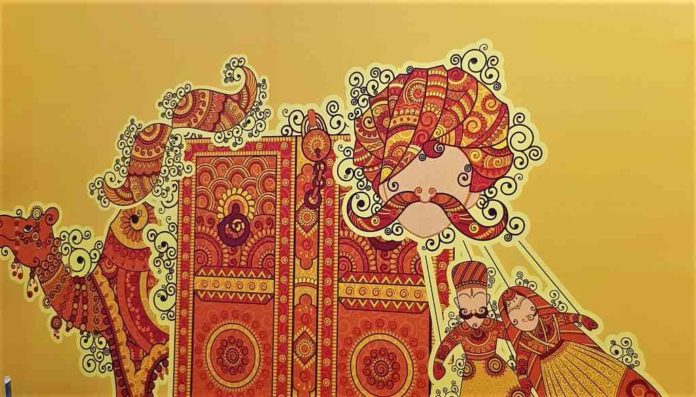 Sagar Ratna restaurant situated in Oud Medha close to the Lamcy Plaza is a great new place to try out pure vegetarian food that is very true to Rajasthani taste. The whole place resonates with a characteristically Jodphuri vibe with indigo and white colors predominant in the walls and furniture.
In fact, the entire décor has been specially and carefully fashioned around these two colors to reflect what they are – Typical Jodhpuri – Rajasthani restaurant. Jodphur is also known as the Blue City due to the luscious blue sea of houses that form a major part of the city and Sagar Ratna reflects bit of the ethos here.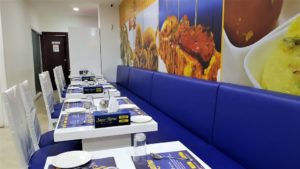 More than 70% of Rajasthan is vegetarian, which makes it the most vegetarian state in India. Needless to say, their expertise in vegetarian food is very well established. You can get a feel of this at Sagar Ratna restaurant where everything from the snacks to curries to desserts are very well prepared in line with their tradition. Even their chefs and waiters are from Jodhpur, Rajasthan so authenticity is guaranteed.
What we had?
We started our indulgence with a shot of Makhaniya Lassi which is nothing but sweetened buttermilk garnished with saffron and slight hint of nuts. It is thick in consistency so cant be drunk but rather scooped up with a spoon. I rather had it kept throughout my indulgence to wash the spices off the palates, occasionally.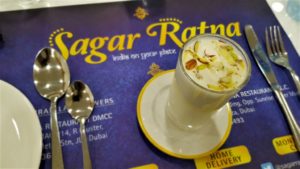 In amuse bouche we were offered Jodhpuri Mirchi Bada and Jodhpuri Pyaaz Kachori. Rajasthan is also famously known for its snacks and spicy chutneys made of turmeric, garlic, mint and coriander. 
Jodphuri Mirchi Bada :
A stuffed snack that has chili deep fried in batter paste. The chili is used by not just Rajasthanis but across the Indian subcontinent, for making snacks which are known by different names in different places.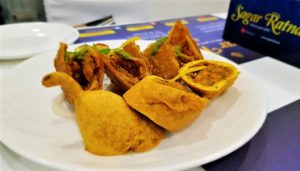 Pyaaz Kachori:
Pyaaz Kachori is one of Rajasthan's most popular snack preferred widely by north Indians. Here the Pyaaz (or onion Kachoris) were really soft and could be cut easily and eaten using a fork, though traditionally hand is used to eat the snack. There were certainly one of the best Pyaas kachoris I've ever tasted.
What I loved about the snacks is that both were very light, less greasy (in fact we didn't find a speck of oil) and spicy enough for us to love it.  Overall both made for a great appetizer.
Appetizer
Then came the Mehrangarh kebab platter. A kebab lovers dream dish. This sizzling platter comprised of Bharwan Aloo Seekh Kebab, Hara Bhara Kebab, Malai Paneer, Paneer Angaar and my favourite Tandoori Gobi. A great combination platter of excellent kebabs that were soft, flavor packed, spicy and luscious. Totally loved this platter.
Main course
In the main course we had bottomless servings of hot and light Tawa roti with lip smacking Rajasthani curries including the famous Jodphuri Ghatta curry, Dal Makhani and Dhungar Paneer Tikka Masala.
Jodphuri Ghatta curry  – I am not very familiar with this dish or an expert enough to rate it, however my dining partner certainly is and it turned out it is her favorite curry from the Rajasthani Kitchen. In fact she so much loved it that she had a take away made of this dish, too!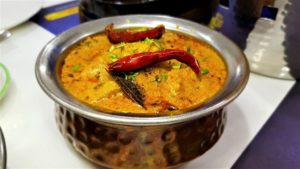 Dal Makhani was as you'd expect a dal makhana to be – rich, buttery and creamy. This one stood out in terms of a smokey twist, though very subtle one at that.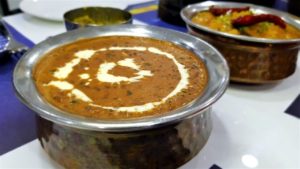 Dhungar Paneer Tikka Masala – Covered with onion and capsicum and garnished with cilantro, this is perhaps my type of curry – rich, thick and flavorsome, with luscious pieces of Paneer and veggies. This too was served sizzling hot, which further added to the pleasure of savoring it.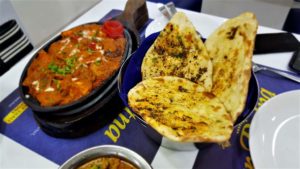 Jaributi Naan – A very unique Indian bread peppered with flavorsome Jaributi (Indian word for herbs) which could just be eaten hot without any need for a side dish. It was that yummy.
Ghevar  
Finally, to end this spicy indulgence, we were served with their Rajasthani Special sweet – Ghevar. It was different from other Ghevars I've tasted, in that it came topped with my ever favorite indian dessert – Rabdi. And the best part is that the lower end of the dessert was firm and crunchy and made a perfect base for the slightly moist   Rabdi on the top. What's more, it wasn't that sweet or overpowering but subtle and just perfect, as I would have loved my dessert.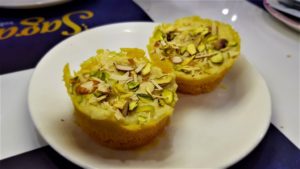 Bottomline :
If you are looking for a place that is authentically Rajasthani and vegetarian, then Sagar Ratna is a great choice.
The gallery