Brace yourself for an epic trip down memory lane as Scarlet Cardinal, the live music venue and bar in JBR, hosts the ultimate throwback with two action-packed events this December.

Look-i-like with The Ultimate Tribute – December 6
Power couple, Darren and Tania Alboni, will be reviving your favorite music legends on December 6. Raise the roof with timeless British and American legends – Elvis Presley, Amy Winehouse, Mick Hucknall, Cher, Karen Carpenter, Roy Orbinson, and Shania Twain. Globally renowned for their musical talent and accurate portrayals, the duo will take you back in time as they whip out classics from across the decades.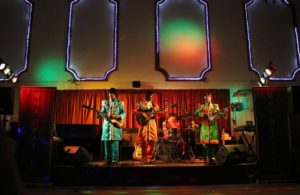 Back to the swinging 60s with The Vox Beatles – December 7
Go hardcore retro with The Vox Beatles on December 7. With collaborations with the BBC, Virgin Sport, and Canon UK under their belt, this troop of Beatles impersonators is the real deal. One of UK's most sought-after tribute bands, revisit your favorite hits from the 60s as they flawlessly slay every nuanced song!
Take a break from the present and give the past some love at these fantastic throwback nights. Serving up the best melodies from iconic eras, there's always something exciting brewing backstage at Scarlet Cardinal.