Award-winning interior designer and consultant Sharon Jutla upgrades Jazz@PizzaExpress, Dubai in record time with instagram friendly design.
When Jazz@PizzaExpress made its UAE debut in 2013, it brought with it a unique kind of modernity to Dubai's dining scene. And within no time, it immediately struck a cord with its visitors and instantly became the go-to spot for diners. Jazz@PizzaExpress' unique approach to dining and entertainment has since continued to set unrivalled dining standards in the region. But even as a trailblazer, Jazz@PizzaExpress felt it was time to once again redefine its dining experience.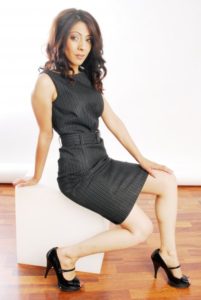 The management knew exactly what they wanted and the kind of story that needed to be told. They appointed the award winning interior designer, Sharon Jutla, whose flair for design excellence is world-renowned.
Telling the restaurant's story in a way never told before, Sharon expressed it by combining trendy, history, fun, instragramable quirks and uniqueness. Sharon not only completed the project in record time (10 days), she transformed the restaurant in line with her client's qualities, values, and aspirations.
Here's a sneak-peek at what to expect at the new look Jazz@PizzaExpress.
Hashtag Lights and text Features.
Following the social media trend and how Instagram is pushing restaurants to be more kitschy, colourful, and irresistible to photographers, Sharon created purposeful instragamable moments with carefully designed special touches to entice social sharing. Bright pops of coloured neon lights were incorporated into the design as sharable hashtag quotes, positioned prominently inside the restaurant.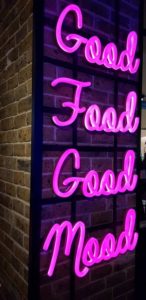 Sharon believes that people have been inspired by Instagram and have become great at documenting spaces and things. Restaurant designs now need to invest in crowd sourcing through social media, which is essential in today's digital driven consumer market.
Designing physical spaces that inspire maximum number of photos with Instagram is what Sharon had in mind for Jazz@PizzaExpress. As social creatures, it's in our nature and huge reason why social media is so popular as it fulfills our need for connection. With online review sites and social media, consumers have transformed restaurant marketing from word of mouth to world of mouth. Just a click of a button, we can share a photo with the world.
Silence is not golden in most restaurants. A good musician or group always draws in crowds better than a dinner special. With the Jazz@PizzaExpress live band playing every night, there was need to relocate the stage to enable diners view performances better. The existing acoustic panels were also removed to let the sounds from the live band resonate across the restaurant for a more live feel.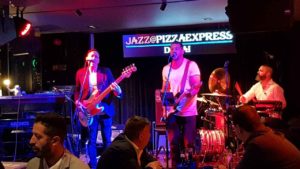 Go High or Go Low with Seating.
The biggest challenge when designing a restaurant is to make every table a good table. With the new seating arrangement at Jazz@PizzaExpress, guests can now enjoy the show wherever they are seated – every seat is now the best seat in the house. From the seats at bar that swivel around to face the bar, high banquets, high tables and stools to lounge seating, the cleverly arranged seating ensures comfort and a different dining experience. This new arrangement now allows every customer to witness the live bands without having to look over people's heads.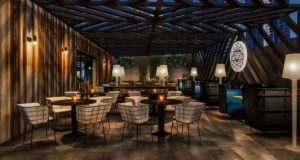 Out with the old and inaccessible bar and in with a new look and trendsetting bar. Unlike before, this new bar is now noticeable by everyone entering the restaurant thanks to a large beveled glass mirror at the back of the bar that catches the light and reflects like a jewel. The mirror also houses a large signage text 'ALL THAT JAZZ' that creates a great Instagram picture. The new bar now has a warm metal ceiling and lighting that makes it glow. To complete the new look, Sharon threw in some deep brown leather high stools, for those who prefer not to sit at a table, to complement the bar features and enhance the overall guest experience.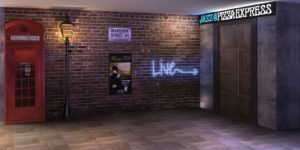 London street & Phone Box.
The new look Jazz@PizzaExpress takes you back to the roots of the first ever Jazz@PizzaExpress, situated in London's Wardour Street and founded by Peter Boizot in 1965. The main entrance now houses a London-style street complete with a red British phone booth, a street lamppost with quirky signage, making another great Instragramable area.
A large neon sign greets and directs guests through two large timber doors to restaurant. These new design creates a nostalgic reminder that Peter Boizot is the founder of the first Jazz@PizzaExpress in the United Kingdom.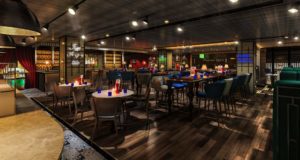 Internationally known for its jukeboxes, the Leeds-based manufacturers, Soundleisure, outdid themselves. With a first of its kind globally, Jazz@PizzaExpress is the proud owner of a specially designed Jukebox that reflects the designer's concept needs for that jazz feel. What's your favorite tune? No coins required just select your song.
Eating out is not just about the lounge. It involves all the human senses and if each of these senses is pleased, the whole experience becomes pleasurable. Good music for the ears, the right colour combinations for visual appeal and the perfect furniture that makes the restaurant stand out. The colour and texture paints a unique story. A story that reconnects with the original restaurant in the UK.  Echoing the past, embracing the present, and delighting in the future.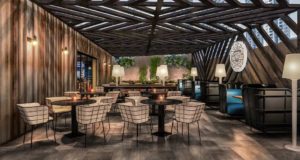 The restaurant now has a private dining room, which has created from an existing storage room and is positioned behind the big stage. And even with a private room for parties and guests being part of the main restaurant and with a view of the stage, Sharon still managed to make the private room more visible from the main restaurant by carefully knocking through an existing wall to create a large window – framed in gold.
Sharon Jutla brilliantly created a historic atmosphere with an energetic present-day touch. The combination of hashtag lights, a unique jukebox, exceptional acoustics, great seating, colour and texture nuances, blends into a masterpiece and a real live jazz venue where you get the best pizza in town.