Knowing my incredible love for Sushi, my good friend and blogger Suren Rajamohan recently invited me to Sushi Sushi in Century Village for some sushi treat.
Sushi Sushi is a humble little licensed restaurant that has been around for longer than many of those new fancy sushi spots in town. Yes, the homegrown brand has been in existence for the past 17 years in Century village. Needless to say, they excel at what they do.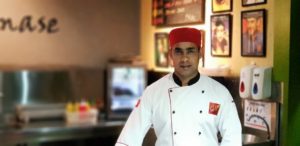 Let the humble setting not fool you, with two almost decades of experience in the business they excel at what they do. The team is comprised of a Sri Lankan Head Chef who has been with the Sushi Sushi brand since inception.  Some of the chefs culinary and service team have been around for long too.
What we had
We started off with some light beverage to set the tone for the evening and progressed with some appetizers – Prawn calamari and Tempura, before the main course.    The tempura was well prepared and tasted yummy, setting the perfect appetite to try the main event.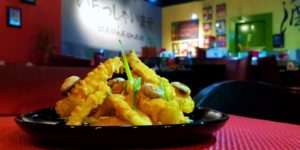 The Main event
Sushi & Sachimi
Our Sushi & Sachimi platter came with the Chef's special Volacano Roll, Crunchy California, California, Tuna Sachimi, Salmon Sachimi, Crab Sachimi and Cuttle Fish Sachimi.  Each of the Sushi were wrapped well, presented artistically and tasted perfectly well. It showed the efforts put by the chef and his team into crafting each and every piece.  We also tried Aftershock Roll, Salmon Sushi, Tuna Sushi and Prawn Sushi.
Japanese Fried Rice
While we were already surfeit after the sushi indulgence, due to the restaurant managers insistence we tried their Japanese Fried Rice. It is one of the most delicious fried rice I've eaten in recent times. Definitely stand out dish like the rest of the fare at Sushi Sushi.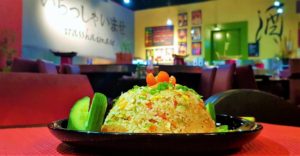 Desserts
To wash down the indulgence we went for a host of desserts including Mochi, Crème Brulee, Green Tea and Ginger Ice cream.
Mochi was delicious and the other guests with us too appreciated it much.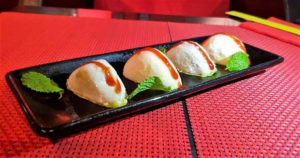 Crème Brulee is one of the Srilankan's most preferred dessert of choice. I've seen many of my Sri Lankan friends bragging about their love for this dessert. Sushi Sushi with all its Srilankan culinary team makes really good Crème Brulee.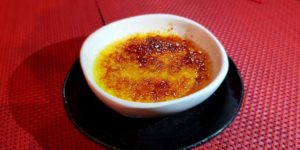 Green tea and Ginger Ice Cream : It was love at first scoop – totally delicious. It was my first time trying out ginger ice cream and the best experience! Do try this if there, it is an absolute must try!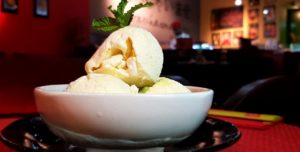 Verdict
Overall Sushi Sushi is a great laid back restaurant in Century Village to enjoy delicious sushi and some peppy beverages on a weekend. The chilled out vibe, vibrant outdoor with flowing water and chalet is definitely a bonus point The relaxed interior is reminiscent of good old styled Japanese restaurant. They even have some props and hand painted posters that have been on their walls for two decades.
Sushi Sushi is really worth checking out!
The Gallery