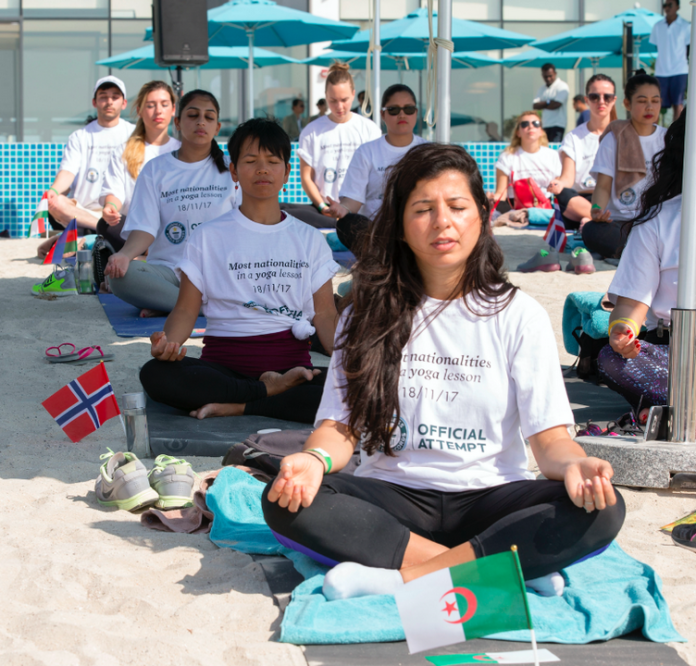 The Retreat Palm Dubai MGallery, the newest addition to AccorHotels' distinctive MGallery collection of contemporary boutique hotels worldwide, celebrated the culmination of the 30-day Dubai Fitness Challenge with its own record-breaking challenge. The first holistic wellness resort brought together fellow yogis and health enthusiasts from all nations across the globe on the 18th of November 2017 on the scenic sands of the hotel and hosted a world record-breaking yoga lesson.  A total of 112 nationalities participated in a 30-minute Yoga lesson, breaking the GUINNESS WORLD RECORDS title for the "Most nationalities in a yoga lesson".
Commenting on this achievement Talal Omar, Country Manager of the GUINNESS WORLD RECORDS office in Dubai: "As the global authority on record-breaking we are always happy to witness and be a part of events such as this, that not only highlight the diversity of nationalities and cultures here in Dubai and the UAE, but also how they work together hand and hand and promote healthy living."
Inspired by the recent Dubai Fitness Challenge initiated by His Highness Sheikh Hamdan Bin Mohammed Bin Rashed Al Maktoum that had the city bustling with fitness regiments and enthusiasts, The Retreat Palm Dubai celebrated the upcoming launch by hosting this initiative to mark the growth of health and fitness in the UAE. The serene sanctuary pulled out all the stops to break the Guinness World Records title.
"The entire team was incredibly excited to celebrate the upcoming launch of our highly anticipated property with the GUINNESS WORLD RECORDS attempt. It makes me so proud to see how hard the team worked to make the magic happen. Given The Retreat is the first of its kind wellness destination in the cosmopolitan city that is Dubai, an attempt at the most nationalities in a yoga session, seemed like the ideal challenge for us. We couldn't be happier to have officially broken the GUINNESS WORLD RECORDS title." says Samir Arora, General Manager.
The Retreat Palm Dubai, the first holistic wellbeing resort in the Middle East offers an immersive, luxurious yet innovative experience that inspires lifelong memories. Situated along the exclusive coastline of Palm Jumeirah's East Crescent, the resort offers 255 rooms and design-led suites as well as four world-class dining options, showcasing an array of healthy cuisine choices.
The world's first Rayya Wellness Centre housed within the property offers a variety of all-inclusive retreat packages that have been expertly designed for relaxation and rejuvenation to improve mind, body and spirit.
The traveller's paradise embodies the style, story and allure of Dubai and provides a selection of utmost serenity and relaxation packages.
For further information about the hotel and bookings, please visit – http://www.theretreatpalmdubai.com