Third Avenue Cafe – A Review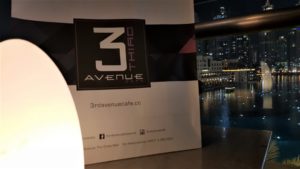 While the soaring mercury is keeping off Al fresco diners from many outdoor indulgences this summer, a few places continue to entice the crowd notwithstanding the ups and downs in the tempo.
One such place is Third Avenue Café in Dubai Mall – a stunning cafe facing the gorgeous waterfront promenade and the Dubai Fountain. Besides the breathtaking views, another compelling reason why many people, including me, go there is the fabulous array of international and regional cuisine that's on offer there.
Being one of Fashion Avenue levels most popular Café's – Third Avenue Cafe seems to be a promising F&B offering for those ardent foodies that love to indulge in great fare, enjoy good service and elevate their dining experience with unmatched views of the inspiring Dubai Fountain.
I spoke to Mohammed – the outlet manager. Below are clips of his interview with Blogliterati.com
Our Visit
We started off with a refreshing glass of carrot juice. It was as fresh as we would have loved our carrot juice to be.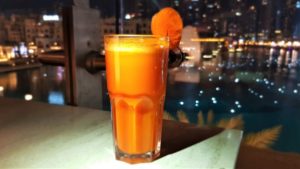 We followed that up with a shot of Passion Mojito – another awesome refresher drink with passion syrup, fresh orange and ginger ale. The passion fruit seeds and fresh orange juice made it an exciting drink that was savored in every delightful single sip.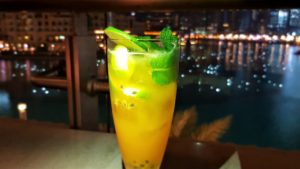 We were refreshed enough and prepped up to watch the dancing fountain and indulge in some delectable finery. The waitress Kimberly soon enough brought us two plates of "Oh so lovely" salad.  She served Thai Crunch Salad and Goat Cheese, dry fig and fresh grape salad.
Thai Crunch Salad
Crisp, satisfying and full of nutrients, this salad made our taste buds super happy! Each bite contained a powerhouse of fresh veggies and a superb dressing to match. The crunchy Thai salad has just become our new salad addiction, thanks to Third Avenue Cafe.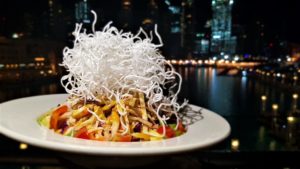 Goat Cheese, dry fig and fresh grape salad
I totally enjoyed the Goat cheese and fresh grape. Figs were a healthy bonus to the mix and perhaps added some crunchy effect, to compliment the soft and fluffy goat cheese and grape. Over all it was fresh and amazing.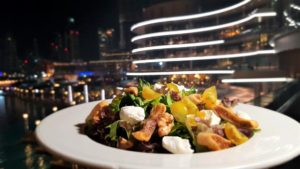 Seafood Soup
The seafood soup was totally delicious and it packed all the right ingredients that burst the flavors in the palates. The mercury was still on the slightly favorable end while we last visited so we were able to enjoy this hot soup to the max with the view of the gorgeous water fountain below us.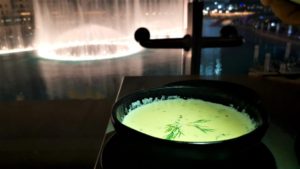 Croquette potato
The Croquette potatoes were very well presented and were really tantalizing to look at and scrumptious to taste. They were soft and buttery on the inside but had a nicely crisp and crunchy outer – which made them totally irresistible.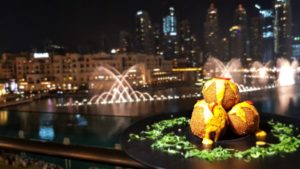 Vegetarian Pizza
A pizza with all the goodness of fresh vegetables, this was one amazing flatbread that we relished. We never expected a café to make such an amazing and fresh pizza! Full points to Third Avenue Café's chef for this one!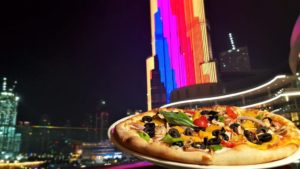 Chicken Taco
One of the newest launches from the Third Avenue kitchen, Chicken Taco tasted lip-smacking. For those who like Tacos with a slightly saltier taste, this could be a great appetizer. The dish itself was presented quite well, like every other dish served to us, and apart from enticing us to try, it also managed to appeal strongly to our gustatory senses.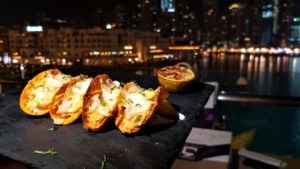 Ice Lollie
One of the most exciting things we'd ever done in any restaurant in Dubai – making our own ice cream. We enjoy eating ready made stuff from the stores but how often do we get the chance to fashion our own little dessert complete with all our favorite trimmings? Very rarely right?  Third avenue gives you the opportunity to create your own dessert with all the ingredients ready to make. Watch the glorious process below. This was one of the highlights of our visit to Third Avenue café and one which we will always remember.
Bottom line
3rd Avenue Café presents delectable, visionary dishes with one of the most breathtaking views overlooking the inspirational Dubai Fountain. Experience a taste of the world under the iconic Burj Khalifa, the tallest building in the world, and discover international cuisine in brilliant simplicity.
Food Gallery
Need to know
Cuisine: European, Continental, Cafe
Where: Level 1, Fashion Avenue, The Dubai Mall, Downtown Dubai, Dubai
Hours:  10 AM to 12 Midnight (Sun to Wed) 10 AM to 1 AM (Thur to Sat)
Atmosphere: Spacious cafe with breathtaking views of the waterfront promenade
Parking:  Mall Parking
Prices: AED 240 for two people (approx.)
Credit cards: Cash, Cards accepted
Sound level: Music
Wheelchair access:  Accessible
Service: Very good
Recommended:  Thai Crunch Salad, Passion Mojito, Veg Pizza, Seafood Soup, Potato Croquette, Ice Lollie, Chicken Taco
Additional Info:   No Alcohol Available. Kid Friendly, Wifi, Table booking recommended
Reservations:  04 3882622
The View
Disclaimer / Voluntary Disclosure
This review was courtesy of  Third Avenue Cafe, Dubai. Though the food was complimentary, all photos, views and opinions are our own, as always. The restaurant had no influence on the content of this article. There is no form of cooperation between us, and I am NOT obliged to publish anything. I have not received any monetary payment in lieu of this review. All images used are courtesy of Blogliterati.com, unless stated otherwise. The images may not be reproduced without explicit permission/consent from the site owner.