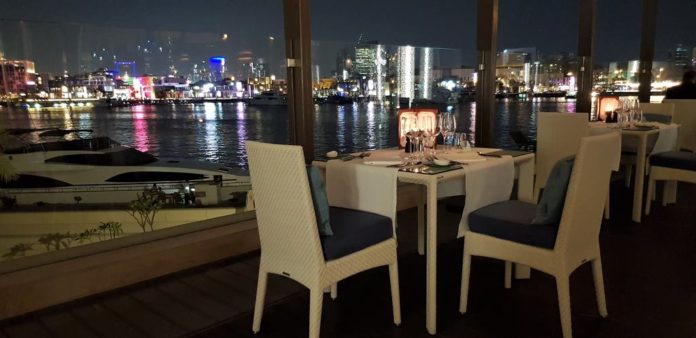 Vivaldi by Alfredo Russo Restaurant & Lounge is Dubai's premier Italian restaurant with unparalleled views of the Dubai skyline and a menu inspired by a true champion of Italian food – none other than Michelin star chef Alfredo Russo.
Serving classic Italian dishes with a modern and innovative approach, the restaurant offers breathtaking views of the Dubai Creek. With two climate-controlled terraces offering all-year-round al fresco dining, a bar and a private dining area for the most intimate of occasions, this is the perfect choice for lunch or dinner alongside Dubai's famous creek.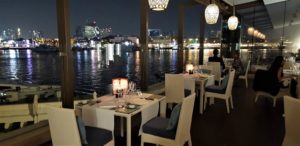 Blogliterati.com recently visited Vivaldi for an exclusive tasting session which was organized as part of the 10th edition of the Italian Cuisine World Summit. We were treated to a culinary extravaganza of sorts and got acquainted with a cooking language that was rich, amusing, elegant and very personal.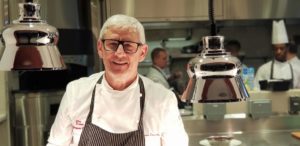 The four course set menu specially featured the rare and exquisite truffle and mushroom and each course including the desserts were paired with special wine from Italy. Also, what was special about the menu is that each and every single dish from a course was prepared by a different chef from Italy. So the four course menu had the magic touch a 4 top-ranked chefs.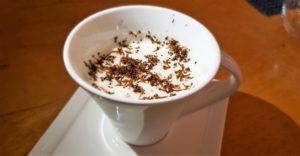 We started off with one of the best soups I tasted in recent times – the Spuma di taleggio e tartufo or Taleggio foam with truffle. It was paired with Conte Fosco – Cuvee brat  from the Emilia Romagna region of Italy. It was nothing short of fabulous. This dish was prepared by the master himself – Michelin Star Chef Alfredo Russo.
The next dish Praline di fegato was prepared by Chef Silvia Baracchi and it had chicken liver praline with pistachios, red cabbage and saffron pears. It was paired with Le rime Chardonnay from Toscana.
Now I really give it up to this expert culinarian for creating a dish that is as subtle and elegant as it can be.  Preparing a nice dish out of chicken liver is a challenge in itself, this given the fact that not many people are fans of chicken liver owing to the bad smell that chicken livers are known for.  Yes, livers do smell bad because they have so much blood in and on them. However Chef Silvia had managed to create a stellar dish with absolutely no odour but the pleasant aroma of praline and saffron pears.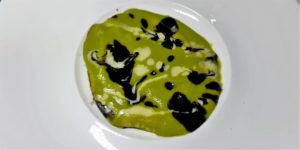 The third dish was the Raviolone di broccoli (Raviolone with broccoli, wild broccoli and pecorino). The dish was stunning to look at and it tasted as awesome as it looked. This dish was prepared by Chef Alfredo Russo and paired with Gave la Luciana – Cortese – Piemonte
The fourth dish was Anitra in due cotture con bottaggio di verza, funghi shitake, or Duck in two ways with savoy cabbage, shitake mushroom and red lentils. This dish was prepared by Chef Enrico Gerli and paired with Merlot IGT – Dan2ante – Toscana.  The Duck meat was tender and had a flavour to it. The touch of savoy cabbage along with some shitake mushroom and red lentils added some texture and taste and made it interesting.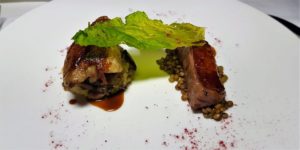 In desserts we had creamy ricotta with lemon zest aroma, chestnut cream and coffee scent prepared by Chef Silvia Baracchi and Tutti I colori del cioccolato ( all the colours of chocolate) by Chef Tano Simonato, paired with Passito Palazzina Moscato, Araldica DOC – Piemonte.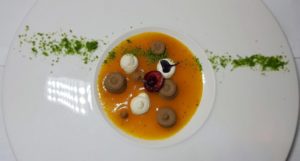 Service
Service is pleasant, quick and efficient – at least that is how it was – during our visit. The restaurant manager Ipolita is a true ambassador of the brand and makes sure to drop by at guests table to exchange pleasantries and also find out if they are enjoying their dining experience. I feel it is a rare trait in this part of the world, but is a nice value add to the restaurant.
Ambiance                                                                                                                      
If you love to enjoy your meals with the peace and serenity of the Creekside with breathtaking views of the Dubai skyline then this place is ideal. With subtle lighting, temperature controlled terrace that throws fascinating views of the Creekside and the passing dhows, and a slick vibe – this place could well be one of Dubai's most romantic sea side restaurants in this side of town.