Global restaurant brand Wagamama opened its 7th restaurant in the UAE at Dubai's Marina Mall and blogliterati.com was invited to review this newest property.
Offering fresh, Japanese-inspired dishes to residents and visitors Wagamama recenty also introduced its breakfast menu to the Middle East for the first time. It is available daily from 8am until 12 noon exclusively at this newly launched outlet at Marina Mall. On weekends in the breakfast menu is also available in other Wagamama restaurants.
Our visit
We met Christopher Fernando – Wagamama's super friendly general manager who spent some good amount of time with us, explaining about his concept, the brand and what makes Wagamama one of the most popular eateries in the UAE.
View this post on Instagram
We started off with some delicious iced teas and went on to appetizers including the famous Chili Squid, Tori Kara Age, Hirata Crispy Chicken and Lollipop Prawn. All the appetizers were standout and had the Wagamama quality that one would expect. Peppy side dips paired well with each of the dishes enhanced the taste and made for an appetizing appetizer session.
View this post on Instagram
We just couldn't wait for the main course. In the mains I ordered Yaki Udon while my dining companion went for Teriyaki Duck Soba.
Yaki Udon had thick udon noodles in curry oil with chicken, prawns, chikuwa, egg, beansprouts, leeks, mushrooms and peppers and garnished with fried shallots, pickled ginger and sesame seeds. It was rich in condiments and very filling.
Teriyaki Duck Soba had succulent duck with soba noodles in curry oil, mangetout, bok choi, red onion, chillies and beansprouts in a teriyaki sauce. It was garnished with sesame seeds. Another great noodle dish totally appetizing.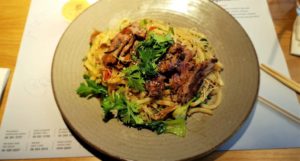 We finished off the indulgence with a bowl of green tea matcha ice cream. Apart from these dishes we tried, Wagamama also offers a range of other dishes inspired by both the east and the west.
View this post on Instagram
Guests who prefer breakfast at Wagamama can enjoy the brands signature okonomiyaki – a Japanese inspired omelet, as well as favourites like eggs benedict, avocado on toast, English breakfast, and apple & goji berry pancakes. All these dishes reflect the global brand's positive eating philosophy and are designed to provide a nourishing start to any day.
Wagamama Marina Mall is situated at the heart of Dubai's Marina community and spans over 3,000 sq. ft. The 134-seat restaurant includes both indoor and outdoor seating with scenic views to the waterside, where residents, businesses, and visitors can enjoy Wagamama's classic and popular dishes like katsu curry, prawn firecracker, hearty ramens and rice bowls, in addition to a tasty breakfast.
The first Wagamama restaurant in the UAE opened at Crowne Plaza on Sheikh Zayed Road in 2004 whilst 2018 saw the arrival of the largest venue to date within The Dubai Mall, and the brand's first restaurant in Sharjah. Wagamama will soon expand to the capital with the opening of its first restaurant in Abu Dhabi later this year.
Speaking to Blogliterati.com earlier before the opening, Elias Madbak, Managing Director at RMAL Hospitality, franchise partner for the Wagamama brand in the UAE remarked: "We are excited to add another location to our expanding portfolio in the UAE, bringing fresh Japanese-inspired cuisine to the heart of Dubai Marina. We are even more excited to be introducing the breakfast menu to our Wagamama restaurants for the first time in the region, which will enhance the overall experience for all our guests".
The opening signifies the wider expansion plan of RMAL Hospitality, the franchise partner for the brand, to deliver world-class restaurant experiences to the UAE residents and visitors.
For more information, please visit: www.wagamama.ae