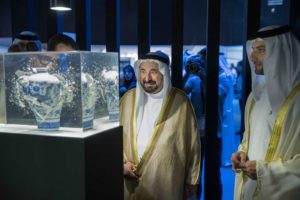 His Highness Sheikh Dr Sultan bin Mohamed Al Qasimi, Supreme Council Member and Ruler of Sharjah, yesterday (Wednesday) inaugurated the second edition of the International Photography Festival – Xposure 2017, the region's biggest photography event of its kind, with the participation of a galaxy of the world's most celebrated photographers and leading international brands.
Present at the opening ceremony of Xposure 2017 were Sheikh Mohammed bin Abdullah Al Thani, Head of Statistics and Community Development Department, Sheikh Fahim bin Sultan Al Qasimi, Head of Government Relations Department, Sheikh Faisal bin Saud Al Qasimi, Director of Sharjah International Airport Authority, Sheikh Majid bin Sultan Al Qasimi, Director of the Department of Suburbs and Villages Affairs, HE Khawla Al Mulla, Chairperson of the Sharjah Consultative Council, HE Rashid Ahmed bin Al Sheikh, Chairman of the Sharjah Amiri Court, HE Abdullah Sultan Al Owais, Chairman of the Sharjah Chamber of Commerce and Industry, HE Khamis bin Salem Al Suwaidi, Chairman of the Department of Suburbs and Villages Affairs, HE Ali Salem Al Madfa, Chairman of Sharjah International Airport Authority, HE Hana Saif Al Suwaidi, Chairperson of Sharjah Environment and Protected Areas Authority, HE Khalid Jassem Al Madfa, Chairman of Commerce and Tourism Development Authority, HE Mohammed Obaid Al Zaabi, Head of Protocol and Hospitality Department, HE Dr Khalid Omar Al Midfa, Chairman of Sharjah Media City, and a number of officials and directors, as well as HE Tariq Saeed Allay, Director of the Sharjah Government Media Bureau, and a group of photography specialists from around the world.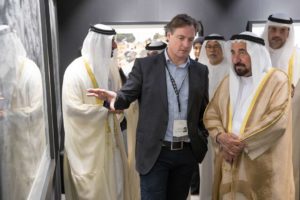 Themed 'Captivating Stories', Xposure 2017 spreads across an area of 9,000 square metres at Expo Centre Sharjah and includes 27 indoor and outdoor exhibitions, featuring work by 32 internationally recognised photographers and being held at public places in Sharjah and Dubai. The Festival is organised by the Sharjah Government Media Bureau, the media and communication arm of the Sharjah Government.
Running until November 25, Xposure 2017 includes 35 workshops and 25 seminars and lectures, targets professional and emerging photographers, university students, school children, photojournalists and community members of all ages who are passionate about the incredible power and influence of images.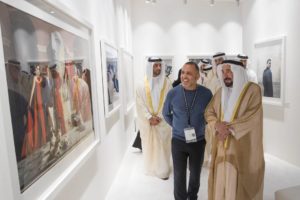 During the launch, His Highness the Ruler of Sharjah attended Paul Nicklen's "Polar Obsession" keynote session, followed by a tribute to the late Anja Niedringhaus offered by Muhammed Muheisen, and finally Lars Boering's comments on responsible journalism.
His Highness Sheikh Dr Sultan bin Mohamed Al Qasimi toured the festival's indoor exhibitions, most notably the specially curated exhibition of the private Platinum Collection from Sir Don McCullin and the exhibition of Canadian nature photographer Paul Nicklen, who showcases more than 12 large size images in a special edition.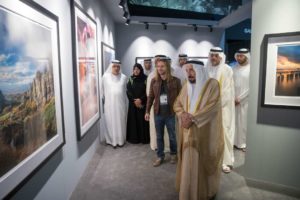 This year's edition of Xposure also features an exhibition by the Pulitzer Prize winning Palestinian photojournalist Muhammed Muheisen, whose selection of 12 photos titled 'Faces of Sharjah' is exclusively displayed at the festival. An exhibition featuring the work of the 17 winners of the festival's photography competition, which saw entries from 10,000 photographers from 98 countries around the world, is also being held as part of Xposure 2017.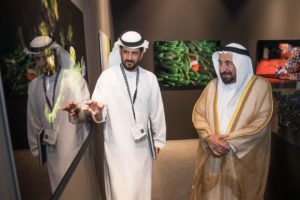 His Highness the Ruler of Sharjah viewed the 50 display panels and images by young talented and new photographers that are being displayed as part of a new initiative introduced this year by the festival's organisers. The work of the aspiring professionals is featured alongside that of renowned international photographers in the same space. The initiative is aimed at motivating talented photographers by giving them a valuable opportunity to promote their work at the festival where international photography agencies and companies can be attracted to and become interested in their work.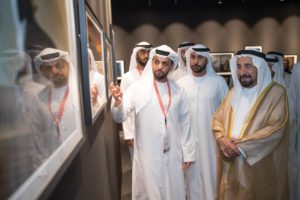 His Highness Sheikh Dr Sultan bin Mohamed Al Qasimi also viewed the work of winners of the Timothy Allen Photography Scholarship Award, which was launched during the first edition of Xposure, with the aim of developing the capacity of professional and emerging photographers. The award offers talented image capturers an international platform to enable them to achieve success and become famous visual artists in various photographic categories. His Highness the Ruler of Sharjah praised the stunning images taken by photographers from France, Poland, Austria, United Kingdom, and Brazil, with the winning work being selected from among 1,076 entries from 56 countries around the world.
His Highness also visited one of the workshops conducted by a group of acclaimed photographers and trainers imparting the latest photographic technology and techniques. The workshops allow photographers in the region the opportunity to develop their abilities and advanced imaging techniques and learn from their tutors' and peers' experiences.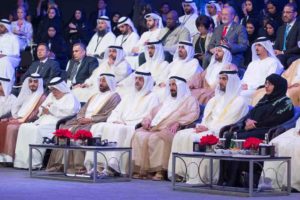 The workshops have been formulated to cover an array of interesting topics for photographers, such as location photography, street photography, aerial drone photography, product photography, underwater photography, photo archiving, camera focus techniques and the key elements of the picture. Other topics include studio lighting essentials, light and amendments, long exposure and post processing.
In his keynote address, Sheikh Sultan bin Ahmed Al Qasimi, Chairman of Sharjah Media Council, highlighted the efforts of Muslim scientist Al Hassan Ibn Al Haitham and his scientific contributions that led to the invention of the camera through the discovery of the dark room with a circular opening that he called 'the cabin,' up to 1826 when the first known photograph was taken by French scientist Joseph Niépce.
"At the second edition of Xposure International Photography Festival, we capitalise on photography to share all the world's secrets and figure out what is hidden behind the picture-an image that might have been taken spontaneously, or its photographers might have spent considerable time and made immense effort to stir our feelings towards a certain issue, just as the talented writer does using his pen," said Sheikh Sultan bin Ahmed Al Qasimi.
His Highness pointed out that the festival brings together photographers from different corners of the globe, some of whom have been very creative in depicting the beauty of life and its fluctuations, others have risked their lives to capture a snap that conveys the truth, and others have experienced an inner struggle between recording an image that shows human suffering or attempting to alleviate that suffering, with their humanity taking precedence over the photograph.
"This festival focuses on supporting and encouraging our young people to refine their talents and equip them with the best tools to excel locally, regionally and internationally and to reach the highest level of professionalism. Our goal stems from our belief that an image should convey a message," said Sheikh Sultan bin Ahmed Al Qasimi.
The Chairman of Sharjah Media Council said environment and nature take a centre stage at the festival, which has attracted an impressive elite group of nature photographers whose work has provided new sources of knowledge and rang alarm bells about the threats to our environment and the need to take action for a sustainable life.
Among the prominent photographers participating in Xposure 2017 is Emirati photographer and documentary filmmaker Ali Khalifa bin Thalith, the first Arab to win the Professional Photographer Leadership Award for his work. Other celebrated photographers include Egyptian-Korean photographer and filmmaker Abdul Rahman Gabr, who is interested in documenting people and places in Egypt, and Palestinian Muhammed Muheisen, who won the Pulitzer Prize twice and the British Time Magazine Award.