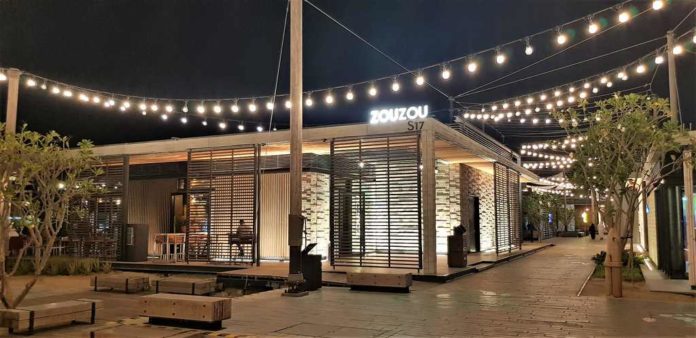 After my recent visit to Gunaydin – which i regard as one of the best Turkish restaurant in Dubai, my expectations are really high when I'm invited by other Turkish restaurants.
When I got invited from Zou Zou – the Turkish Lebanese restaurant at La Mer, I was all in for it. I visited Zou Zou last week with a dear friend who is a big foodie like me and a lover of all things Turkish. So needless to say, we went there with tons of expectations and a hungry stomach, of course.
I must note that Zou Zou didn't disappoint. We were in for a fabulous feast that captivated the senses in every sense of the word.  Zou Zou proved to be far amazing than we could have ever fathomed.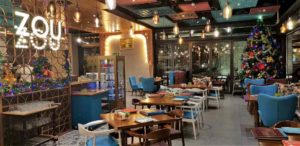 First off what I have to remark about is the service. It was pleasant, warm and efficient. I was met by Latif Kural the friendly operations manager who's known to have played a pivotal role in the set up of several leading Turkish restaurants in Dubai. A fine young man with a very pleasant disposition, he ensured that we felt 'at home' at his gorgeous seaside bistro. Latif specially assigned a waiter de table for us and made sure to drop in every now and then to check on us.
The Food
The very first item to be served to us were the drinks. I had Thai iced tea while my dining partner went for fresh carrot juice. The juices are priced a little higher compared to other restaurants but the quality seemed good. So no complaints.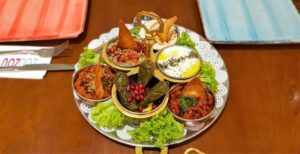 We were then served with an assortment of fresh and flavorsome hot & cold Mezze. In cold mezze we had the Zou Zou special mixed platter which came with Hummus, Baba Ghannoug, Muhammara, Acili Ezme, Cacik  and Vine leaves.
The hot platter had Kebbeh, Chicken Liver, and Sausage. This was served along with piping hot Turkish bread. The mezze were soaked well in the seasonal Turkish spices and garnished to perfection with the right condiments. It tasted good and went perfectly well with the bread.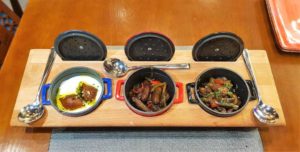 We also ordered our favourite Eggplant Tarator which is a blend of eggplant, yogurt, sesame seeds, olive, pomegranate, fried onion and special pickles. It was yummy and I enjoyed it in various ways including dipping the breads in it, and at some occasions even the lamb chops and beef.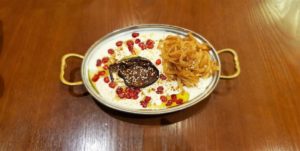 In salads we had Zouzou Salad which was a nice mélange of fresh avacado, lettuce, baby spinach, tomato dry grape, walnut, pomegranate, olive oil and cheese. It was garden fresh and delicious.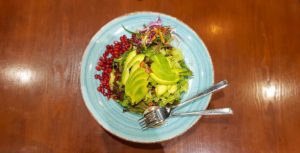 Now to go on to the main event – as a big beef connoisseur my dining companion ordered Beef Steak and I went with my ever-favorite lamb chops.
The beef steak (Zou Zou special) came with its own share of drama and action. Steak Chef Muhammad cartwheeled the entire grilling paraphernalia to where we were seated – to live prepare it in front of us. I must say we enjoyed watching it being made, as much as we enjoyed eating the dish.
View this post on Instagram
Zouzou Special Steak was a 500 gram mammoth beef tenderloin cut into thin strips and seasoned with sea salt, oregano, roca – layered inside with crispy bread, garnished with cherry tomato, and then grilled on blazing fire – to perfection.  The steak very much lived up to our expectations. It was tender, juicy, luscious and very delicious.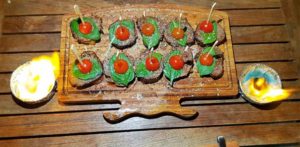 Lamp chops – My lamb chops didn't disappoint either.  It was as juicy and luscious as the steak and every bite was a delight.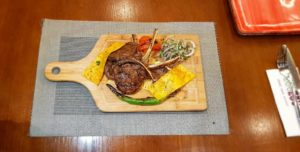 A visit to a Turkish restaurant is not complete without some Kunefe and Turkish ice cream in desserts.  So we went on and indulged in some Bakalava ice cream and Kunefee and finally washed it all down with Turkish tea.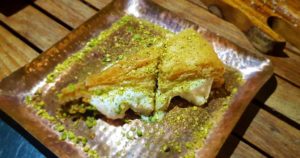 Service. Excellent service. Very fast delivery. Lots of interesting experiences for the ardent foodie. Our waiter Selcuk was a very supportive guy who also helped with setting up the dishes and lighting for the photo shoot. He understood things well and reacted before we could tell and this is precisely how we love our hospitality staff to be.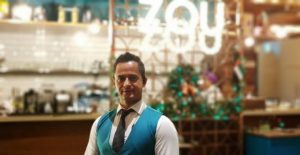 Ambiance : Spacious and cool with both indoor and outdoor dining options. The whole interiors were lit up with colorful lights for the season.
Value : Excellent value for the quality of food served.
Verdict : Highly recommended.
The Gallery