Enjoy an authentic dinner for two for just AED 400 including a bottle of house grape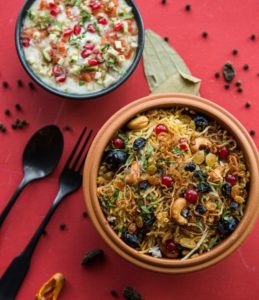 The traditional Irani-Parsi cafe, Moombai and Co, presents its Valentine's Day menu priced at just AED 400 – inclusive of a bottle of house grape. The menu takes couples on a journey through Mumbai, serving a selection of the restaurants signature dishes and upon arrival guests are presented with traditional garlands that represent the celebration of love in India.
The menu begins with a refreshing Strawberry & Basil Shooter followed by a selection of either meat or vegetarian dishes. It starts with a variety including a Mushroom Puff, a Beetroot and Mascarpone Tikki, Vada Pao Buns with Rhubarb Chutney, followed by a delicious main of Anjeer Bhare Kofte, Sheermal, a Veg Biryani with Apricot and special Pomegranate Raita. The non-vegetarian menu begins with Shrimps Puff, Murgh Malai with Truffle Butter and Lamb Shammi Kebab. Nalli Nihari, Keema Samosa, Sheermal, Chicken Berry Biryani and Pomegranate Raita make up the main course of the Non-Vegetarian menu.  Finish this olfactory journey with Gulab Ki Kheer and the crowd-favorite Chocolate Tart with Berry Sauce. Dinner is served with a bottle of red, white or rose house wine.
The Valentine's Day menu is served between 12pm and 11am from 14 to 16 February at AED 400 per couple.
Located on the ground floor of The H Dubai (number one Sheikh Zayed Road) the restaurant houses a vibrant lounge, bar and dining area as well as an adjacent outdoor terrace with spectacular views of downtown Dubai. For more information / reservations / bookings please call 971 4 501 8607