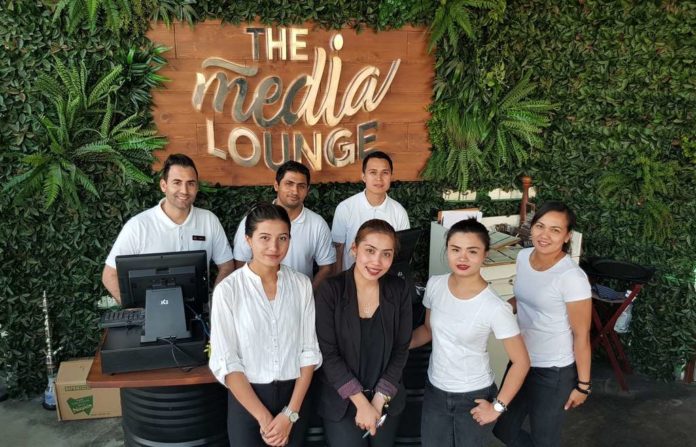 Last week I was at the Media City side of town for a meeting. Just around noontime, when hunger got the better of me, I decided to hop into the nearest cafe. My friend who works in the vicinity suggested 'The Media Lounge'. Since it was closer to my meeting venue, I popped in and found myself a table in some unassuming corner of the cafe.   I considered myself lucky to secure a table, for it was almost full house with only one or two empty tables.
The Media lounge is probably one of Media City's most popular cafes, which sees an average daily footfall of 350 customers. TML clientele are mainly media professionals working in nearby buildings who go there for mid-work break or post-work relaxation. I learnt that 40% of their customers are repeat loyal customers who visit as often as 3 times in a week and usually spend at least an hour relaxing there.
The Media Lounge from Blogliterati on Vimeo.
Ambiance : First off, the place exuded a totally earthy, casual and chilled-out vibe. Pleasant aroma of flavoured shisha rent the air as hordes of professionals chatted over coffee and hubble-bubble. There were green foliage walls, indoor plants, wooden tables, large screen TV's, comfy sofas and few work station style tables. Over all it seemed like a perfect venue for relaxing as well as working.
Service : The place is managed by half a dozen waiters and waitresses most of whom appeared Filipino. The service was prompt, attentive and friendly.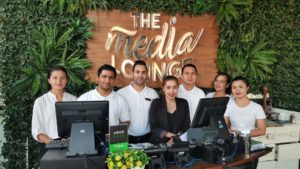 Food:  I ordered a glass of Lemon Ice tea. On a sultry afternoon, nothing could have been a better choice. It was refreshing and chill! I was glad that honey was used to sweeten the drink instead of processed sugar. I also tried their cafe latte at the end of my indulgence. It was really creamy and perfect.
For the starters I ordered Dynamite King Shrimps and Quinoa Superbowl salad.
Dynamite King Shrimps – This lip-smacking appetizer truly lived up to its name. It had a perfect side dip of flavorsome sauce good enough to cause a sweet explosion of taste in the mouth. The king sized shrimps were succulent and plump and fried to perfection. It was crunchy on the outside, soft on the inside and tasted amazing!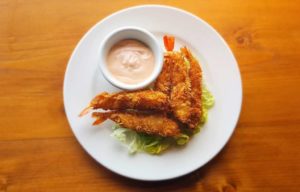 Quinoa Superbowl – This Quinoa based superbowl salad was literally a bowl full of goodness. With loads of fruits and veggies peppered over it – including avocado, pomegranate, shredded carrots, sliced broccoli and chia seeds – it was fresh and scrumptious. Additional shrimp topping, gave it that crunchy and delicious twist.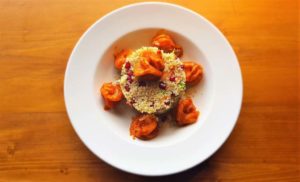 I spoke to Outlet supervisors Cindy and Ahmed who were happy to talk about their ongoing promotions and offers.
Cindy- TML from Blogliterati on Vimeo.
For the main course I had Charcoal Grilled Chicken. It was served with garlic paste, grilled vegetables and on my request – steamed white rice.The chicken was very tender, succulent and perfectly grilled. Unlike some places which burn the skin completely in the name of grilling, TML knows how to grill their chicken right enough to make the skin crisp while keeping the meat inside soft and juicy. Overall the Charcoal Grilled Chicken was delicious and authentic and one of the key highlights of my lunch at TML.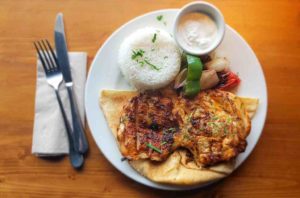 Dessert: The dining experience was made complete with some delicious home made waffles which came smothered with Nutella and topped with generous cuts of banana and strawberry.
If you love the combination of these two fruits, then you'll absolutely love the Nutella waffles at TML. Add some ice cream to the mix for an exciting cold dessert.
Ahmed TML from Blogliterati on Vimeo.
Shisha : For many, relaxation means spending hours inhaling flavored smoke emanating from the pipe of a hubble bubble. TML has that section covered too and does that really well. I tried two variants of Shisha – Peach & Double apple. Peach was very light for my liking, so I asked them to switch it to Double Apple, which was strong and quite like how I enjoyed my shisha. The staff were kind enough to accommodate and only charge me for one shisha.
Verdict: 
If you're ever in the media city part of town or even need a place to catch up with some associates in a slightly less formal setting, then TML would be the best option. The menu is very "Middle East meets West" kind with Italian, Arabic and Lebanese served there. For a cafe, they serve a lot of varieties of food and you won't be disappointed.
If You're Going
Need to know
Cuisine: Italian, Arabian, Lebanese
Where: Concord Tower, Dubai Media City, Dubai
Hours:   9 AM to 12 Midnight
Atmosphere:  Chilled out, earthy, relaxing
Parking:  Public Parking on two sides
Prices: AED 185 for two people (approx.)
Credit cards: Cash, Cards accepted
Sound level: Moderate
Wheelchair access: Accessible
Service: Good
Recommended: Charcoal grilled chicken, Quinoa Salad, Dynamite Shrimps
Additional Info:   Its close to the Palm Jumeirah tram station, glass walled private chamber for meetings
Reservations:  04 4535431
Facebook:  TML FB